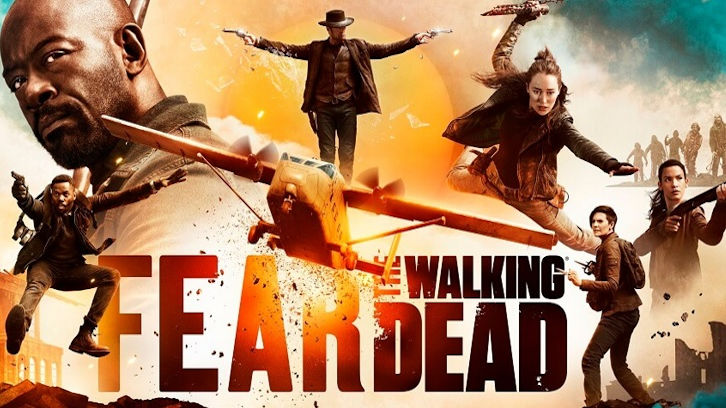 Achingly dark and powerfully beautiful, "Close Your Eyes" is a tour de force. Director Michael E. Satrazemis gave us The Walking Dead's unforgettable "The Grove" and Fear The Walking Dead's recent joy "Laura". And this episode is his next masterpiece, incredible poignant imagery combined with career highlight performances from Alycia Debnam-Carey and Alexa Nisenson and an enthralling story from writer Shintaro Shimosawa.

I scarcely know where to begin with this review, so moved am I after watching and re-watching the episode. Maybe a comment about the exquisite tiny flashes of color: the cream beads of dripping candle wax, the pink flowers in the painting on the wall, the yellow stripes on the croquet mallets in the basement, etc. Eyes dry now. Moving ahead.


"Why are you here? You can't be here."
The episode opens with Alicia shuffling up to a house to seek shelter from the storm. There's an undead family inside: mom, dad, brother, and sister. (The episode slowly reveals that they died because of their own fireplace being backed up). She dumps their bodies outside on the ground, rummages through their canned goods (green beans or black beans for dinner), and yanks their family photos off the walls and tosses them out too. Alicia goes through all the rituals a living person would, but she's never been more lifeless. Then Alicia realizes she's not alone. Charlie is upstairs. Horrified, Alicia runs right out into the escalating storm. She's flung on her back and knocked out cold. But wakes up back in the house, having been dragged back by Charlie who has locked herself back in the upstairs bedroom. Now enraged, Alicia throws herself at the door, physically at first but then emotionally when it won't yield. Debnam-Carey leaves no stone unturned as everything Alicia needs to get out she gets out.
At first there's the anger. She tells Charlie her mother is dead because of Charlie's lies and betrayal and how she watched Nick bleed to death. She sticks the knife deep into his killer's soul, telling her "It wasn't fast" and that "he knew the person he tried to save killed him, and maybe that made him feel like his life didn't mean anything."
Alicia begins to weep, saying she's sure she'll kill Charlie even though she might not want to. The bitterness rises next, as she hisses that Charlie is a "waste of person". On the other side of the door, a silent Charlie sobs.
"There are no good reasons"
Alicia does her best to secure the house from the storm, working on nailing down the shutters. Then she realizes Charlie has taken the family photos back inside to dry and covered the bodies with sheets. She's annoyed more than curious, recruiting Charlie to help fasten the shutters instead. (Kids always trying to do crafts instead of work, am I right?) The nailing attracts the dead, however, so they retreat indoors. Alicia is calmer now and asks for Charlie's coat so she can dry it by the fire. A still mute Charlie hesitates because there's a gun in her coat.


In a second Alicia has the barrel trained on Charlie's forehead, demanding to know if she came there to kill her. Charlie says nothing but shakes her head, tears rolling down her face again. Alicia sends her to her room so to speak. Then immediately breaks down when she finds a dead bird in the fireplace. The callback to Amina prompts her to whisper "I'm trying" to her mother. Meanwhile, Charlie, who has been considering suicide up to this point, has walked out on the roof to face a walker trapped there. She gets close enough for it to grab her. I know there are viewers who would have liked to see Charlie die for what she did, but, setting the entire moral debate there, it just wouldn't be an interesting story that way, in my opinion. Alicia yanks her to safety. She realizes Charlie was trying to kill herself, and it sobers her but doesn't soften her. Finally speaking, Charlie wants to know why Alicia saved her.
"I don't know." The truth plain and simple. Alicia says Charlie must live with what she's done, just as Alicia must live with the things she has done. It's a straightforward conversation, but it's missing the early hatred she spewed at Charlie through the door.
The next scene is strikingly normal. The two girls sit at the table, eating out of their bowls, and Charlie comments that she's never seen the ocean, that her family was supposed to take a trip there but everything changed. She wants to know if Alicia lived at the beach. Alicia says no.
"I thought you said you lived in California."
"It's a big state." Alicia adds that her last visit to the seashore found it full of the dead like everything else. After dinner, there's another conversation about the family photos Charlie saved. She says there for someone who might come back. Alicia is at a loss, telling her they're gone and it doesn't matter. Then the storm smashes the windows. They flee to the basement to avoid flying debris. But it's flooded. The ceiling partially collapses, ceiling them in, as the water rises. It's another brilliant part of this episode that Alicia and Charlie keep getting trapped in increasingly confined spaces. The water is rising, and the outside cellar door entrance is chained shut. Will they drown? I doubt anyone truly thought that, but that's not the true action of this scene. As they try to stay above water, Charlie cries out that she doesn't want to die. Alicia looks at her with tears in her own eyes and gently whispers "I know."
Charlie shouting and pleading and sobbing for Alicia to shoot her to keep her from becoming a walker, like her parents whom she can no longer remember, is one of the most devastating scenes ever in this series. And even as she puts the gun to Charlie's forehead, against flashes of her own memories of Nick's smile and Madison's sacrifice, Alicia bawls that she can't do it. Did I mention she was holding Charlie's hand the whole time? Alycia Debnam-Carey and Alexa Nisenson really dug deep into the barrel for this gut-wrenching exchange, and scraped nearly every ounce out. The walker on the roof then falls off smashing the cellar door loose, but Alicia and Charlie were already free from one prison.
"Close Your Eyes"
Before returning to look for their friends, Alicia buries the family and leaves their photos in a jar at their graves. She also places a "Family and Friends" sign nearby. She gifts Charlie her trusty water park scrap metal weapon, and they set off. On the drive over, Alicia gives Charlie another gift by describing the ocean for her.
"You're in the car, the windows are down, you can feel the air. It's soft, smells like salt. That's how you know you're close. Then you hear the waves. And you see the beach. You take off your shoes, get your feet on the sand, and feel it under your toes. The water feels cold at first, but the more you stay in, the more you don't want to get out. And you don't."

Charlie closes her eyes to imagine the picture Alicia is painting for her. Sunlight slowly spreads across her face, as her smile grows. Alexa Nisenson does so many exceptional things in her performance this episode, but the joyful grateful exclamation Charlie makes when she is able to visualize her parents is the one that made me cry.


When they return and find all their friends missing, Alicia warns Charlie that they are likely gone and that "it doesn't get better, it gets worse". The beautiful irony is that as they walk away from the John and June's overturned school bus together, it already has gotten much better for both of them.