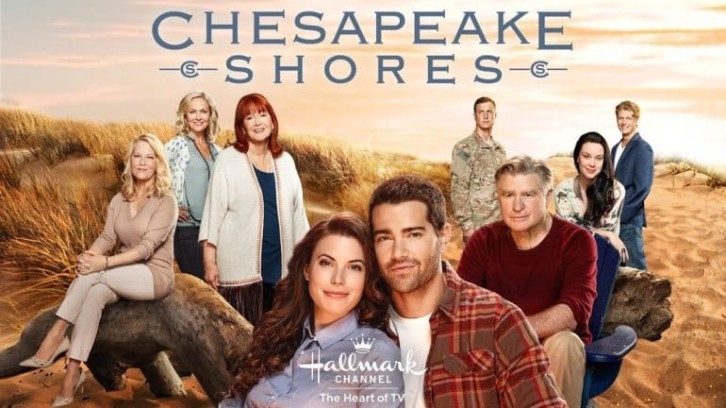 "An Open Book" was written by Michael Berns and directed by Sean McNamara. Stars Meghan Ory as Abby O'Brien-Winters, Treat Williams as Mick O'Brien, Jesse Metcalfe as Trace Riley, Laci J. Mailey as Jess O'Brien, Brendan Penny as Kevin O'Brien, Emilie Ullerup as Bree Elizabeth O'Brien, Diane Ladd as Nell O'Brien, Andrew Francis as Connor O'Brien, Barbara Niven as Megan O'Brien, Abbie and Kayden Magnuson as Caitlyn and Carrie Winters, Jessica Sipos as Sarah Mercer, and Victor Webster as Douglas Peterson


With most darker elements off the table for Hallmark Channel, Chesapeake Shores relies on more everyday dilemmas to build suspense and excitement. Perhaps this makes it an even more emotional show, as the obstacles the characters face are more similar to our own. "An Open Book" launches the season by exploring the challenge of one's professional life encroaching on their personal one, especially when it affects the people we love.


"This Is How It's Meant To Be"
One of the show's most commendable arcs to this point has been how it has addressed Abby O'Brien balancing her career ambitions with raising her two daughters. There's no shaming that sometimes one or the other must take precedence, just empathy for the effort it takes. In the premiere, Abby's love Trace Riley returns from tour, fired up by the positive reception his band got but also eager to spend time with her and at his club. An interview has been arranged with a popular magazine, and one of the first questions that comes up is his current relationship status. Trace lays down the law that Abby and her family are off limits. The journalist complies, yet paparazzi photographers begin secretly taking pictures of him and the O'Briens around town. How will the O'Briens react when they find out? They will certainly be upset, as will Trace. Is this the price of fame? Is there a difference between being a chart topper and a star? These are definitely issues that will be raised over the season. As much as Trace loves Abby and her daughters, he won't put them through anything like that, and, at this point, he's such an integral part of their lives, they simply cannot be broken apart.
"This Is My Life"


Speaking of privacy being invaded, Jess O'Brien, Abby's bed-and-breakfast owning sister, gets a bit of a shock when she stumbles upon her sister Bree's soon-to-be-published manuscript. The lonely, daydreaming main character reminds her too much of herself. And she calls Bree out on it. Bree is genuinely puzzled, saying she tried to steer away from writing about the family. But she wrote about "what she knew". This reminded me of the Gilmore Girls: A Year in the Life development where Lorelai first reacted negatively to Rory writing a book about their life. But, in this case, it seems Bree wrote a novel primarily about a Jess-like character. As Jess tells it, one of the reasons she's been able to move on with her life (mother left the family when she was very young, Jess nearly died in a boating incident, etc) is because the past was largely a secret. Were Bree's book to be published it would expose Jess's very soul for all the world to see? Is that something Bree has a right to do? Is Jess at a place where she can let that happen? How much ownership do family members have over shared history? It's a compelling, complicated situation. Especially since the audience can root for both characters. Bree's exit from the theater world to pursue writing is a spiritual road trip we've experienced with her. And Jess slowly emerging into a more confident and openhearted person has perhaps been the most satisfying journey any character on the show has taken. Plus Bree owns a bookshop! There are no bad people here, just two lovable ones whose dreams we want to see come true.
"The One Thing I Couldn't Do."
Another development in the premiere is a fresh rift between Connor O'Brien and Mick. Connor's never had the closest relationship with his dad, but they made progress on reconnecting last season, even though Connor went to work for his uncle, putting himself in legal opposition to his dad's company. Mick crosses a professional line by hinting to Connor he should look over a contract again before Mick and land developer Douglas Peterson sign it. But Connor doesn't pick up on the hint. Legal paperwork is a pain in the pin feathers in the best of situations, but one line of text Connor forgot to alter makes things turn out much more favorably for Mick and Douglas than originally intended. This results in a shouting match between Connor and Mick at the Oyster Festival. It's raw. It hurts. This emotional pain brought to you courtesy great performances from Treat Williams and Andrew Francis.
In the midst of all this, there's little moments of pure heaven. Abby welcoming Trace back with a special date night that calls back to his romantic surprise for her last season. Nell O'Brien fundraising to save the town's Wishing Fountain where her husband proposed to her. Kevin and Sarah saying they are just having fun being paramedic/firefighter friends who kiss. Every enchanting beach at sunset shot.
Chesapeake Shores puts its characters in tight spots, but it doesn't do so without sprinkles of humor, dashes of love, and a really gorgeous setting. All these stories are going to be very interesting to watch unfold this season, especially as they all set up the chance for the O'Briens and Friends to come out the other side stronger and happier. We can settle down with some strawberry lemonade and cupcakes to enjoy the view.
Or we can absolutely worry over what tall and suave single dad Douglas Peterson is still doing around. Either way, summer TV just got refreshed.
To Be Continued:
Mick inherited a boat from a friend who recently passed away.
Trace invited a friend to stay in Chesapeake for a while. Country music superstar Donovan Wiley has some words of wisdom for Trace about life on the road and what it takes to make it big. He also turns out to be a delightful sounding board for Jess's woes. I am looking forward to seeing if he builds connections with the community beyond Trace and Jess.
Danielle, Connor's girlfriend, shows up late to hang out with him. Could a breakup be on the horizon?
Jess's swoonworthy/secretly ultra rich boyfriend and chef David was sight unseen this episode, but my romantic radar says he won't be gone much longer. One of the most amusing parts of the premiere was Jess being swamped with lovey dovey couples at her B&B. Someone was even proposing at breakfast, which is very much my style.