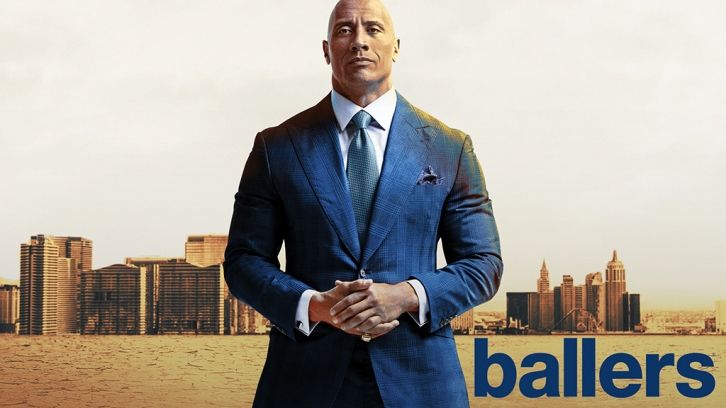 BALLERS - Episode 32 - Don't You Wanna Be Obama?


Episode begins with The Rock's Spencer Strasmore on the phone speaking with Reggie, Vernon Little's childhood friend and money handler. Vernon is in the pool on the surfboard that Spencer sent him as Spence and Joe are now in full Sport X mode. Vern invested in Joe and Spence so Reggie is checking in on their money and how its working. Spencer tells him that all is well, they have a major sponsor in Coke for an upcoming event and that things are happening. He hangs up and heads inside to check out the frenetic inside of Sport X with Joe. Joe loves it until Lance shows up with the episodes problem of the day, totally rad surfer Parker is missing! Ruh Roh Shaggy! The Classic Surf Competition is coming up and oh golly gee Parker just has to surf. Lance is freaking out because he's set up marketing deals with Coke and if it falls through they could be out millions. Joe and Spencer are used to dealing with difficult athletes so they decide to take the Mystery Machine '67 Jag and go get him.
Ricky Jerret and family are moving in! Moving men carry couches, tables, and mattresses into the new Jerret family home. Amber gives Ricky's insanely expensive mattress to TTD because she rightfully doesn't want to bed where Ricky lay with other women and she went and bought herself a new one. Ricky receives a call from agent Jason and lies and says its Spencer. He steps outside to take the call and hilariously declares he doesn't want anything to do with Cleveland. Jason eventually suggests talking to Charles in LA. Ricky gets talked into it and gives approval.
Joe and Spencer are cruising up the coast when Spence receives a call from Jason's friend from law school and mother of local high school QB prospect, Jada Crawford. Joe makes dinner business plans with her and reveals he's already going a bit LA by saying Ciao instead of goodbye to her. He promises Joe not to get involved with the high school kid.
Jason and his amusingly annoyed girlfriend are hitting golf balls when Charles Greane calls. They chit chat a bit and Charles tells him that he might consider looking at Ricky if the price is right. But after hanging up Charles reveals to his eye twitchy assistant that he wouldn't really consider Ricky after all that went down last season in Miami.
Spencer and Joe find Parkers house and walk in on a major pot fest. I love the stoner kids reaction upon seeing the two, "woah dude, two bald guys just walked in your place...". The fellas and Parker agree to discuss the issues at hand.
Ricky and TTD and baby are out shopping and discussing Ricky's playing future. TTD didn't think Ricky would ever play again. Too much family stuff going on now. He does have a good idea that Ricky jumps on. He tells him that if he wants to play, LA is the place to do it for the family. And also, to make amends with Charles, maybe a fancy new watch for the new job might help the cause a little.
Spencer, Joe, Parker and a bunch of Parker's stoner buddies sit on couches in the living room. Joe takes a massive hit off of a Skywalker joint but Spencer passes, hilariously saying he would never partake during a business meeting, after telling Joe to smoke up. Nice look by Corddry there. It seems the problem Parker has with everything is the fact that on the last campaign the ad agency changed his skin tone and he's pissed off about it. He doesn't want to be the greatest black surfer, just the greatest surfer. He's from Laguna, not the hood. Spencer understands completely, he just doesn't want Parker to be in breach of contract and get sued (which of course wouldn't be great for him either). Joe gets super high and can barely put two words together properly.
At LA Rams HQ Charles leads a meeting. He lays out how his vision is utilizing the past, while looking toward the future. To his surprise Ricky's name is brought up and the other coaches are really into the idea. And as everyone has pointed out...they could get him cheap. He gives in and agrees to look at him if he comes in and works out.
Joe and Spencer meet with the ad agency that led the last Coke campaign that changed Parker's skin tone. Their partners names spell SHH and Joe thinks it's the funniest thing in the world and can't get over it because he's still so Skywalkered high. Spencer lets them know they are aware their clients image was manipulated. One of the girls responds it wasn't, it was "finished". Ballsy move standing up to the Rock like that Miss. Have you not seen DOOM? Spencer lets them know that as a man of color he is more aware of these issues and that people just want to be accepted for who they are and their talents. The agency won't budge and won't change a thing from the old shoot or anything in the future. Spencer tells them well maybe Parker won't surf. The agency tells him that he'll be sued then along with Sport X. After coming in late to the meeting Lance shuts it down for a timeout with the boys. He doesn't seem to mind the changes at all and is more desperately worried about the millions the Coke deal will afford them. He doesn't want them to blow it as this deal predates their involvement with Sport X. Spencer really doesn't like it and walks off and away from the meeting.
Later on Spencer is drinking alone in a bar where he meets Jada Crawford, the lawyer friend of Jason. She is a public defender and is nice and concerned about her amazing QB son. She wants to know what some of the rules are and Spencer lays out some of them for her. He can't speak with her son directly or it would violate certain NFL rules he's beholden to, but he tells her he's there for her by phone or text anytime. He tells her that her son is special, and that any school that gets him will be lucky.
Ricky and TTD are in the kitchen with the nanny and the baby when the doorbell rings. It's Charles and he comes bringing bagels and cream cheese. He thanks Ricky for the watch and begins to question him on how he's doing. He brings up Ricky's head concussions and Ricky says that he's all good. Charles comes out and asks Ricky if he'd be interested in playing for the Rams this season. Ricky says hell yeah! Cool! Yeahhhh! Then Charles says you'll have to come in and work out of course first...OOOOOhhhh Ricky didn't like that. He lays into Charles about how he shouldn't have to work out for the team and Charles up and leaves in a huff. Taking his cream cheese with him!
At the Huntington Beach Surf Classic Joe and Spencer check out the view, dressed now in their casual beach clothes. Their worry is short lived as Parker shows up to surf the competition. Lance is super stoked and everyone watches as Parker delivers an amazing run on the waves and wins. Up on the winners stand, Parker raises one fist in the air. Other African Americans in the crowd nod and clap extra loud. Lance is not pleased. Spencer smiles as he walks up and whispers to him, "he black enough for you now?".
Nice episode that touched on some heavy issues ie race in marketing, and youth athletic manipulation but still brought the funny. Rob is hilarious as always and he should be high in more of the episodes this season, I mean after all, they are in the land of the Chronic.