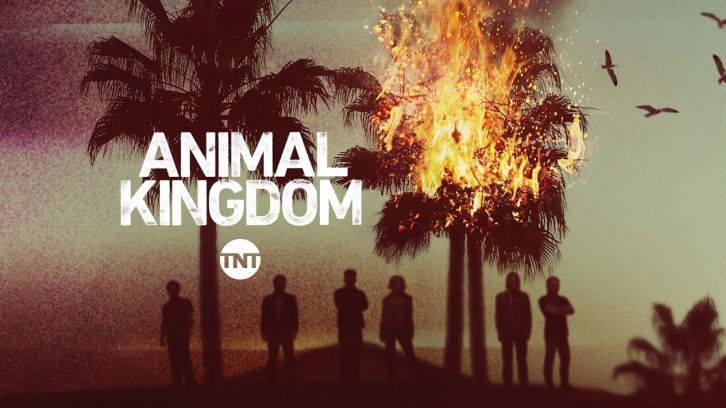 I'm back! I know you were worried, I could feel it. Don't worry everything's ok, life just got busy. Thanks for asking! I won't waste too much of your time up here because, as you know, some things have gone down. Very important things that need/deserve to be addressed before tonight's latest installment. So, while we wait, let's catch up!

Keys to the Kingdom
Craig did a bunch of flirting with Frankie which led to them making out, which I'm sure will lead to sex, which will no doubt give us a very angry Billy. He was also the least freaked out by Smurf's sudden release from jail, probably because he's got the least to be scared of. Side note: "did a bunch of flirting" gives you all an excellent insight into how much I flirting I'm involved with in the real world.

Deran spent more time with his father and I'd like to highly recommend that he stop that. Though he did draw a big line when Billy asked if Deran would ever call him Dad. Nice to know he hasn't fully consumed the Billy Kool-Aid yet. He also had to deal with a member of his non-Cody crew who desperately wanted a job they could pull.

J had a rough couple episodes. He got yelled at by Nicky's father (even though he's only indirectly responsible for her incident, at best), had a few miscalculations during the weed heist, and was greeted by a newly-released Smurf a day after he said some strong words to her in jail. He's got Mia to help soothe the absence of Nicky at least!

Nicky is in Guam and nowhere to be seen. Maybe it'll stay that way!

Pope has had a bit of a time as well. He had to meet with Lucy (which he hated) so they could meet with a contact of her brother's who had some information. He told them there was a mother in Oceanside who paid to have her son killed because he stole money from her. The next day he had to deal with being in the car with Billy for the weed heist before kicking him out, only to return home to find Smurf is a free woman.

Smurf is back! She's once again a free woman, and she most certainly has plans for her boys. She may also have plans for Frankie, who she spent most of her first day out of jail with.


This Week's Prey

Libertad


J begins his day in a motel room with Mia, fresh off of a late-night booty call. Looks like he doesn't want her around the house now that Smurf's back. Probably a good call. After Smurf spent the morning cleaning the mess made at home in her absence, J returns and has a few things to answer for, such as her dirty Jag and the low amount of money in her checking account. He apologizes for what he said to her in jail (which she simply nods at) and she transitions into finding out if anything from their last job will be going into the funds. When he doesn't answer, Smurf tells him to gather everyone for a meeting later, so they can all get on the same page. Then, Smurf's lawyer arrives to get J's signature on some paperwork that revokes his privileges to everything of Smurf's. Clearly she's a bit unhappy about the way things were run. At the meeting later (which Deran decides to skip) Smurf informs them that if they want to launder any of their money through her buildings, she'll be charging 20% of the take. This of course doesn't fly, but she offers an alternative; if the boys can track down the money Baz stole, she'll split it between all of them and let them run money through for free. She even points them in the direction of Lucy (who has already declared to Pope that she'll do whatever it takes to protect herself from Smurf) to help speed things up a bit, because she knows Lucy is the only one Baz would have told about the money. It seems like a pretty fair deal to me, but despite J's best efforts, none of the guys want to take on the risk of heading to Mexico to take down Lucy and agree on giving her 15% for laundering services.


Smurf spends most of her day with, shockingly, Billy. She catches him trying to sneak into the property unnoticed and intercepts him, but kindly welcomes him in. She then seduces him (which isn't very hard) and after they hookup she even offers him some money, so he can buy some drugs. Of course, this isn't all out of the kindness of her heart. She almost immediately asks about the weed heist and how much money they got from it, and guesses almost the correct amount based on the obvious fake number he gave her. She then holds back her offered drug money until Billy promises to talk Deran into seeing her. He agrees, of course, because he needs some drugs. Smurf ends up getting her meeting with Deran as he comes back in from a surf, determined to try and get him on-board for pulling the Lucy job so that Craig will cave, too. When he does not, Smurf lets it go (for now) and switches to making sure he'll be at the memorial for Baz she's arranged at the cemetery. That night, she pays Trujillo for his help with a fancy bottle of liquor before handing over an envelope full of cash and asking him to make a trip to Mexico. Watch out Lucy. The next morning, everyone arrives at Baz's cemetery plot (except for Lena because DCFS took her!) and Smurf reveals that she has purchased all the plots for spot they're standing on so that they can all be together forever, even after they die. She's even going to move J's mom's body here as well. How lovingly creepy!
Off the Tit
Pope's day is spent trying to figure out his Lena situation. He waits outside of the DCFS offices for the first person to show up, so he can make sure he is the first name on the list. The woman informs him that she can't let him in that early and insists that he come back later. Pope eventually complies, but he displayed some behaviors that would definitely raise flags for a DCFS member. He is extremely impatient during his long wait, making his internal issues worse by the time he is finally seen. The woman starts trying to assist him, but when he sees the woman who took Lena, he completely throws his nice guy efforts out the window. He never gets violent, but he uses a very strong voice, and you really feel the hurt inside of him with every word he says. But there's also no way everyone in the office didn't jot down this experience, which won't bode well for any custody claims he attempts. Upset, he returns home to think, which gets interrupted by Billy's usual taunting. This incites Pope to attack and these boys really go at it. Pope escapes with a knife wound, while Billy escapes very wet after almost being drowned. Pope then tells Smurf about Lena and she pulls some strings to find the home Lena was put in. Smurf takes Pope to Lena's new house to show him and tell him about what a good home it looks like.
Jackpot
This is the big one! We start off on a happy note, with Deran and Adrian being a nice little couple discussing Deran buying a place to live that Adrian would enjoy. It might be the most "normal couple" mode we've ever seen them in. We then jump to Pope bringing Craig to look at Lena's new home, so they can devise a plan to get her back. Craig definitely isn't on board with this and isn't sure what to think when Pope suggests that Craig legally adopt Lena. The moment is interrupted when Smurf sends an urgent text for all the boys to meet at the warehouse where she is holding Marco. Of course, they aren't aware of that yet. All they know is that they're in a warehouse with the Trujillos (who most of them don't know), and the boys definitely take notice when the Trujillos clearly know J. She reveals that her urgent issue is that she has initiated the Lucy job without them and needs them to finish it. But, their big "We don't want to go to Mexico" argument is no longer valid, because they don't have to now! After a discussion, they agree to do it, but they're taking over how it's handled. However, she shoots down all of their ideas, so they really still end up doing her plan. She nominates J to meet Lucy offsite and bring her when he's sure she's clean because he would seem the least hostile to her. He's pretty positive it's because he's expendable, though, and I have to agree.
After J stares at the J-P-B initials on his bed (Julia, Pope, Baz) and realizing that the two people who were closest to his mom growing up could both be dead, he gets a text from Mia that she's outside. He explains to her what happened while trying to wrap his head around the fact that he protected Smurf, then tells her that he'll need to hire her again soon. Meanwhile, Deran and Craig drink their sorrows away in the living room, with Craig lingering on Pope's proposed Lena adoption plan earlier that morning. They'll be happy to learn that Smurf's meeting goes well. Sort of. They have a tense house on a court house bench before Lucy promises to give Smurf Pope's location if she will finally admit that she had Baz killed. She hesitates for a bit, but eventually owns up to it. She really did it, everyone. Half of me actually believed she could have been innocent in this scenario, but that's what I get for ever doubting Smurf's ruthlessness. Lucy shows a bit of these feelings as well. She was 99% certain Smurf was behind it, but hearing Smurf say it out loud really affected the small part of her that doubted it. She gives Smurf a key and location, and says she will kill Smurf if Smurf comes anywhere near her or her family ever again. Smurf recovers Pope and takes him home where he belongs, but they don't immediately get out of the car. Pope glares at her while she tells him to go inside and get cleaned up while she makes some food. Before he gets out, he tells her that he knows now that she killed Baz, leaving a lonely Smurf to sit in her car and ponder the actions she's made up to this point. Things aren't looking pretty.
Animal Instincts
While all three of these episodes were great, I think we all know that
Jackpot
was the most important of the three. Falling behind on these reviews actually worked out a bit, as these episodes together really form a full story arc.
Libertad
sets up Smurf wanting the boys to take care of Lucy and get her money back,
Off the Tit
shows us Smurf starting to take it into her own hands, and last week's episode brings right to the exciting conclusion in the form a full Lucy confrontation. It's all very satisfying, and Pope's realization that Smurf truly did have Baz murdered is setting up a new chapter that will be very exciting to watch unfold. He's got several options moving forward, one of which is telling everyone and waging war on Smurf, which I don't think will happen. At least, not immediately. All I know is I'm here for it. He better be careful though if he ever wants to get Lena back.
Also an important topic: Deran and Adrian. They just need to let it happen. It's gotta happen. Deran doesn't have to hide any part of himself with Adrian, which would be such a relief because secrets always ruin relationships. Speaking of secrets, I don't buy for one minute that Renn's baby isn't Craig's. It totally is, and Craig is definitely gonna be a daddy. That could certainly complicate whatever he has going on with Frankie, though, which I'm completely ok with
J's power plays will be fun to watch play out. If he keeps playing his cards right, he'll be running the entire operation in no time. I have high hopes for him. I'm not sure the boys would be too happy about it, but perhaps they'll be more open to it if Pope tells them about everything. He could easily be as formidable as Smurf when it comes to leading, though, so I'm not sure what the best option really is.
Favorite Sights
Pope's sad/scary dedication to Lena
J's bowling alley inquiry
J's lawyer poaching
Deran and Adrian
The Lucy Showdown
What do you think Pope will do with this information? Will J be able to successfully take over Smurf's operation? Do you think it was fair of Lucy to kidnap Pope even though her brother was the idiot that started the entire gunfight? Sound off in the comments below!