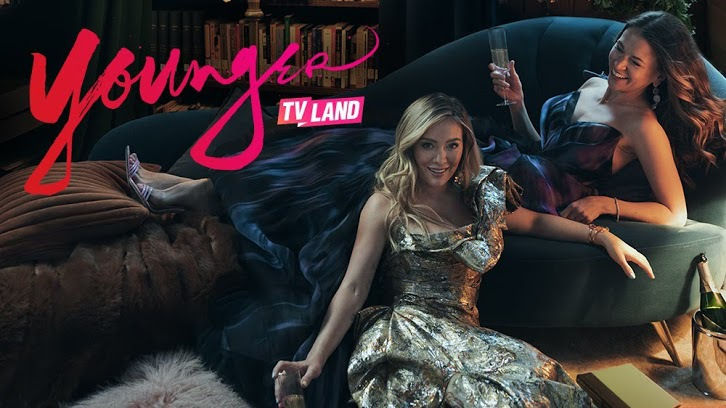 Welcome back Younger fans. This review will be a double because of chance and also because the two episodes bookended the saga that is Charles and Liza quite nicely. There was a turning point in both installments that led to a moment Charles and Liza shippers have been patiently waiting for! Additionally Kelsey and her situation with Jake and Zane got way more complicated and Diana is making it work with Enzo which I am very happy about! Without further ado, let's dive in.

Sex, Liza and Rock and Roll

Kelsey's plate is full
Diana and Enzo
We have the drama with Charles and Liza, the growing tension with Jake, Kelsey and Zane but my favorite couple these last couple of episodes is Diana and Enzo. He is so great for her, and this episode she was to venture outside of her Manhattan safe spot and to Enzo's Staten Island abode where she met her match in the form of his tough Italian mother. Diana is never one to be intimidated, and this was no different as Enzo's mom hurled some insults her way in their native tongue, Diana then used her signature moxie and unknown ability to speak Italian to fire back and show this woman that she was not to be messed with either. It was a really great moment and one that I thoroughly enjoyed.
Some odds and ends
* I felt for Josh when it looked like a dagger pierced his heart when Kelsey told him that Liza was away with Charles. I think the friendship overtures that Liza has made has brought some feelings back up. Josh has never been truly over Liza, I mean he married a stranger to cleanse himself of her presence. Liza on the other hand seems to have moved on and Josh is heading straight for heartbreak.
* Maggie got a GALLERY OPENING!!! I was so happy and proud of her. I was a bit disappointed she and Diana didn't actually converse, I was looking forward to that.
A Christmas Miracle
Mistletoe er poinsettia disaster
Millennial
publish the book and wants Zane off of it. This is the adult equivalent of standing in the quad and declaring the girl you are crushing on is off limits. I am over Jake and want him to get his book done for
Millennial's
sake, but I hope this gives her pause about their personal dynamic. I do understand that some of this is on Kelsey, she should have been more up front about the nature of her relationship with both men, but Jake pursued her initially and made it seem he could handle both.
Literal Handcuffs
Maggie's art show was a roaring success and her entire collection was gobbled up by a woman named Penelope and her husband Luca. They give her a sweet gift of gold bracelets which is not so sweet because they are basically handcuffs. Yes, this couple now believes they own Maggie and she meets the other 'collection' of artists they've acquired. Once the overtures about trips she must go on and that now she is basically exclusive to them and her art would be chilling in a warehouse, Maggie pulls out that signature Brooklyn attitude and tells them that NO ONE owns her. I was proud of her but also a bit sad, she is a talented artist and every time she pulls ahead professionally, something strange like this happens.
Other odds and ends
* Caitlin is team Josh and I fear that her telling him not to give up is going to lead to so much sadness for Josh like I discussed above. Josh is once again heading for heartbreak city now that Charles and Liza are seemingly on the romance track.
* How sweet was Diana this episode? From loving the Christmas tree Enzo brought that she was a first reluctant about to gifting Liza one of her signature over-the-top jewelry numbers and finally, getting choked up at Liza's handmade knitwear gift. I love this woman more and more with each season and this one has made her more soft and less rigid.
So what did you think of these episodes? Are you happy Charles and Liza are now sailing? What do you think Josh will do do when he finds out or even more scary, Pauline? What should Kelsey do about Jake? And do you think Diana and Enzo can go the distance? Let me know!