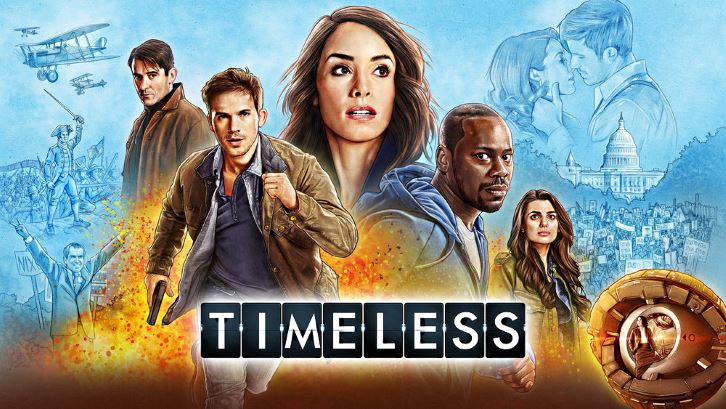 "Now I can't think about anything else but #Timeless," @trinxikene tweeted after devouring all 26 episodes of time travel series Timeless over a few days. "Is this what happened to everybody?"

Yes.

For fans, Timeless will be with us long after the lifeboat has been packed away and the doors to the bunker are locked forever. Some may argue that has already happened, but like a time team stranded in the 1700s, fans won't accept defeat just because things seem bleak.

But why is it so special? Why is it worth fighting for?

Timeless quietly brought diversity into living rooms each week. Never did this show scream, "Look how diverse and inclusive we are!" It just was.
As viewers, we saw history through Rufus' eyes, and our hearts ached as he relived the injustices of the past. Not every moment, every horror, made a scene. Timeless rarely felt the need to raise its voice to be heard. Some moments were smaller: segregated drinking fountains; a sign on a phone booth proclaiming who could not use it.
All hit just as hard.

Timeless refused to make one character's sexuality the most interesting thing about her. Fierce bunker momma, Agent Denise Christopher, was a character in a long-term married relationship with another woman and both survived the series. A rare occurrence in television, where the Bury Your Gays trope continues its unnecessary reign over otherwise happy couples.
Timeless gave people the courage to come out to their families. And, if the time wasn't quite right for some, it gave them a soft push in that direction. It whispered to them that the outcome might not be as bleak as they imagined, and it left them with flutters of hope.

Timeless empowered us. It reminded us of past events while showing us how far we still have to go. It educated. It opened our minds and our hearts and it did so with soul.

In season 2, Timeless focused on women and people of color, giving a voice back to those all but silenced by history, such as Grace Humiston, a private investigator who helped solve the murder of Ruth Cruger in 1917. Some of us were introduced to Robert Johnson's soulful voice and the curious tales of his life. Others suddenly found themselves researching Wendell Scott, our hearts broken by this NASCAR driver's struggle to be appreciated and respected in his own time.
Many of us were hearing these stories for the first time. And we listened.

Critics loved Timeless. Business Insider named it the best show of 2018 on NBC. The Smithsonian reviewed the episodes each week, and it was number one in USA Today's Save Our Shows poll two years running.
With science-fiction taking viewers down harder, darker, more political paths, Timeless gave us lite sci-fi. It focused on the characters, on the relationships, while gently guiding the viewer through history. This was never about the time travel. This was always about the people.

Those who watched it were enchanted. They absorbed the history, the lessons, and conversed.

In the end, it was a susurrus that went unheard by too many. Not enough people with Nielsen Boxes watched, and it was an expensive show to make. On June 22nd, Timeless was silenced by NBC. On July 2nd, hopes for more episodes diminished further.

But the fans, known as Clockblockers, will not go quietly. One thing Timeless taught us all was to figure out what we're fighting for. We're fighting for Timeless.
If you love this show, the push now is towards NBC agreeing to a 2-hour movie wrap-up, or for a network such as @History to pick it up. Wouldn't Timeless be the perfect fit for History?


Below are all the ways Clockblockers are currently working towards the #SaveTimeless/#TimelessMovie goal:


The HeliCLOCKters at SDCC
Thanks to a GoFundMe run by Emily Schepker and Jordan Hawman, the fandom has raised over $20,000 towards the Save Timeless campaign. This money will now go to putting not one, but two helicopters in the skies above Comic Con in San Diego on Saturday, July 21st. A 4,000 square foot banner will be flown for three hours from one helicopter, with the #SaveTimeless message custom printed on it for all of San Diego to see. A second helicopter will film and livestream it as it happens. Christened
heliclockters
by Malcolm Barrett, the fandom is making a big, bold statement with these choppers, making noise and being seen. If you're in San Diego on the 21st, look up between 12pm and 3pm. And if you're not, the livestream link will be added here once it is known.
The Hashtags
#SaveTimeless has become the main hashtag, complemented by a collection of themed ones. With the best advice to be to use a maximum of two hashtags per tweet, other hashtags that are being used in addition to #SaveTimeless are:
#Timeless – when participating in a daily organised tweet storm aimed at one of the streaming services, fans are keeping it simple and adding the original hashtag.
#LifeboatLibrary – A newer campaign aimed at donating books to charities from wishlists. Organized by Alexandra/@
fancychampy
on twitter, in collaboration with
The Lucy Preston Literary Society
bookclub on goodreads, this is a way for fans to promote the show while encouraging literacy through book donations.
SaveTimelessHQ
The twitter account
@SaveTimelessHQ
is keeping the fandom updated on campaigns. A website,
SaveTimeless.com
also exists, with information on all the campaigns.
Daily Tweet Storms
@hulu
,
@amazonstudios
,
@netflix
,
@appletv
,
@starz
,
@history
), there are daily tweet storms to keep the hashtag visible.
These tweet storms take place at 8AM EST, 3PM EST, 5PM EST, and 8PM EST daily.
During these sessions the hashtags to use are #SaveTimeless and #Timeless.
Mission: Paperclip
"Help the Time Team pick the cancellation lock and #SaveTimeless"
. Hundreds of thousands of paperclips have so far been sent and while there was a push to have them delivered by the contract expiry date, this campaign is on-going and more boxes are still being sent.
Mission: Postcards
As the poster declares, this is an opportunity for fans to add a more personal touch to the campaigns. The message could be from themselves, or perhaps it is Lucy Preston persuading someone to save Timeless - because like history the show is worth preserving.
Don't forget to add #SaveTimeless, and tag
@TimelessPOBox
and inspire others to take part.
Timeless
may have quietly nestled into the hearts of fans, but they are ensuring they are loud in their battle to have it saved - or at the very least given a proper ending with a #TimelessMovie.
If any other fandoms who have had their show saved have fight left in them, the #Clockblockers would be grateful for your support.