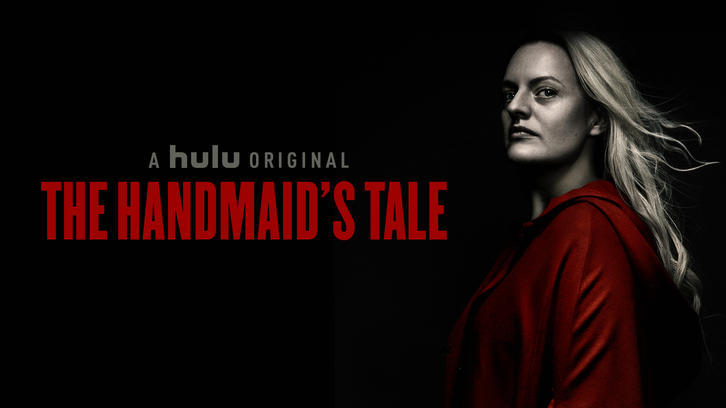 The Handmaid's Tale
"Holly" was directed by Daina Reid, whose other credits include
Sunshine
,
The Doctor Blake Mysteries
, and
Blue Heelers
, with the teleplay by Bruce Miller and Kira Snyder. This is another brilliant episode – with very little dialogue for most it as June (Elisabeth Moss) struggles on her own as she goes into labor. Once again, the cinematography was really outstanding in this episode and reminded me of the funeral scene after the bombing – except this time it became an affirmation of life. I also loved the flashbacks in this episode. I really can't applaud the show enough for using so many women directors - this is definitely one episode that benefitted from having that female perspective.
The episode opens right where we left off with an extreme close up of June's eyes. All we hear is her breathing – and very squeaky snow. If you aren't Canadian, you might not know that squeaky snow means it was very, very cold when they filmed this. We see June running in a panic through the woods – and having just seen Hannah (Jordana Blake) and been reminded of them being torn apart – this really reminded me of that scene.
June tries to break into the garage – which is hiding a sweet ride, fyi – with no luck. When she turns around, she is confronted by a black wolf. A symbol of the black, watchful guardians? June locks eyes with it and retreats to the house. June addresses us and tells us in voiceover that she's sorry there's so much pain in this story. She's sorry that it's in fragments – like a body caught in the crossfire. She tells us that she's tried to put in some of the good things too… And this voiceover felt very much like a call back to Atwood's novel, which is also a framed narrative.
Back in the house, June starts to make a plan. She looks for keys and finds food. There's no power on in the house – it's been closed up for the winter after all. She also finds maps of Gilead, which start to fill in some of the blanks for us about its reach geographically. She also finds a picture of Hannah with her other "mother" and even more painfully, a happy drawing by Hannah of her with her new family.
In a flashback, we see June painfully leaving a four year old Hannah (Ayomi Jonas) at school. Hannah is very upset and doesn't want to go – again a throwback to the last episode. June puts on a brave face but is also clearly upset. Mrs Tanaka (Vanessa Matsui), the teacher, tells June, time for a last hug. She remarks that June probably went through the same thing with her own mother – and June tells her not so much. We've already seen that Holly (Cherry Jones) and June didn't have that kind of loving relationship – another reason that it is so important to June.
June searches the desk and finds the keys. We get another beautiful shot of June returning to the garage, shot through the attic window making it look like we are looking through a gigantic eye.
June starts the car and gets radio-free from the Great White North (Canada) and hears that the cap on refugees is being raised – a nice jab at the disgraceful events in the news. More sanctions are being placed on Gilead from more countries. And then we get yet another perfect song – Bruce Springsteen from The River album – "Hungry Heart." June has to make a decision – does she go out for a ride and never come back?
June goes back to the house and packs up food, water, blankets and medical supplies, which she puts in the trunk. She goes back for clothes – but doesn't take any of the wife's clothes, opting instead for the Commander's coat. She pauses for a moment and looks at herself in the mirror – flashing back to a moment with Luke (O-T Fagbenle) when she was pregnant with Hannah. She's also dressed in black – this time a little black dress as they are going to a Christmas party. She's the one in charge, giving him advice on what to wear and the ins and outs of the people they'll be seeing. They're cute and in love – something we may have forgotten about.
June is interrupted as a car roars into the drive way. It's Fred (Ralph Fiennes) and Serena (Yvonne Strahovski). Serena comes in screaming for Offred. Fred is looking for Nick (Max Minghella) or the Mackenzies. Fred wants to go home and make a plan, but Serena insists they stay to search the house. Serena finds the wardrobe undraped and June's discarded cap and coat.
We see just how much of a rift there is between Fred and Serena, now forever stuck with each other. She wants to know how he could be so stupid – Nick and June hate him. His little "act of kindness" meant nothing to them. Fred, however, wants to blame Serena for never being kind to June. Serena flings back that Fred raped June yesterday – like that was the first time! Fred insists he only did it to fix Serena's mess. She calls him a fucking idiot, and he wants to know when she became such a bitch.
In the end, the two are caught by the very system they helped to create. Serena realizes that they can't report June's disappearance – again! – because they'll be seen as part of the resistance. Fred says maybe they'll hang them side-by-side on the wall – "Just my fucking luck!" Serena screams at Fred that she gave up everything for him and the cause and she only wanted one thing – a baby. Fred slams Serena against the wall with his hand on her throat.
Meanwhile, in another beautifully shot sequence, June watches them from above (was I the only one wondering how big this house was?). She's found a gun and has it trained on the both of them. Part of me really, really wanted her to shoot – while another part of me never wants to lose Yvonne Strahovski or Joseph Fiennes from the cast! June watches as Serena deflates and tells Fred that she has nothing. He's left her with nothing. Fred relents and tries to comfort her, but they are long past that and she pushes him away. As June hesitates, the two back out of her sites. The music crescendos as they leave, Fred telling Serena that he'll call security, and then the music fades as June is again alone. Of course, June couldn't shoot. No matter what they've done to her, she hasn't become a cold-blooded killer.
And of course, as soon as they leave, June has an actual, real contraction. And we flash back to her preparations for Hannah's birth. Holly, who we discover was a doctor, is determined that June will have her baby the "natural way" – such an echo of last week – and completely not what June wants. June wants a hospital and doctors and drugs. No doubt Holly would have been proud of what June does in the show, but it's also, just as clearly, not what Holly would ever have wanted for June. Holly insists that she'll be present for the birth, but June knows her too well, and knows that despite what Holly might say, she'll miss the birth – and of course, she does. As Holly encourages June to go without the hospital, she tells her that she's stronger than she thinks – and Holly was definitely right about that.
June goes back to the garage – and of course, there's no power to raise the garage doors – and that is one solidly built garage. She tries several times to ram the door open with that beautiful, vintage car with no effect. June is furious and tries to use a shovel to get the door out, simply resulting in her falling on the ice. She is once again face-to-face with the wolf. Her water breaks, and the wolf howls. June is forced to retreat back to the house.
June sets herself up in front of the fireplace with blankets and sheets. Again, we get some beautiful shots of her in front of that fire. She has a flashback to Hannah's birth and Moira (Samira Wiley) and Luke being there with her. Both of them want to help and be a part of it. Both have prepared a playlist for her to listen too. They are both concerned for June and vying to help. Moira insists that June doesn't want to listen to Luke's shitty music, but June insists she likes it – hilariously until she has a contraction! Holly still hasn't even called.
As the night wears on, we see that the white sheet is soaked in blood. We see June's face in the firelight and with no words, just Moss's amazing acting, we see her make the decision. She apologizes to the baby – she promised not to let her be born there – but it's going to be ok. June goes outside – the wolf is there. She hesitates, but then fires the gun. She is willing to make the sacrifice that she must to save the baby's life. The voice over explains, "Here I am. Come and get me." The wolf, symbolically, leaves. There's no more need for the big bad wolf once little red riding hood has called for the huntsman.
June is naked in front of the fire, really conjuring ancient visions of women ensuring the continuation of the human race. In a flashback, June again remembers Luke and Moira trying to help her through Hannah's birth, but really, she relied more on the nurses and doctors. What surprisingly really gives her comfort and guidance is her memories of the handmaids and their training. Something good has come out of this community of women, who come together to support each other to bring life into the world.
In a final flashback, June remembers being handed Hannah. Luke is there, and Holly finally arrives – her plane had been delayed in Atlanta due to snow. There is no doubt, however, that she is thrilled to meet her granddaughter.
June brings her daughter into the world on her own and collapses in front of the fire, drawing the blanket up over both of them. In voiceover, June tells us – the baby – "I keep going with this mutilated story because I want you to hear it as I will hear yours." It's the stories that will us into being, that create memories – whether those stories are written down or passed down orally. It's again the strength of the word – and of naming. June names the baby Holly, after her mother. The baby is the continuation of their story. As the episode ends, a car pulls up.
I loved how this episode really picked up the theme of the importance of legacy – in human and written form. We also see the consequences of so many actions in this episode. The episode does contain some hope in the midst of all the pain. June drawing strength from the community of handmaids is an indication of the strength of the women in that community. Using the Red Riding Hood analogy also spoke to the theme of female power in birth too – and the power of the word. We also return to the power of naming. What did you think of the episode? Let me know in the comments below!