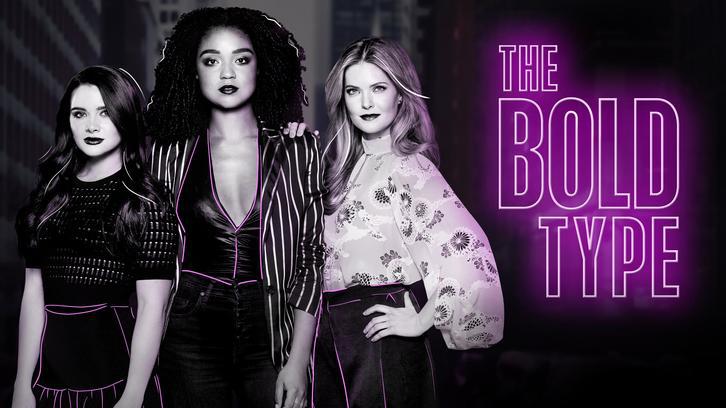 This week on The Bold Type, Jane said something insensitive when she didn't get a job she wanted which put her at odds with Kat, who was fighting very hard to hire a girl named Angie despite the board's objections. Jane made up for what she said by helping Angie get out of work so she could convince the board, which worked. Sutton started to date someone new, only to find out he's married. She later informed the wife and went to Richard's place, only to see him with someone else. Also, Kat had a sex dream about Leila.

Check your privilege: I know Jane is probably going to get dissed online for what happened in this episode. And she did mess up this week. But I tried to look at it from both Kat's and Jane's POV. Jane has really been struggling lately, no one wants to hire her, and she really doesn't like to sit still. So then the perfect job comes along, everything goes great, they love her but she doesn't get it. And it sucks (I would know). She's pissed, she doesn't get what went wrong and she says something really stupid without even realizing it. It's incredibly unfair to say someone else got the job because they're not white. Saying so implied that this person of color couldn't possibly be a better fit for this job, be a better writer, have a better resume. And I don't think Jane meant it like that, she was just venting, but that doesn't make it okay. However, after the initial moment, she listened to Kat, evaluated how she had acted and acknowledged she'd made a mistake. This is something every white person has done at least once in their life. We all have white privilege and most of the times we're not even aware of it. That's why I love that this show brings up subjects like this.

MVP: Kat was really on fire this week. Aside from teaching Jane about the privilege she has, she also fought for a young woman that she believed in. Kat is still new at dealing with board members so when they tell her she can't hire Angie for a stupid reason, she fights. And it paid off. The requirement of a degree is ridiculous in this case. First of all, pretty sure there aren't degrees in social media. Sure, there are communication ones but I doubt they would make that much of a difference. And considering how expensive it is to go to college in the US, you'd ensure that only someone from a specific social class would be able to apply. So I'm glad Kat fought like hell and in doing so she realized just how lucky she's been in life.
Ouch: Sutton has not had it easy lately. First the cocaine situation, now she ends up sleeping with a married guy. I must say, I'm impressed with how she handled finding out. I probably would've ended up throwing the phone at his head. And I'm glad she told the wife, which could've ended badly for her as well. Spouses have a tendency to blame the third party in situations like this instead of the cheater. But of course, not on this show. It's probably a good thing that Richard is seeing someone new. I felt bad for her, but she was already hurt and going to his place didn't seem like a well thought out decision.
Minor heart attack: Despite having complete fate in this show about how they handle writing our 3 main characters, I did worry for a minute when Kat kissed Leila. But luckily it was just a dream. I mean, having a sex dream about someone who isn't your girlfriend is still not a good thing, but a dream is still just a dream. I'm sure we'll get into this more next week. I wouldn't want to be Kat when she explains it to Adena, though.
Honorable mention: I wish I could improvise like Sutton. Her pitch to Oliver was absolutely amazing and she completely made it up on the spot. Someone give this girl a raise.
Best quotes: Sutton: "Why pretend that you didn't wake up in someone else's bed without time to go home and change? Why not show up to work wearing the same thing you wore yesterday with a few small adjustments. And we'll call it… how to turn your walk of shame into a stride of pride."
Oliver: "Next time it's black people snack time, send me a memo." Kat: "Okay."
Sutton:"I think you should leave. As quickly as possible." Jane: "… Uh, thank you, New York." Kat: "Best city in the world."
Kat: "Welcome to the entire existence of people of color, Jane. How many times have you walked into a room full of mostly white people, and you don't even think about it? 'Cause I think about it. It occurs to me."
That's it for this week. Check in again next week for an all-new review and let me know in the comments what you thought of this week's episode.
Please be respectful in the comments, any unnecessary rudeness isn't welcome.