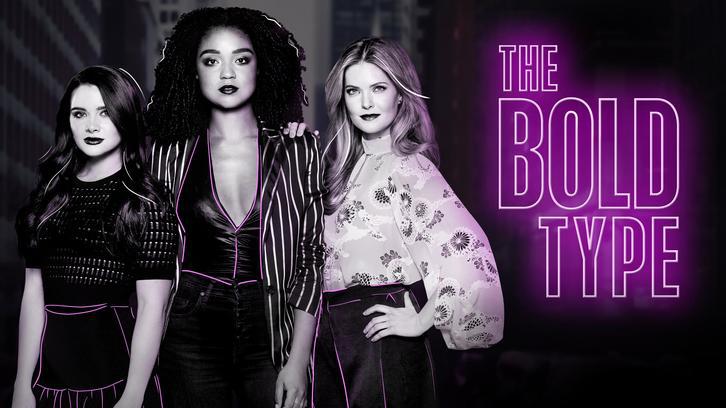 This week on The Bold Type, Jane had a pregnancy scare which led her OB to tell her that she needs to start thinking about kids now because she has the BRCA gene. Jane tries to figure it out by writing an article about it and calls her brother to talk about her mom. Things with Ben get a bit awkward when she tells him. Kat becomes the spokesperson for a company that turns out to be racist and is using her to clean their image, which backfires when Kat calls them out online. Sutton is forced to make budget cuts which Oliver does not like and does her best to still make the photoshoot work, which she succeeds at.

Most creative: I think Sutton did an amazing job at work this week. She was put in a difficult situation because Oliver was out of town and left her in charge. Honestly, he does not get to be mad at her for doing exactly what he told her to. He sent her to a budget meeting and told her to smile and nod. What did he think was going to happen. I kind of wish Oliver had been present onscreen, to give us both sides of the argument because I think Oliver may come across angrier through text messages. But Sutton managed to still pull the photoshoot of with a much lower budget. Had it been me in her position, I would have curled up in a ball somewhere. The way she pulled it off, building a set to look like that bar with items of a flea market. I was very impressed. Someone give this girl a raise.

Most badass: I'm glad we got a break from Kat and Adena's relationship drama. I love them, but things were getting a bit awkward. This week instead we got to see the Kat we know and love standing up for what she believes in. Honestly, I can't believe Cleo didn't vet that company before bringing it to Kat. This could have had enormous consequences for Scarlet. And it could've destroyed Kat's career. I think we've all seen how quickly the internet can turn on someone, and as social media director, she really needs the internet on her side. But I'm glad she found a way out of it. And I'm glad Jacqueline immediately helped. (loved her this week). I want to see more storylines for Kat like this one where she fights for what she believes, the way she did with Angie.
Most heartbreaking
: Jane did not have it easy this week. For most people, a broken condom does not lead to having to figure out what you want in life at 25. But because Jane has the BRCA gene, she has to start planning ahead. Now some people, like me, have the kid thing figured out early on. I've always known I want kids, and some people have always known they don't want kids. But in Jane's case, it was more something that she didn't think she'd had to worry about for at least another 5 years. But if she decides to have preventative surgery, which I'm assuming will be revisited later in the show, she needs to start thinking about it now. If it were me in Jane's shoes, I'd probably just freeze my eggs to be on the safe side. That way, if she wants kids, later on, it's still an option if she doesn't no harm done. But most importantly, she can put off this decision. This conversation did, however, seem to have put a strain on her relationship with Ben. I think it's normal that he went full doctor at first, it's not like he can just turn that part of his brain off. At that moment I'm sure he wished he wasn't a doctor that knew about all the worst case scenarios. But I get why Jane was upset, at that moment she just needed him to be there for her. I'm curious to see where their relationship will be next week.
Is it just me…: Or did you guys also notice something different about this episode? Something has felt off for me all season and I haven't been able to put my finger on what it is exactly. But this episode felt much more like the ones we got last season. I think my biggest issue this season has been with drama caused by stupid decisions (the cocaine, cheating, …). But maybe that's just me.
Best quotes: Kat: "I still don't believe that they postmate the morning after pill." Sutton: "That's because you live on the blissful island of Sappho where people don't have to worry about birth control. Trust me, it's a thing.
Kat: "Look, Ben, you should know by now that we are a package deal. You buy 1, you get the other 2 for free."
Kat: "I say this with love, but you look terrible."
Kat: "I use WholeSpa clean wipes in the middle of the day because it's a great pick me up. My skin feels soft, hydrated and most of all clean. It's as if all the dirt has been wiped away. Just like how the CEO of WholeSpa Eric Miller is hoping that having a queer black woman featured on their Instagram story will just wash away all the bad press he's about to get for donating to hate groups."
That's it for this week. Check in again next week for an all-new review and let me know in the comments what you thought of this week's episode.
Please be respectful in the comments, any unnecessary rudeness isn't welcome.