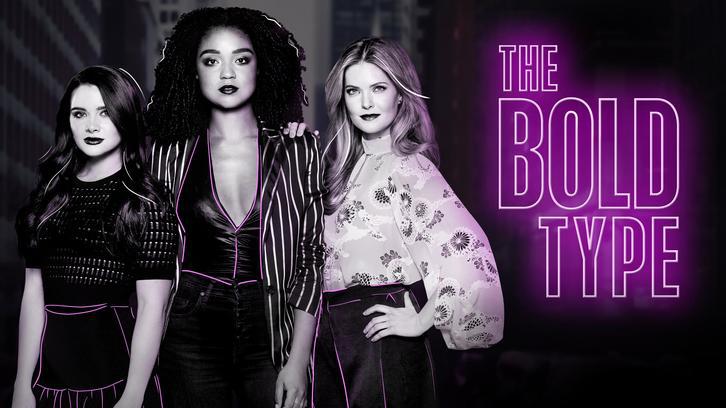 This week on The Bold Type, Sutton has to dress Richard's new girlfriend which puts her in a funk. Jane receives an award for her article on rape and writes a follow-up piece which leads to Jacqueline rehiring her. Kat goes out in the LGBT club scene and kisses another girl in the heat of the moment, leaving her feeling very guilty afterward. She tells Adena and they talk it over.

Dump her: I think everyone, including the other characters, has been a bit worried about Sutton lately. Specifically, the bad influence Brooke has been. And Sutton is a smart girl, it's not that she doesn't realize what's happening. Teenagers get themselves into these kinds of situations due to peer pressure all of the time, but this isn't really peer pressure because Sutton and Brooke aren't on equal footing. If Brooke got caught doing something bad, I doubt it would have that much of an impact. For Sutton, on the other hand, it could mean the end of her career. Not once has Brooke thought about this. Because I doubt she even cares. I'm glad Sutton realized Brooke is not a good friend. She has 2 amazing friends so that made it even more obvious. I hope this is the last we see of Brooke, but I doubt it. I still think the cocaine thing will come back to haunt Sutton.

Not so tiny Jane: Jane has grown a lot these past few weeks. And I'm glad she's getting the recognition she deserves, it's exactly what she needed to get past the meme debacle. This week was a perfect example of how Jane has grown. Sure, she struggled while writing her article. It wasn't exactly an easy situation, but while she did ask other for advice, she answered her own dilemma in her speech. The truth must come first. I never doubted that Jane would use Elena's interview. If she hadn't, it would've been like silencing her all over again and that's just not who Jane is. You can't effect change by staying quiet. I'm glad Jacqueline offered her the job back, she deserved it and I hope that despite the initial awkwardness, it makes their bond even closer.
I trust the writers
: I can imagine that by the time this review goes online, there will already be a lot of hate directed at Kat. While I'm not entirely happy with the direction this storyline has taken, I sort of get it. I think that when you figure out your sexuality by starting a new relationship with a same-sex partner, you're pretty sheltered at first. Kat's version of the LGBT community was Adena until she was introduced to the LGBT scene. And it's normal that Kat is curious. And she's totally not used to receiving that kind of attention. Kat is a very outgoing person but I think that even for her this was a bit much. So she messed up. But she handled it well. Total honesty to Adena (I hate storylines where the person hides it or when the partner hears it elsewhere). And I think Adena made the right call by walking out after Kat told her. In a situation like that, it's probably better to let everything sink in first and to take
a moment to process because often things get said in the heat of the moment that are later hard to take back. I really hope these 2 can work things out. My guess is that Adena will
suggest an open relationship or that they temporarily go from being exclusive to non-exclusive so that Kat can get this curiosity out of her system. But we'll have to wait until next week to find out for sure.
Bosses done right: I've mentioned a few times that I really love how the show has portrayed Jacqueline and that you rarely see a supportive boss like this on TV. This was no different this week. Jane may not work for her anymore, but she still cares and is invested in her career. But this time I wanted to focus more on Oliver. He's tough, sure. You kind of have to be in the fashion business. But he's also fair and he cares about his employees. He was worried about Sutton this week when he noticed something was off. He clearly keeps an eye on his employees, not just to make sure they do their job well but also their general wellbeing. And, something I find very important, he also gives positive feedback and not just negative. I recently started to watch a show set in the fashion industry with an incredibly strict, rude boss who doesn't really care about what happens to her employees, which made the contrast with Oliver even more noticeable.
Best quotes: Sutton: "I was out until 3 o'clock in the morning with Brooke and the entire Argentinian polo team." Jane: "Yeah, I'm aware. You kept yelling at the microwave to do its job better. Vamos la microwave, vamos."
Sutton: "It shouldn't take that long to heat up a frozen pizza."
Sutton: "Fine, I'll do it for you. I would do that for you. I told Dillon's wife. I'm basically a pro."
Oliver: "Red, I need you. What is this, nap time?"
Jane: "It's okay not to be okay."
Sutton: "Jane Sloan, you just won a Mandy award. What are you gonna do next?" Jane: "Disneyworld."
That's it for this week. Check in again next week for an all-new review and let me know in the comments what you thought of this week's episode.
Please be respectful in the comments, any unnecessary rudeness isn't welcome.