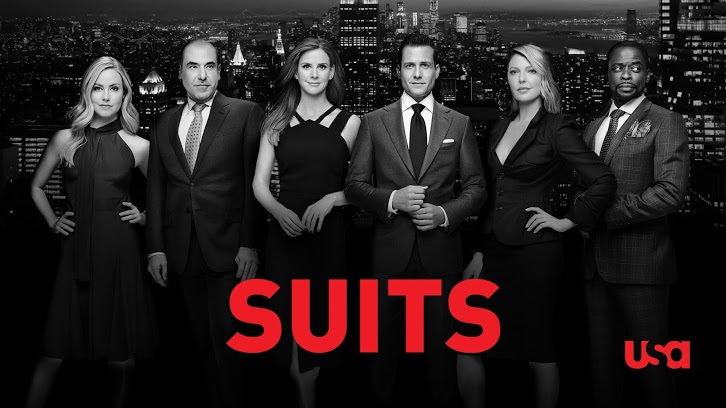 With Mike and Rachel off starting their new adventure together, it's up to the people they left behind to band together to start their own. Mike saved Specter Litt and Zane at the eleventh hour by setting up their merge. Now, the exciting season premiere "Right-Hand Man" is here to show how everyone from Harvey to Katrina must find their place in this new world. Directed by Christopher Misiano and written by series creator Aaron Korsh.



Friendly Wager
The night of Mike and Rachel's wedding, Harvey and Robert exchange pleasantries, engaging in a friendly argument over where Zane's name will go on the wall.
"No matter what, Litt comes last." A short-lived peace.
This
marriage, born of convenience, will not go off without a hitch. They meet the next morning with Litt to discuss the terms of the merger. Firms cannot represent clients on opposite sides of a legal dispute, unless the client agrees to waive the conflict. Naturally, Robert and Harvey don't agree on who should be dropping whom.
"You drop one of yours, and the next time we have a major conflict, I'll drop one of mine."
"Are you sure about that, because the next major conflict is going to be who's managing partner?" Robert doesn't waste a breath. Harvey doesn't mind a challenge. They decide on a little competition to see who can get their client to drop the manufacturing division causing the conflict, so they can both keep their clients. It's as simple as slipping a footnote into a sales contract. A handshake, from which Litt is excluded, seals the contest.
Cull the Herd
A merger between firms does not just mean that clients are getting thrown out. Litt calls Katrina to his office. She knows right away what it's about. There are too many associates.
"You need the one person who worked at both firms to cull the herd." Seizing the responsibility with the determination of a cowgirl carving up a chuck roast, Katrina swiftly returns to Litt with a list. He is astonished at her speed.
"P.A.T.T.I.E did it for me." The Personal Assessment Tallying and Totaling Individual Efficiency guarantees a completely objective layoff process. Katrina takes it one step further, courageously putting herself forward to inform those being fired.
"As Ned Stark would say, 'he who passes the sentence should swing the sword'..." With her long term goal to be a senior partner, this new merger presents yet another chance for Katrina to be pushed aside, or to provide her with new opportunities to show her worth. Katrina does not show Litt the list but takes it to Donna to give her a heads up about exit interviews.
Turns out there was a secondary reason Katrina didn't show him the list. Donna notices right away that Litt's favorite associate Brian (viewers may recall an exceptionally precious moment when Litt held Brian's baby) is at the top. Litt's spider senses clearly alerted him to the danger. He appears in Donna's office at that moment. Herd references be damned, Brian will not be put out to pasture.
"I'm telling you to find a way to keep him."
Off the Leash
Harvey leaves his meeting with Robert and goes to see Donna. She immediately warns him to not try to one-up Zane by going after his client instead of Specter's. Harvey is perplexed that she already knows what happened in their conversation, until he realizes something.
"You bugged the meeting."
"Bugged is such a distasteful word." Donna adds that she's been listening in since he was an associate and isn't about to stop now. Her warnings that by Harvey breaking the terms of the contest "In the end, you're just going to prove he's better suited to be in your office than you" go unheeded. Harvey recruits Alex to handle this mission.
The news about the Zane-Specter Litt merger was not welcome for Alex. He reminded Harvey earlier that "You told me my name would go up next." Harvey gives him his word that he'll get the promotion next time. Now, he tells Alex the way to guarantee Harvey is able to keep his word is to ensure that Robert doesn't win this contest. And Robert will be deploying his own asset, his "right-hand man". Will this person be a problem, Alex wants to know.
"Your job isn't to ask who he is. It's to kick his ass."
Meanwhile, Robert visits his right-hand, the capable Samantha Wheeler, who is literally burning ass and taking no prisoners in the boxing ring. She shrugs off his inquiries about her being a no-show at the new offices. "I knew you'd come when you needed me." Sassy and arrogant and somewhat familiar. He sends Samantha after Harvey's client, being sure to point out how important this is.
"Have I ever let you down?", Samantha beams.
"You've never lost, but you've let me down a time or two." She puts on her game face, promising him she'll get the job done.
"I give you my word this will not be one of those times."
Shark Tank
"And then there were just peas everywhere....," Brian shares tales of fatherhood with Katrina, who took him out to lunch. She looks at him with a face stretched taut with frustrated horror. Seizing the wheel, Katrina steers the conversation back on topic.
"Do you think having a baby has made you more productive in the workplace?"
Brian chuckles.
"Are you kidding me?"
Then he sees she's serious. He sits up straight, ever so slightly panicked.
"Am I being fired?"
Katrina graciously lets him know he's not fired....yet. He is angry, calling her out on sitting there looking at pictures of his baby boy while looking for reasons to fire him.
"Maybe they're right. Maybe you are a robot."
"How dare you say that to me?" After telling him she was trying to find a reason not to fire him, Katrina storms out.
When Litt learns what Katrina did, hell hath nothing on his fury. "What the fuck is your problem?" Katrina protests, "I tried not to fire him. I took him to lunch--" Litt cuts her off, demanding answers. Insisting the metrics couldn't be rejiggered in Brian's favor, Katrina refuses to do what Litt wants.
"What kind of message does that send to the associates who work 100 hours a week, who eat dinner here every night, who don't have time to go on a date let alone have a baby!!!!?" Litt's own face has never been redder with anger.
Later, Donna finds Katrina in the associate bullpen. She knows where Katrina's head is at. "What Louis didn't understand is that the people you were talking about weren't just people. It was you." Donna recognizes how much it means to Katrina to not only successfully impact the firm but be recognized for it. (And lets Katrina know that she figured out it was her who brought the concerns to Harvey about Donna being a partner back in the season 7 premiere. It's water under the bridge. "COO is where I'm meant to be.")
She asks Katrina to point out where the five highest-ranking associates sit. Then she asks where Brian sits.
"Right here?"
"Right in the middle of all these people? Do you think that's a coincidence?" Donna tells Katrina that
"There are players who never put up good stats but you keep them around because they make the people around them better."
Call Off the Dogs
Samantha Wheeler gets the edge on Alex by sharing an emotional "rags to designer racks" story with Specter Litt's client. Harvey does not like losing and takes over the cases from Alex. "I am not about to sit on the sidelines," he tells Donna, shortly after he told Robert that he was fine passing the ball. Alex protests.
"You gave me your word."
Harvey blames Alex for losing ground to Samantha. He follows that up by tearing into the latter when he encounters her, telling her to back off his client.
"You can give me all the orders you want, but the only person I answer to is Robert Zane." She informs Harvey he can kiss her ass. Continuing a pattern of not-his-finest moments, Harvey scampers upstairs to tell Zane to call off the dogs, that he won't be disregarded by someone who doesn't know they've lost.
"The only one in here who doesn't know he's lost is you." Robert points out that Harvey's behavior has shown the firm that only one of them is managing material.
"It's not you." Pass the butter. He tells Harvey to come back when he's ready to admit Robert is right.
Harvey has words with Donna.
"You're supposed to be saving me from myself." As always, without him knowing it, Donna had his back.
"You're a man who wants back in the game." She refers to how Mike left for Seattle, because he knew who he was and needed to be free be that person. The top of the mountain isn't the place for Harvey right now. He needs to be in the action, "pulling off the kind of shit that only Harvey Specter can do."
Whatever butter is left not melted after that, Harvey uses to make crust for humble pie. He yields the managing partner position to Robert, with just one request. That he gets his/Mike's old office back. This reviewer got slightly emotional.
Closing Arguments
Taking Donna's advice, Katrina works together with Brian to decide which associates to fire. Litt finds Alex digging into all of Samantha's case files, determined to find something to use when the time arises.
"She's not here to make friends." Litt agrees, but encourages Alex to work on developing a relationship with Robert instead, maybe with a game of golf.
Harvey finds Samantha waiting for him in his new office. She says they have much in common, not least of which growing up in the same town. That reminds Harvey of the story she told about growing up poor on a farm. He mentions the fib. Samantha lights up. There's three kinds of people she says. People who are unaware when she's doing something shady, people who are aware but don't call her out on it, and people who do confront her over it.
"Three is my kind of guy." She flips him the bird, which he returns cordially.
"By the way, I would have won." With these two now playing in the same league, there's going to be a rematch sooner rather than later.
Samantha then visits Robert's office.
"I want main partner, and I want it before the year is out."
Reviewer Notes:
Welcome, Katherine Heigl! And congratulations on those promotions, Dulé Hill and Amanda Schull. It was pure joy to watch all of them ferociously dig into their characters this week.
This was easily one of my favorite Suits's premieres. The arrival of a formidable new frenemy, who also threatens Alex and Katrina's career ambitions, for Harvey is a welcome development. Akin to throwing a lit firecracker into a room of other firecrackers. Donna mentoring Katrina was a highlight. And Harvey being released from his gilded tower to work more cases is something I was hoping to see.
Also, like Katrina, it concerned me to hear Litt tell Sheila on the phone that he wouldn't be getting a Maine Coon Cat. But "she's still open to getting a short hair". What a relief. Let it never be said Litt is not the heart of this show.