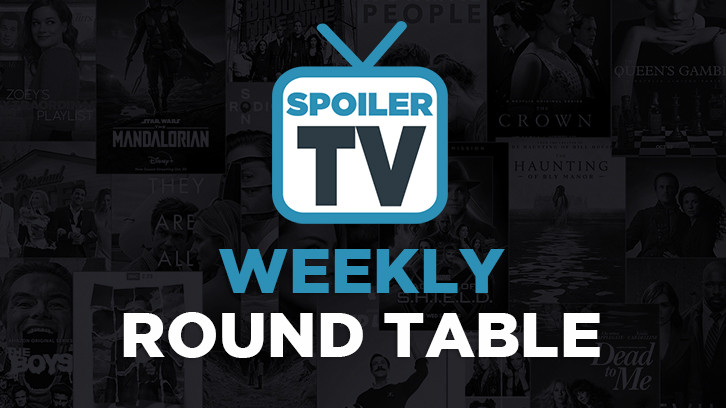 Hello and Welcome to a new edition of your favorite Round Table at SpoilerTV! This week we cover a lot of news again and I'm (SJ) joined by a great bunch of STV team members. Along with me (SJ) featured in this WRT are Marko (MK), Ellys (EC), Laura M (LS), Jaz (JZ) Yon (YN), Jamie (JC), Lisa (LM), DjRiter (DR), Jonathan (JW), Sam D (SD), Ami Goeree (AG) and Laura B (DL). You just have to sit back enjoy the read and join the discussion in the comment section down below.


SDCC is behind and a lot of news was dropped, a lot of panels happened, new trailers hit us hard and a lot of great moments in the movie and TV world? Which was your personal Highlight of SDCC 2018?
LM: Everything about
Brooklyn Nine-Nine
being at SDCC warmed my heart right the f*ck up. After after some recent events, that's pretty difficult to do. Ever since the move to NBC they've actually shown such immense reverence towards this cast, and I've never been happier. These are people who have long deserved this kind of treatment for being incredible people heading an incredible show who have been treated like [Holt voice] pure garbage under FOX. So watching them not only attend SDCC, fill out their own panel, seriously care about the fans by engaging with them through trivia and jokes, it was just a fantastic time. Special thanks to the Twitter user who Periscope'd a good chunk of the panel!
EC: The Gifted trailer impressed me, not only with how thrilling it was, but also how it confidently showed multiple story lines for the season. The announcements of Samantha Morton being cast on The Walking Dead (She is amazing starring in Harlots) and Clone Wars being revived were particularly exciting.
JW: I'm still trying to take in all the stuff that came from SDCC, so it's hard to pick what stood out the most. I think one thing that I was most surprised by was how much I enjoyed the Shazaam trailer. Zach Levi is amazing, but the photos from production and my overall disdain for the DCEU movies had me pretty indifferent towards the movie at first. But the trailer was a lot of fun and Levi has such amazing comedic charisma.
SD: The highlight for me was the trailers for the upcoming seasons of Arrow, The Flash, and Supergirl. I am excited to see what Arrow has in store for us now that Guggenheim has taken a back seat. Also, I'm excited to get more into The Flash lore. The show has been really hit or miss for me the last two seasons, but this one is looking up. The introduction of The Flash ring is awesome just by itself.
LB: The Gifted was IMO the strongest TV trailer to come out of SDCC, but I thought trailers for films such as the Fantastic Beasts Sequel and Shazaam were awfully good too! Also it was Better Call Saul's first SDCC and they had a fun panel and great season 4 trailer! It was also nice that Amazon promoted Man in the High Castle with their own panel season 3 trailer!! And how could Star Wars fans not be excited by Clone Wars continuing?!! I'm also always excited to see what Star Wars books and comics are coming out and this years selection focuses a great deal on the prequel era. I'm most looking forward to Claudia Gray's Master & Apprentice Qui-Gon Jinn and Obi-Wan Kenobi story, because Claudia Gray has done a nice job so far with her Star Wars books and because Qui-gon is my favorite character!!!
JC: For me there wasn't really a specific highlight. I think this is actually the first time that I've been a bit underwhelmed by Comic Con. I liked all the promos though I do hate that so many CW promos showed barely any new scenes. My favorite was probably the one for The Gifted, looks like a great season. The one for the Flash also looked very good. This might be the first time in a while that I'm excited for a storyline on The Flash.
LM: My personal favorite moment of SDCC 2018 was the #Clockblockers banner that fans arranged for asking to save Rufus and follow through with the promised movie! Other highlights for me were the Project Blue Book panel and the Aquaman panel. I'm not generally a huge fan of the DC movies, but Jason Momoa is just too much fun to watch! The Walking Dead came through with a great trailer - I haven't been able to see how the show can go on without Rick (Andrew Lincoln) but the trailer has got me interest up.
DR: When you come right down to it, SDCC is a corporate event and for all it's commercialism, for me, the personal highlight of this year's SDCC came during the fan question portion of the Supergirl panel, when a little girl named Addie, dressed in a Supergirl costume asked Melissa Benoist what it felt like to be a role model for little girls like her. In a video of the moment you can hear the cast's reaction to the question and even hear someone ask, "Doesn't that just make the whole day?" and for me it did. And it was a moment made even better by Melissa's heartfelt response. Something else that more than one person mentioned to me was how relaxed, at ease and happy the entire Supergirl cast looked during interviews all day, which was particularly nice to see given what happened to them last year. One friend said Melissa glowed and personally I loved the genuine affection the cast showed for one another in interview after interview.
I also enjoyed watching how Jodie Whitaker was received as the new Doctor Who and how she embraced the spirit of Comic Con and popped up in a lot of places, even crashing a fashion show to the delight of fans.
AG: The Doctor Who sneak peak didn't give us much, but what it DID give us was a lot of great shots and a nice reassurance that Jodie Whittaker may be the best reincarnation of the Doctor I've ever seen (I may be bias, I loved her in Broadchurch!). Everything about the B99 cast made me so damn happy, I love that cast so much! Also came the announcement of the resurrection of the animated Star Wars series, The Clone Wars (the child in me freaked OUT). For someone like myself who is so heavily invested in the Star Wars Universe, I am so damn excited! Of course, as well as this announcement came the new Captain Marvel and Clone Wars fashion line by Her Universe (Ashley Eckstein, the founder, runs a nerdy/sci fi fashion line made mainly for female pop culture fans - I know this reveal wasn't too important but I LOVE NERDY CLOTHES). I think my favourite trailer was the interestingly dark DC's Titans. Seeing the title, I think it gave me literally the last thing I expected, and I'm very excited to see where DC goes from here. I'm excited to see more of James McAvoy's performance in Glass - hes really rocking the casting world right now, with Glass and It Chapter 2! Shazam was also the dorkiest and coolest super hero trailer I've ever seen, and I love Zachary Levi so I'm super hyped. I mean, what's not to love about SDCC?
YN: Honestly the highlight for me was Wynonna Earp being renewed. Given only 1 episode of the season has aired, I really thought Syfy would wait a couple of weeks to judge how the ratings go before renewing. Syfy obviously have a lot of faith in it to renew it so quickly and I love how much you can tell the cast genuinely appreciate how passionate the fandom is. I think Emily Andras said it best when she said she doesn't know how to explain the show to anyone who wasn't in the room, and that is true. The way the crowd responded to Shamier standing on the table was quite surreal. Unlike some other shows which have a lot of infighting and as a result the casts are on their guard with everything they say and do, the Wynonna Earp cast know they can joke & interact with the fans who are mostly respectful.
The second thing was obviously Legends of Tomorrow. The panel was great for Beebo's appearance and the information that we got on Ava & Sara + the trailer of course. No other Arrow-verse show can really touch Legends of Tomorrow in terms of how funny and chill it is! The cast again have a deep affection for each other so can feel free to joke & play around, and the producers know how to please the fans with quality content. It almost feels bizarre to me in a way that the Arrow-verse somewhat shares leadership reigns, and yet here Legends of Tomorrow is with a bisexual character leading the charge & her love interest upped to series regular status but being treated like a proper character instead of just being a prop. Supergirl confirming the transgender casting is great for diversity, however I'm still not sure whether I'm prepared to give the show another chance. Nothing that came out of the panel was of real interest to me. Sure Kara focusing more on journalism is nice, as is the thought of her being allowed to be single for a while and focus on herself, but I couldn't be here less for this Alex/kid storyline if I tried and that's one of the things I wish had been left behind in season 3. The showrunners also don't seem to have any real answers as to the criticism the show has faced & I fear season 4 will be more of the same old.
Movie trailers wise Shazam looks quite interesting, Aquaman still looks quite cheap and I don't see it breaking the DC curse, and I'm really intrigued by glass.
JZ: I really enjoyed Ezra Miller dressing up as Todette and the surprise appearance of Beebo and Adam Tsekhman at the Legends Panel. They were just fun nerdy moments that but the con back into Comic Con.
I also enjoyed listening to Jesse Rath's press interviews. His knowledge on the comic canon of Brainy was really fascinating as a non-comic book fan and delivered it in a way that didn't seem intimidating. For the same reason, I really enjoyed Matt Ryan talking about his characterisation of Constantine. The passion he has about portraying his character is infectious and now I'm REALLY wanting to watch the original series just to learn more!
Most importantly I want to give special love to the Legends cast and Misha Collins using their platform to support social and political issues.
MK: Panel wise the B99 panel. What a hilarious event!!!! Love that cast, so well synced in. Trailer wise I was quite surprised how good Shazam looked. Super hilarious and seems like a standout. Aquaman seem to be pulling of DC Black Panther thing. Really excited to see how the end product will look like. Arrow and Legacies did it for me TV-wise. That was one Arrow ep shot and it had quite bit of action and I look forward to see how this paralel story will play out. Meanwhile Legacies had such a beautiful naration, JP & co still know how to rock. Also cant wait for more of Carolines kids.
TVLine dropped the news that Arrowverse is seeking a Lesbian actress for Batwoman and Josh Whedon is heading for a Black Buffy? Are casting predispositions like this a positive thing or are we are limiting the roles cause of "current" standards and the effort to be different?
LS: I'm the only person, probably, who doesn't want this Batwoman thing to happen. Yeah, she's a lesbian, wonderful, however she's also canonically Jewish in the comics and supposedly "woke" Twitter couldn't care less that she should also be cast as such. Nah, they just want their diversity points in other aspects and this intersectional aspect of her character can easily be changed. Right? It's only the Jews. Ugh. And don't get me started on Buffy. I don't care about it, I never watched the original and a reboot was so obviously coming. But it's the fact that Whedondevil still has a f*cking job in this industry that makes me want to leap out of this planet. How can we all sit here and be okay with any of this? It's deplorable.
EC: Whether it's a positive thing or not depends on how it's being presented. Most of these announcements seem like "Give me my diversity bumper sticker!". But I don't know what it feels like to not see people who look like me getting to play cool characters. The closest I came to that as a child was wishing they made more brunette Barbies. There are many talented black actresses who could play a kickass character like Buffy. It seems like they deserve to get to play brand new and original heroines, but the interest in making original content right now is low. As for Batwoman, a pre-established lesbian character, I don't see why a lesbian actress shouldn't get to play her. As the lead of the show, the rest of the cast will be built around her, which means there's little chance she'll come across as the usual shoehorned token. I just hope they don't feel the need to have a bunch of "OMG you're a lesbian" moments in the show. It's time for TV to move past that.
JW: I have no issue with wanting to have a lesbian actress play a lesbian character and of course, diversity should be encouraged across all mediums. As for the Buffy thing, ultimately my issue with that is the fact that they're rebooting it to begin with no matter what race, gender, nationality, or whatever they want to make Buffy. Some shows just don't need to be touched again and Buffy would be one.
SD: I know there will be a lot of blowback for it, but I actually think it's a good thing for now to push for this kind of diversity, even if it feels shoehorned in. Because if we push for it now, it will become normal later on. The more we see it, the more it will become part of the grain of society, and in the future won't need to be forced in because it's already normalized. If they were to do limited casting this way forever, then that would be a problem because it is cutting some people out. But I think this is ultimately for the greater good.
LB: I think it's a double edge sword. On one hand it's nice when you include different kinds of actors or actresses who have been excluded in a lot of cases and I think some push is needed, On the other an actor/actress is suppose to be able to act so it shouldn't necessarily matter what the actor/actress relates to in real life. I also think it depends on the role and I do think a filmmaker should be able to pick what they want for the film in most cases. When it comes to Batwomen, I think there is nothing wrong with their casting preference, really I feel the same for Buffy, accept that if it is not a spin off, I'm not sure what the point is? Of course I always liked the film version more than the TV series anyways so I'm not one that should be complaining!
JC: I'm all for diversity when done well. I'm excited for batwoman but I hate that she's being hailed as the first lesbian superhero when we already have Anissa on Black Lighting. While I don't think that casting a lesbian actress would be necessary (though preferable) I do think the potential spin off show needs LGBT writers. As for the Buffy reboot. First of all, why a reboot? I've only seen the first season of Buffy but from my understanding a slayer shows up every generation (or something) so why not let it be the next generation. Give this black main character (which I'm all for) a story of her own. Also, can Josh Whedon please not be a part of it. I know the original show was his but I don't trust that man with female characters after I read the script he wrote for Wonder Woman (just horrifying).
LM: Diversity is long overdue. Once Hollywood is able to catch up and be more open to LGBTQ actors - not to mention more racial diversity - they shouldn't have to choose. It should simply be as natural as saying this character likes ice cream, is male, female, etc. It's definitely not limiting for anyone - the vast majority of roles still go to the mainstream. Look what a positive response there's been (in general) to a female Doctor Who!
DR: I think this is a double-edged sword. While television certainly needs more inclusivity, diversity and representation there are times I feel when showrunners/producers go too far to the extreme to be progressive. I can understand wanting to hire a lesbian actress for an iconic lesbian DC character such as Batwoman, but the idea of rebooting Buffy by changing her race or ethnicity to me seems disingenuous and it should go without saying that Buffy is one of those shows and title characters that should never be remade, period.
AG: Diversity is good when done well. With all this news coming out of SDCC regarding a lesbian actress in Batwoman and the transgender character in Supergirl, it makes me very excited but also cautious. I always get the suspicious feeling that they may just be announcing it to get the publicity and a good clap on the shoulder, only to have that character be in one scene of one episode, or introduce the character and have them die off straight away. I think I'll hold off on the cheers until all these episodes actually air, and diverse characters are treated the way they deserve. That being said, I must be the 1% of the population who hasn't seen Buffy and am kinda excited for a modern reboot of it (though it is Joss Whedon sooooo we'll see...)
YN: Speaking as someone who is a Buffy fan, I couldn't be here less for this reboot if I tried and casting a black woman is not going to save this. For years people have been asking for a
CONTINUATION
of Buffy, and that should be what's on the cards. The original TV show is just far too iconic thanks to Sarah Michelle Gellar and if they do pursue this, the reaction will be far worse than anything the Charmed reboot has faced. Where diversity is concerned though I am absolutely all for it, and it is most certainly overdue. The entertainment industry in itself has a major diversity issue, since far too many roles go to white people, which leaves people of colour very much as the minority and I think it's pathetic. Why have actors play gay when you can just hire a gay person? Why hire actors to play Latino just because they look ethically questionable, when you could just get a Latino? Why fill the screen with white people, when there are so many talented black/brown/asian actors? Why fill the screen with stereotypes on Muslims when you could do a heartfelt Muslim story? For decades the acting pool has already been limited to people who are straight and white, so I really just see this as evening up the playing field. I do think it is important to note though that as much as The CW wanting to hire a lesbian actress for Batwoman is good, they should also be focusing on a lesbian that is Jewish or even just a Jewish person. Hiring LGBT actors is good, but we mustn't forget there are other marginalized groups as well.
JZ: Not at all! Until everyone looks beyond race, gender, sexuality ect we need to have these specific casting calls to level the playing field. For me I think the CW is lacking queer representation being played by queer people, so I support the casting decision. I would love it if the woman chosen was also Jewish because I think faith/queerness is a topic which might be amazing to address with the series.
Seeing as Buffy has constantly appropriate native American an African American cultures to create the "Slayer" mythology, it only seems right that the show goes with and non-white lead. I'm in support of it. Side Note: Bianca Lawson still looks young enough to take the mantle once more…
MK: I dont think this type of casting really helps. While acting is a big part of executing a chracter right, when you have straight/white writers who cant relate the acting can`t fix that. While I am not opposed to the BW actress being Lesbian or the Buffy actress to be Black for me it is more important for the actress to fit the role. And limiting yourself from the get go with such ambitious projects is never good.
CW started its Sunday shows promotion at SDCC! The question now is how should CW handle the January-February Award-Superbowl interval? Is a 3-month hiatus their solution or just don`t give a fudge?
EC: Production no doubt means that breaks are a necessary part of the season. Eventually, though, too many breaks hamper the flow of the story. Last year, The Flash had a 5 week break from December to January, a 3 week break in February, and then a 4 week break from March to April. On the plus side, people could use that time to catch up. I myself just forgot when it was coming back, so episodes piled up, and I am determined to finish the season this August. A longer break in the middle of the season might help, because they could air more episodes continuously in the spring. However, they need to put some effort into letting viewers know when the show would be returning, regardless of when they do breaks.
JW: I think breaks can work effectively if handled properly. The Walking Dead, for the most part, has always broken its seasons up into two parts with a few months breaks between them. AMC does a great job of promoting when it'll be back and people know what to expect and thus it has been the most popular show on TV for years now. The key for me is making the runs when it is airing to be uninterrupted. So I'd much rather just go with a 3 month break, hype it up properly, and try to run the shows as uninterrupted as possible for each half season.
JC: This is a tricky question. I have no idea how popular those award shows are. I'd love it if they just aired their shows anyway, but I'm not sure that is the smart move for the ratings.
LM: The CW is never going to have huge numbers (or at least not live huge numbers). They should just carry on with programming.
DR: I don't mind the 3-month hiatus. Telling stories in shorter intervals is a formula that has worked for British television for years. I think the short break is a smart way to keep both viewers and casts and crews from becoming burned out in a long season.
YN: The CW is gonna have a problem either way with people attempting to get used to its Sunday night scheduling. The ratings will probably be terrible, but it's not like The CW ratings are anything to write home about in the first place. Too long a break and viewers will forget the show is on or it'll start to feel disjointed ala the 2nd half of Supergirl season 3. There's also the fact that American shows do unfortunately still stick with the whole 17-22 episodes a season thing, so if a show does go on a lengthy hiatus, it'll end up having some episodes shafted to summer and that just won't be good for them. So just let Charmed & Supergirl play out on the Sunday's throw the Award/Superbowl interval and put a good PR spin on things when they get rough.
JZ: I don't really pay much attention since Supergirl and Charmed aren't really my "must watch" television but I there may be a problem with ratings if the CW does decide to go with a 3-month hiatus. I think they'll overcome it, they may run the shows later, break up the 3 months over the season or finish the shows up earlier.
MK: Seeing how CW will handle Sundays should be fun. Avoiding their most watched months isnt a solution and while the shows are female-centric I wouldnt let them go up against Superbowl and not even against Oscars. Should be exciting to see how CW plans to strategies through that period.
Legends of Tomorrow skipping the annual Arrowverse Xover Event? Smart move or are they losing their best Asset?
EC: Legends of Tomorrow has left the other Arrowverse shows in the dusts. It's moving forward while Arrow, Supergirl, and The Flash are chasing their tails, doing the same old thing all the time. More distance from those shows certainly won't hurt it. And, with so many wonderful characters on Legends of Tomorrow, I don't think we'll be missing their crossover interactions.
JW: Honestly, it kind of makes sense for Legends of Tomorrow to not be included in the Crossover ever year. Given what they're dealing with in their storylines, you can it would eventually feel like they are just trying to shoehorn them into a reason to have to come back to the Arrowverse "present" time to do the crossover.
SD: The more Legends of Tomorrow, the better, so I will miss them in the crossover. It really depends on how it turns out without them, if they can do a good story with the others. Creatively speaking, Legends of Tomorrow is in the front of the pack, but maybe it will do them better to not have to pause their storyline for the crossover and they can keep the momentum going for the season.
JC: I'm starting to think that the actors of those shows aren't a huge fan of the crossovers. The cast of LOT seemed pretty happy with the fact that they weren't going to be a part of it. I've had mixed feelings about the crossovers in the past. While I love seeing everyone interact, I think the CW overhypes it so the actual storyline is always a let down. Though I don't think they can do much worse than last season's crossover where they had nazi version of our heroes.
LM: I've said it before, and I'm happy to say it again. I hate the crossover "events." I don't watch any of the other shows - just Arrow, and I hate feeling like I have to watch the other shows to know what's going on. I'm more inclined to simply stop watching Arrow if there are going to be a lot of these. Having Felicity and Oliver get married on The Flash was the height of stupidity imho...
DR: It's an economical move as well as being a smart creative move. Arranging shooting schedules for 4 shows and their casts must be a logistical and expensive nightmare. And the fact of the matter is that the crossovers should feature the network's three big superhero anchor shows Arrow, Flash and Supergirl. However, in my opinion, if there is one show that has gotten the short end of the stick when it comes to the crossovers, it has been Supergirl. While the other shows had most of their entire casts featured or getting decent screen time in previous crossovers, Supergirl has just the Girl of Steel in the first crossover and was relegated to the sidelines by Oliver for most of the action; Supergirl and Alex (whose appearance in the 2nd crossover was one of the smarter decisions), with brief appearances from Winn and what amounted to a cameo for James in the latest crossover. It looked like in having to guarantee screen time to characters from all four shows, other character's participation had to be sacrificed and it was Supergirl, the show that made the sacrifice. It makes sense that Legends would be left out as it has one of the larger core casts, however, perhaps it wouldn't be too difficult to include Sara in the crossover as she has the most direct connection to the other shows.
AG: The Arrowverse crossovers always end up breaking the internet, and you can tell when they happen. Legends of Tomorrow seems to be the more popular show in the Arrowverse, so they may be stepping back to let the others shine a little more. Either way, I need to catch up and binge my way through the 'verse because I am very far behind!
YN: The Arrow-verse is most definitely losing its best asset, but speaking as someone who loves LOT, I'm extremely happy with this as it means I won't have to sit through the crossover yet again. They got tiring after the 2nd go and last seasons crossover was probably the worst one so far with the stupid doppelgangers, Nazi crap and Alex/Sara's pointless hook-up just for the sake of wet dreams. It is probably difficult to combine the schedules for all 4 shows as we have seen with each crossover slowly incorporating more shows, but with certain characters remaining in the background. My personal opinion is that Legends of Tomorrow is the best of the Arrow-verse shows because of how fun it is, how easy going the cast is, the lack of fandom drama + how respectful the producers are and whilst I do like the interactions with characters from other shows, it doesn't really need it. The show does well enough in ratings, and brings home the acclaim from critics where other shows face criticism because it is so fun and it should just be left to do its own thing.
There's already going to be an array of storytelling next season hunting down all the mythical creatures + Constantine on board + Nora's redemption arc and I have found you can literally skip the crossover episode without missing anything plot wise. The crossover this year seems to all be about setting up this potential Batwoman show, so for that, Legends of Tomorrow probably wouldn't fit into the story. I don't really see how The Flash will fit into it either, or Supergirl since she is off in a separate dimension, but I honestly don't really care and this is probably the best Arrow-verse related news I got all weekend.
JZ: It's been generally well received because most people are relieved that Legends aren't weighed down by the other three shows. It marches to the beat of its own drum and as Yon has pointed out, the entire show and fandom seems to be quite separate from the other shows and tonally, it just doesn't fit.
Unlike Supergirl or Arrow, the show doesn't need to be propped up in anyway by the ratings magnet that The Flash seems is during the crossover season.
MK: Legends not being part of the Xover is probably the best for them. They have a big cast and their story seems to be quite focused this year. So let them be. Is it a loss for the Arrowverse? Yes. But its a win for the show itself.