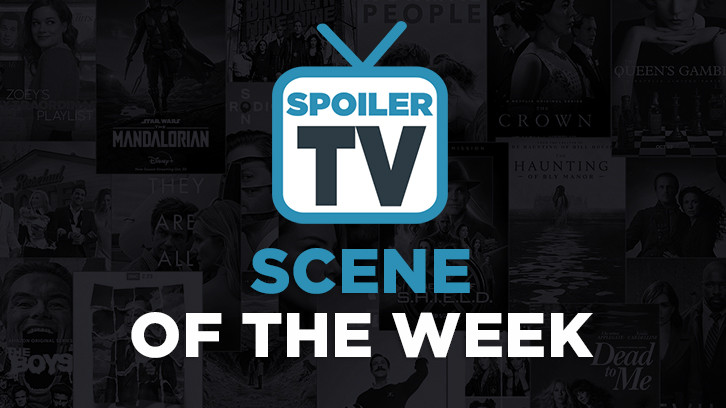 A weekly feature in which we're trying to find the most compelling, best acted, written, directed and just generally great, memorable scenes that we've seen in past seven days on TV.

12 MONKEYS, "The Beginning", July 6, 2018, Actors: Aaron Stanford, Amanda Schull, Kirk Acevedo and more, The Scenes: The Happily Ever Now & "Time of my Life" Car Sequence
Justyna: It happens so rarely, yet every once in a while, there comes an ending which is simply perfect for a movie or TV series. This finale, this final chapter of 12 Monkeys was exactly that - perfectly written, acted and directed. Each moment worth highlighting in the article, from the "previously on" till the very last word and shot of the show. All the flashbacks, favorite characters returning, the stolen moments of peace and quiet in the middle of the storm, all beautifully done and filled with emotion. It feels like an impossible task to choose just one single scene to include in the article. Many were considered (Cassie's refusal to kill "the one", Cassie & Cole's story in the flashbacks, Ramse's return, the proposal, the battle song, Cassie's choice, all the goodbyes, final timeline), but eventually I decided to go with Cole's reappearance at the end. Why? Because the writers had the opportunity and the right to finish their story with James' sacrifice and the new timeline revealed for the rest of the characters. It was a good ending, one that we could only hope for. But they didn't. The creators of the show decided to part with everyone on a hopeful note and "happily ever now" for Cassie and Cole. The most impossible ending, a paradox and time anomaly - yet exactly right, wonderful and memorable as it should be. When the screen fades to black with Cassie sitting on the porch of the house you don't expect the next scene to happen. But then there's James Cole, the one who sacrificed everything to fix time and save the world, and he realizes that against all odds he's still alive. I loved that Jennifer was the one who got to welcome him back and tell him what happened. Their dynamics were fantastic till the end. Jones, inspired by Aiden's words, found a way to save Cole and return him back to his love. And they all remembered. Somehow, their story (that never happened) still lived in their memories. So when James goes to see Cassie, she truly understands what she's been missing and they finally get the happy ending they deserve. One might say that Cole's return shouldn't happen because it would break the causality, but that's exactly why it was perfect for me. Time always seemed like a character on this show and in the end it really was. Time owed Cole and Cassie their chance and it accepted breaking its own rules for this one. As beautifully said in the finale: "Death can be undone. Love cannot." Kudos to cast & crew for their work on this incredible series. Now, let's see it all over again...
Laura B: Cole & Ramse's "Time of my Life" Car Sequence. The series finale of 12 Monkeys comes to close and there were so many delightful scenes in the last two episodes that made it very hard to choose, but I chose this scene, not because I was big fan of Ramse, but because the reuniting of two characters that have been through so much and often went on separate tracks, was symbolic of the notion that perhaps "time" can heal all wounds, or at least some of them anyways! I too had the time of my life with this cast for the past four years and will miss them greatly, but I know that whenever the remaining DVDs come out, I won't be permanently keeping them in some dusty corner, I'll be wanting to watch it over and over again!
Ellys: This scene between Cole and Ramse, brothers of the heart reunited, just perfectly captured the essence of the show and how the bonds between its characters have shaped it. Also picked by Gina

CLOAK & DAGGER, "Funhouse Mirrors", July 5, 2018, Actors: Aubrey Joseph, Olivia Holt and more, The Scene: Tyrone teleports himself to the church after Duane's death
Marko: It was such a powerful moment and Aubrey transferred this perfect amount of broken and defeated with his body. Tandy being unable to hug him, was just as impactful.
Jamie: Tandy and Tyrone have been growing closer lately and it killed her to not be able to hug him when he was in so much pain. That she couldn't even do this tiny thing for him. Phenomenal acting here.

DIETLAND, "Belly of the Beast", July 2, 2018, Actors: Joy Nash, Tamara Tunie, Robin Weigert and more, The Scenes: The ending scene & Julia reveals her true self
Claire: The ending scene where Plum goes into the 'off limits room' at Calliope House. Sana is sitting there and on the walls there is a constant loop of misogynistic video pornography. Plum asks her how she can just sit there and watch it. Sana explains that all of the women pictured are 'perfect', thin and beautiful. But it's not working for them, is it? It's like a lightbulb goes off in Plum's head and you can see the anger and self-realization bubble to the surface. And Verena Baptist proclaims: "Plum is awake!"
Eve: Julia removes her clothing, wig, make-up and reveals her true self.

ELEMENTARY, "The Adventure of the Ersatz Sobekneferu", July 2, 2018, Actors: Jonny Lee Miller, John Noble, The Scene: The reveal at the end
Justyna: I continue to really enjoy the story this season and this ending is just another example of that. After such a long time, we're finally hearing about Moriarty again. She's free and she's planning to take back what's hers. As much as I'd love to see this return, I don't necessarily expect it anytime soon. What's best about this scene for me is Sherlock's reaction to the news. There's so much written all over his face even though he's trying really hard not to reveal any emotions. Jonny Lee Miller's expressions in this moment are absolutely spot on. His work in this episode (and the show) overall is wonderful, especially during this ending and Sherlock's confrontation with the assassin. Also, his interactions with the great John Noble are always a joy to watch, but the emotional impact of this scene simply couldn't be missed in this article. Kudos to the cast & crew of the show. Can't wait to see what's next.

GLOW, "Work the Leg", June 29, 2018, Actors: Marc Maron, Alison Brie
The Scene: Sam and Ruth at the movies
Luana: I love these two together and I loved everything about this scene, the fact that he acknowledged his insecurities, and his reaction to finding out what happened with Ruth and the sleazebag. "F*ck that guy!"

POSE, "Mother's Day", July 1, 2018, Actors: Mj Rodriguez and more
The Scene: Blanca confronts her family
Marine: Blanca goes to her mother's funeral and confronts her family.

PREACHER, "Sonsabitches", July 1, 2018, Actors: Pip Torrens and more, The Scene: Herr Starr's fight scene
Milo: Preacher has some of the best fight sequences on television and always without question has the best tracks to back them. The music - The Youngbloods' Get Together was a perfect backing track that instantly reminded me of Michelangelo Antonioni's Zabriskie Point - one of my all-time favourite movies, and got the action right back into the swing of things.

SHADES OF BLUE, "That Way Madness Lies", July 1, 2018, Actors: Jennifer Lopez, Sarah Jeffery, The Scene: Harlee tells Cristina the details of her abduction
Luana: It wasn't really the right thing to do but Cristina has been pushing her for a while and it was a heartbreaking scene.

STEVEN UNIVERSE, "Reunited", July 6, 2018, Voiced by: Charlyne Yi, Erica Luttrell and more
The Scene: Ruby and Sapphire get married
Claire: Never thought an animated show would make me blubber like this. Also picked by Laura M

THE BOLD TYPE, "Stride of Pride", July 3, 2018, Actors: Aisha Dee, Katie Stevens, Meghann Fahy, The Scenes: Kat talks to Jane about her white privilege & Sutton makes up a pitch on the spot & Kat and Jane help Sutton with her stride of pride
Marko: Kat and Jane have a conversation about White Privilege and Race. It is rare that we see such an open and heartfelt conversation about race and how misunderstandings can be cleared without hatred and bad words. They started a conversation instead of just shading and disgracing someone for having the thoughts they have. They explored the issue and came to a bigger resolution. Also picked by Marine
Jamie: Sutton makes up a pitch on the spot. I already highlighted this scene in my review but I love it so much that I had to mention it again. I loved how she just made it up right there full of confidence. And it was a pretty good pitch as well.
Luana: Kat and Jane help Sutton with her stride of pride. I love the friendship between these three and the fact that they had every little thing planned to help their friend in such a situation was hilarious, endearing and everything you can possibly want in a friendship.

THE HANDMAID'S TALE, "Postpartum", July 4, 2018, Actors: Elisabeth Moss, Yvonne Strahovski, Max Minghella, Sydney Sweeney and more, The Scenes: Serena lets June nurse the baby & June and Nick talk about running away & The drowning scene
Claire: The end scene where Serena lets June nurse the baby and they sit together, peacefully. After watching Eden be put to death for no reason, Serena has finally realized what growing up in Gilead would mean for her daughter and it has left her distraught. Serena is starting to see who the real enemy is.
Saloni: June and Nick talk about the possibility of running away from Gilead with their daughter Holly and living in Hawaii by the beach. It was such a moment of peace for both of them, just the conversation about escaping this hellhole with their kid; their kid whom they're not even allowed to hold. A very well-executed dialogue between the two actors.
Marko: The drowning scene. Perfectly shot, with heartbreaking performances and the perfect words. The execution of Eden and her lover was painful and impactful affecting the whole Waterford household.
Jamie: Drowning scene. This show has had some horrifying scenes and this was one of them. This is absolutely not how I expected Eden's storyline to go. Every actor in this scene knocked it out of the park.