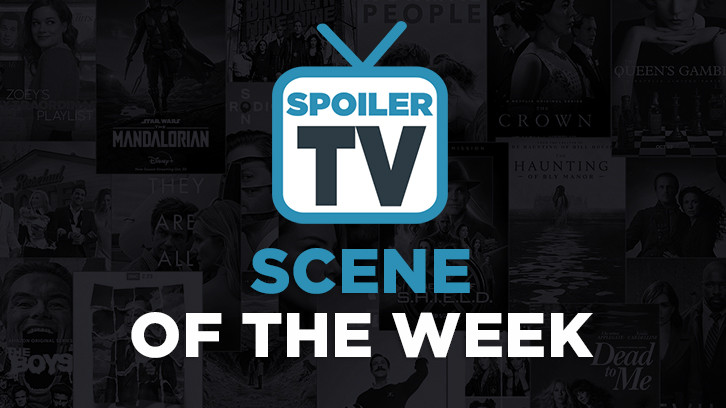 A weekly feature in which we're trying to find the most compelling, best acted, written, directed and just generally great, memorable scenes that we've seen in past seven days on TV.

AMERICAN WOMAN, "The Heat Wave", July 19, 2018, Actors: Jennifer Bartels and more, The Scene: Diana discovers herself
Claire: She has spent much of season one being pushed around and down; even by her friends at times. She's had enough of her bullying mother and her boss who will never promote her and then even steals the fan off of her desk during a heatwave. In the scene she picks up a guy at a bar in the afternoon and after some 'afternoon delight' when he asks to see her again she says: "I don't think so'" and gives him a fake name. She is almost giddy from taking back her power. She has spent much of this season longing for a man in her life but she has moved beyond that now. The entire cast is great, but Jennifer Bartels is truly the break-out star of American Woman.

CLOAK & DAGGER, "Ghost Stories", July 19, 2018, Actors: Olivia Holt, Emma Lahana and more
The Scene: End Montage (picked by Marko)

CODE BLACK, "The Business of Saving Lives", July 18, 2018, Actors: Marcia Gay Harden, Luis Guzmán, Rob Lowe and more, The Scene: Leanne at the adoption hearing
Claire: Series finale - the entire cast in one of their final scenes set in a courtroom where Leanne is hoping to finalize her adoption of Ariel. While speaking with EP Michael Seitzman, he mentioned that this scene was the mantra for the entire series, coming full-circle from the very first episode; surviving, yet having something or someone to survive for and their 'village' of friends from Angels Memorial being there to support them. It was so incredibly moving when Ariel says: "I want to be with my mom." It is the very first time that Ariel has called Leanne 'mom.' I cry just thinking of this scene. What a perfect ending for a terrific show; the entire cast gathered together to show their love for one another. Going to miss Code Black...

COLONY, "Bonzo", July 18, 2018, Actors: Josh Holloway and more
The Scene: Shootout Escape Sequence (picked by Laura B)

ELEMENTARY, "You've Come a Long Way, Baby", July 16, 2018, Actors: Jonny Lee Miller, John Noble, The Scene: The end scene
Justyna: And the show continues its great run with this episode. I'm glad we're getting to see more references to Moriarty, I'm hopeful it's in preparation for her return (after all this time). Once again the scene I wanted to highlight from the hour is the closing moment with Sherlock and his father. During the episode Sherlock finds a way to contact his former love and ensures that her attacks on Morland will stop. At the end, he relays the details of this "conversation" to his father. I found the fact that Sherlock threatened to take over Moriarty's organization to be a fascinating and unexpected concept. I can't say I've ever considered such a possibility, Sherlock at the head of a criminal empire. Apparently neither did Moriarty as she agrees to ceasefire (for now) in order for him to stay in his place. Of course this means that Sherlock is just delaying the upcoming confrontation but he does seem to be coming to terms with the fact that when the time comes he will have to face her himself. Both actors were great in this moment and I loved the music setting the tone for the scene in the background. Can't wait for the next episode already. Kudos!

KILLJOYS, "The Warrior Princess Bride", July 20, 2018, Actors: Hannah John-Kamen, Aaron Ashmore, The Scene: Johnny and Dutch decide to become Killjoys
Justyna: The first thing that comes to mind whenever I think of Killjoys is how much I love the relationship between Johnny and Dutch. So of course the episode focused on the story from their past would be a great hour for me. There's so many moments I could highlight from the premiere, as their interactions continue to be brilliant, but in the end I chose the scene where they decide to stay and become Killjoys. After a series of events Johnny finally learns the truth about Dutch and he shows up to comfort her. She openly admits that she doesn't know how to be a good person but he doesn't believe that. Instead he sees a chance for her in joining the RAC and he wants to stay by her side. He also comes up with a new name for her - Dutch, short from Dutchess. It's just a heartwarming part in the middle of the ongoing crisis with Dutch injured in the present. "When you are lost, when you are breaking, when you have no strength left to fight her, find John Jaqobis. He is your true north, your only way home." Beautiful sentiment, an interesting strategy for a fight. Can't wait to see what's next. Kudos!

SALVATION, "Indivisible", July 16, 2018, Actors: Jennifer Finnigan and more
The Scene: Grace takes out the assassin with the hospital defibrillator (picked by DJRiter)

SHARP OBJECTS, "Dirt", July 15, 2018, Actors: Patricia Clarkson, Sophia Lillis and more, The Scene: Marian's funeral
Eve: We see a young Camille at the funeral of her sister Marian. We see her mother, Adora Crellin, from the waist down sitting on a chair, is silent in front of the casket. She's pulling out some eyelashes and they fall on the ground. Camille walks in and kneels in front of her mother, laying her head on her lap, seeking for comfort. Adora gets up, totally ignoring Camille, walks to the casket and starts tearing up the flower arrangements. We see Camille pick up one of her mothers eyelashes and caressing them against her cheeks. This was such a devastating scene!! The actors on this show are phenomenal! Also picked by Claire, DJRiter & Laura B

THE 100, "The Warriors Will", July 17, 2018, Actors: Marie Avgeropoulos, Bob Morley, The Scene: Octavia visits Bellamy
Justyna: There are never easy solutions or choices on this show. But there's something even darker about this season and I'm sure the source of it will be revealed in the next episode. Nobody appears to display that more than Octavia. There's a battle within her, between who she was and what she's become. It's never more clear than in this scene. The old Octavia still loves her brother and remembers how he's always protected her. But Blodreina, she remembers so much more now... She appears to have crossed a point of no return and feels already dead inside. There were so many times during this season when it was hard to feel sympathy for the character, to understand her, but here, in this quiet moment with Bellamy, she appears to be in so much pain that it's impossible for me not to feel sorry for her. And then there's Bellamy. He's trying to reach out to his little sister one last time, he wants to understand her, to save her but nothing he says can bring them comfort. It's heartbreaking to see how much these two would like to be on the same side again, but are unable to. This relationship has always been one of the best things about the show and both actors gave amazing performances in this hour and scene. Very interested to see what happens next, especially with these two. Kudos!

THE AFFAIR, "405", July 15, 2018, Actors: Joshua Jackson, Mare Winningham and more, The Scenes: Cole lists everything he loves and hates about Alison & Cherry reveals she sent the letters back
Luana: Cole lists everything he loves and hates about Alison. This shows just how much he can't shake her, and I know it won't be easy but I can't wait for these two to reunite.
Laura B: Cherry reveals she sent the letters back.

THE ORIGINALS, "'Til the Day I Die", July 18, 2018, Actors: Daniel Gillies, Phoebe Tonkin, The Scene: Hayley goes to see Elijah
Beth: When this season started, I had one wish, that Hayley would go check on Elijah, and quite frankly as the season progressed, I believed that it would remain just that.... a wish. When I saw her, I was so happy that she went to see him for her own piece of mind. It was so bittersweet, but their connection transcended him getting his memories compelled.
Marko: Hayley seeks Elijah out in the bar.

UNREAL, "Cold Call", July 16, 2018, Actors: François Arnaud and more
The Scene: Tommy says he wants in
Luana: I love how dark Tommy is and how perfect he and Rachel are for each other.

WYNONNA EARP, "Blood Red And Going Down", July 16, 2018, Actors: Melanie Scrofano, Tim Rozon
The Scene: Doc and Wynonna toast to Alice and kiss
Luana: I love these two and it's nice to see they're still there even though they're in pain.