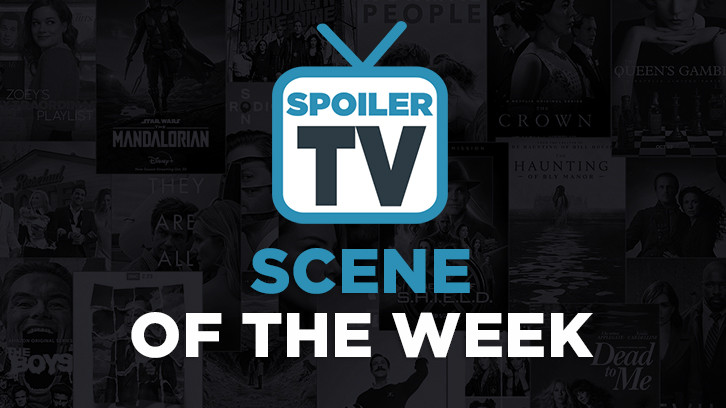 A weekly feature in which we're trying to find the most compelling, best acted, written, directed and just generally great, memorable scenes that we've seen in past seven days on TV.

CLOAK & DAGGER, "Lotus Eaters", July 12, 2018, Actors: Olivia Holt, Aubrey Joseph
The Scene: Tyrone talks Tandy out of her delusion
Marko: The writers are doing a great job in building the connection and relationship between the two leads. They aren't just connected by their powers. They are connected by their pain and misery. Tyrone really dig deep to bring Tandy out of that endless loop and it was a marvelous moment between them.

COLONY, "Disposable Heroes", July 11, 2018, Actors: David Paetkau, Josh Holloway, Tory Kittles and more, The Scene: Adam Ford's reveal
Laura B: Adam Ford reveals to Will, Broussard, O'Neil & co. that his partner, Mr. Keynes, has spared some of the Outliers for "a real resistance" the whole time. This was a pretty nice plot twist, in an episode that also hinted at some other interesting thing, and I'm also really dig'n this season's recurring characters! The second part of the whole season made Keynes out to be a "fake" leader very much like the Wizard of Oz, but with a misleading notion that his real agenda was nefarious, as opposed to be someone who may be working for a greater good! Can't wait to see what exactly the final two episodes may bring!

DIETLAND, "Monster High", July 9, 2018, Actors: Joy Nash and more
The Scene: The opening scene
Claire: The opening scene where a guy on the street calls Plum a fat bitch and tells her to 'watch it' after she accidentally bumps into him. She stands tall, right in his face and laughs maniacally. It was inspiring, made my heart soar a little. The amazing Joy Nash.

PREACHER, "Gonna Hurt", July 8, 2018, Actors: Ruth Negga, Mark Harelik, The Scene: Tulip confronts God
Milo: This was such a bizarre, truly fascinating Preacher scene that only worked because of how unconventional the show is. Seeing her calling God out on his bullshit was so much fun to watch, especially thanks to the excellent performance from Ruth Negga who nailed the more comedic elements that the show needed her to, embracing the role really well.

SALVATION, "Crimes and Punishment", July 9, 2018, Actors: Jennifer Finnigan, Erica Luttrell, The Scene: Grace's nightmare
DJRiter: Grace's nightmare ghostly dance in the parking garage with Claire. This season the Salvation writers have given Jennifer Finnigan a knockout storyline to play as Grace struggles with her morality and conscience over killing Claire to protect Harris. Finnigan has taken the storyline and run with it. Claire has haunted Grace at every turn making it increasingly harder for her to cope with her guilt. Each episode we see Grace falling apart in private a little more and her nightmare confrontation with Claire in the parking garage where it happened results in a bizarre dance that is a standout moment.

SHARP OBJECTS, "Vanish", July 8, 2018, Actors: Amy Adams, Patricia Clarkson and more, The Scenes: The ending & Camille finds the body & Camille sees her mother for the first time in years
Justyna: It's only the beginning of the story but there's already something very powerful and deeply sad about it. It's not just the criminal investigation, but following Camille's steps allows the viewers to see a painful picture of her daily routine. It seems like her editor wishes to help her heal the old wounds by sending her home but we're nowhere near the healing part yet. The moment when she finds the body of the young girl, the music and the background noises turn quiet and the memories hit her more than she's prepared for. As we later learn, Camille lost her sister when they were young and the loss sent her into a downward spiral leaving her with a body covered in scars. It's a haunting image and truly memorable way to finish the first episode of this miniseries. We can already start to piece her story together, about the disappointed mother, dead sister, absent father and all the terrible things that's happened to her. The ending is only the beginning and even though it's a moment of peace, the reveal of all the scars leaves the viewers with anything but that. Such a great and understated performance by Amy Adams. Kudos for all the work on this premiere!
Claire: Camille goes home and sees her mother, Adora, for the first time in years. It is chilling. Adora, an oh-so perfect lady, shows absolutely no emotion and an obvious disdain or disgust for her daughter. As a mother, I was revolted by Adora and her behaviors and demeanor.
DarkUFO: Camille finds the body of the dead girl in the alley. Also picked by Laura B & DJRiter

THE BOLD TYPE, "The Domino Effect", July 10, 2018, Actors: Aisha Dee and more, The Scene: Kat dances at the club
Samantha: Probably a bit of a controversial choice considering what actually happened, but I absolutely love the song played during the scene, it fit so well with what was going on, I loved Kat's dance moves and whilst I in no way condone cheating or agree with what the writing did here, I do get it. She's very much a baby to her sexuality, and discovering that she's not just Adena-sexual, but attracted to girls per say. It was completely crappy to in the end give in to the grinding and kiss the girl, but Kat is new to all of this and was very much caught up in the moment.

THE HANDMAID'S TALE, "The Word", July 11, 2018, Actors: Elisabeth Moss, Joseph Fiennes, Yvonne Strahovski, Alexis Bledel and more, The Scenes: Serena goes before the all-male board of commanders & The Ending & Emily stabs Aunt Lydia
Claire: Serena goes before the all-male board of commanders to ask their permission to allow women and girls to be able to read, mostly the Bible. She then takes out Eden's Bible, which Eden had kept hidden and proceeds to read the Word... it was such a daring step which would cost Serena one pinky finger and any self-respect she had still been grasping onto. I know how abhorrent she is and quite responsible for the mess of Gilead but I still found her act to be very brave. Runner up: Emily stabbing Aunt Lydia.
Marko: The Ending. In a spectrum of predictions I was making before and during watching this episode, I never could anticipate June staying behind to save Hannah. Elisabeth Moss once again proved her brilliance while shattering my soul into million pieces. The fight ain't over yet.
Jamie: Emily stabs Aunt Lydia. I have been waiting for this moment for so long and it was every bit as satisfying as I thought it would be.

THE ORIGINALS, "There in the Disappearing Light", July 11, 2018, Actors: Danielle Rose Russell, Steven Krueger, Colin Woodell and more, The Scenes: Hope kills all the purest vampires & Josh and Aiden reunite
Beth: Hope kills all the purest vampires. Listen, Klaus is trying to parent Hope through this affliction the best he knows how. When he said 'Go ahead sweetheart, Let it all out', it made me oddly happy to see him so present as a father, even if in the aftermath she inadvertently killed a human to activate her curse. It is a strange feeling, but this show does that to me.
Marko: I was so mad to see Josh die and how he died and how uneventful it all was. But the moment I saw him in the perfectly lighted wood setting and Aiden appearing I just smiled. The brutality of his death was forgotten and the piece his soul found embraced my rage as well.
Jamie: As much as I hated Josh's death, this moment was really sweet and it just made me cry harder.