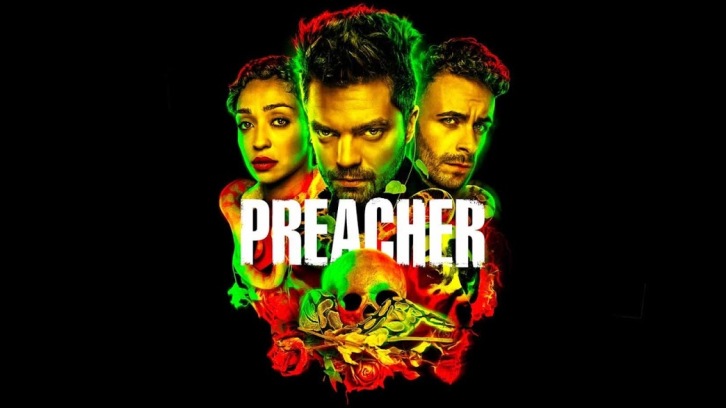 Note: I'm going away for the next couple of weeks, so I won't be able to watch episodes 5 and 6 until I get back. Either another reviewer will step in while I'm away, or I'll write-up a double review of the two episodes when I return.

Preacher 3.04 "The Tombs" - Review:
Directed by Wayne Yip & Written by Mark Stegemann


Preacher
had just about everything and it more than delivered for a wild ride. We open with the tone for the rest of the episode, focusing on Satan and the Saint of Killers' meeting at the very bottom of hell. Satan is mad that the Saint got let out of prison by some Angels, as he knows that God's gone missing, and the fact that people are escaping from hell is ruining his plans. By the end of the episode, he's set the Saint of Killers on the hunt for two people who have escaped, presumably Eugene and Hitler. If he brings them in without his guns then he can get his weapons back and kill all the Preachers that he wants.
It's interesting to note that Satan apparently isn't interested in Jesse, or even seems to acknowledge his existence. And why should he? He's Satan, he's got bigger problems to worry about. I like that everything isn't Jesse-centered in this show and it's refreshing to see more to hell as well beyond just the average demonic cages. I wonder how Tom Ellis' Lucifer would fare if he encountered this particular Hell, given that both Lucifer and Jesse are Vertigo Comics characters after all.
Lucifer
, there are plenty of pop-culture references in this episode and it's almost like Mark Stegemann went out of his way to include as many as possible. During the flashbacks, young Jesse is seemingly obsessed with
Gladiator
, which is still in cinemas (and still a good movie), quoting "Are You Not Entertained?" at the betters, who are putting their souls on the line to watch people brawl in the ring. There's only one condition to bet, and you have to pay up. The other pop-culture references in this episode came when Jesse tried to smuggle Cassidy out of Angelville by mail, in one of the more amusing sequences of the episode that contrasted against its more sombre tone, with Cassidy championing the wearing of a a skinsuit in order to escape justifying Luke Skywalker using a Tauntaun as why it would be possible, even if Luke didn't move anywhere in the Tauntaun, or even offering a Cape Fear way of clinging on underneath a car as an alternative suggestion, but Jesse dismissed the ideas as ridiculous, even though his wasn't much better, and Cassidy seemed almost insulted that he was about to be finally gotten rid of through the mail.
The other main factor in this episode was the dynamic between Tulip and Sabina Boyd, which was so fun to watch. We got some flashbacks to Sabina who has a clear vendetta against Jesse, and we learnt the origins behind it here, as Jesse broke Sabina's heart not once but twice. His first slight against her was to break up with her, apparently to protect her, but his second was much more serious, to kill her brother Kenny, who came lumbering into the Tombs with vengeance on his mind when Jesse apparently compared his family to worse than trash. Madame Boyd's retelling of events ends with Jesse declaring "Are You Not Entertained?" but this
Rashomon
-esque sequence changes pace and when Jesse tells his view of events to Tulip, he tried to fight off Kenny who was on top of him the whole time, reluctantly strangling him as he would not go, and looking devastated rather than enthusiastic. Jesse is a product of his own environment, like all of them, Cassidy says as he and Tulip drive out of town.
Because now it's Tulip and Jesse against the world. Whilst Boyd believes the only way the deal can be stopped is by killing the person who made it, Jesse's Grandma, Miss Marie, the one person who she hates in the world more than Jesse it feels all too convenient and Tulip ain't buying it. She thinks there's something more going on and she's probably right. It can't be that easy, can it? Especially when Jesse's Grandma brought Tulip back from the dead.
Peaky Blinders
present here, at least from my perspective, the use of Black Rebel Motorcycle Club's Beat the Devil's Tattoo, plus all the boxing scenes going on and Young Jesse's haircut took that into account. The only thing that was missing from this episode was the use of Nick Cave and the Bad Seeds, which would fit the tone of the series quite nicely given its whole gothic feel this season.
What Did You think of The Tombs? Let me know in the comments below and stay tuned for the next episode of Preacher, airing this Sunday on AMC.