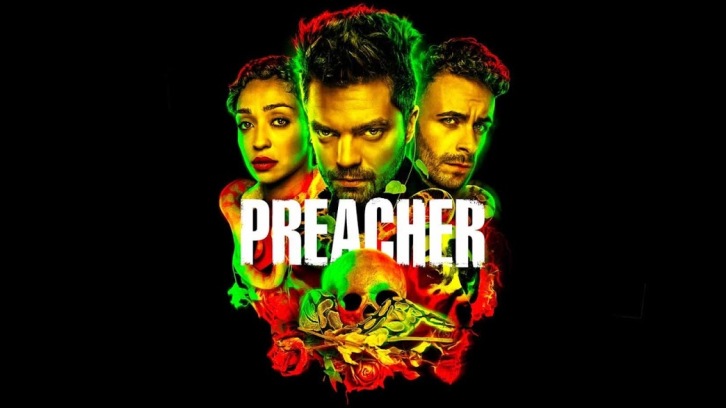 Preacher 3.02 "Sonsabitches" - Review:
Directed by Michael Slovis & Written by Sara Goodman


Preacher
does, and that's a fact. It's clear-cut, you know where everything is, it's not gloomy and darkly lit, and it holds nothing back. If you've loved the fight sequences in
Kingsman
,
Preacher
is more of the same, and as fans of the series will know and appreciate its no-holds barred brawls. And that was exactly what we got with
Sonsabitches
, which reintroduced us to The Grail and Her Starr in epic fashion, seeing them demolish a cult of hippies set to the as ever on-the-nose and appropriate song choice. This time it's The Youngbloods'
Get Together
, which featured in Michelangelo Antonioni's
Zabriskie Point
, one of the best counterculture movies ever made. So it was a fantastic nod to that film and set the tone for this southern gothic drama that is continuing to delight two episodes into its third season.
With the Grail's return, one of the plot threads lingering over Jesse's character from last season rears its head once more. He's finding him facing a dilemma where he's trapped between a rock and a hard place, the family he knows and the Grail, both of whom have the own even schemes going on independently of each other. Jesse's going to do his best to try and escape - and it was cool to see more of what the voodoo powers of his family was capable of in a flashback that showed a would be vice-principal contender approach a younger Jesse saying that he wanted an obsessive young girl to go away and stop harassing him after they had a sexual encounter. The price that comes with voodoo magic is nothing new but it was effective to see it employed here, giving a clear sense of rules about how it works and what it costs. It was cool seeing a flashback to a younger Jesse Custer here too in Angelville High, and gave us once more a glimpse into his past that the show has relished in exploring. If you fail to cash in a deal, you lose your soul to Madame Marie. And that's bad news for Jesse, whose soul is perhaps the most valuable of them all, even though he has problems getting it back from The Grail.
Director Michael Slovis has experience working as a cinematographer on multiple premiere shows before and it's interesting to see him put his experience into practise here. I hope
Iron Fist
's showrunners are watching and hire some of the
Preacher
creative team for Season 2. The Grail Assault on the Hare Krishna complex was backended by an excellent encounter between The Boyds and Jesse's family, where he was joined by both Tulip and Cassidy, who spend much of the episode acquanting themselves with his relatives. Cassidy seems to be a magnet for bullets at this point, and apparently Tulip remembers nothing about her experiences in the afterlife.
Kingsman
comparisons come to the forefront once more if you remember the end of the unfortunately rather bland and forgettable sequel,
The Golden Circle
. I wouldn't be surprised if someone ends up in it by the end of the season, and I'm thinking it's going to be a member of Jesse's family.
It's also worth mentioning that Jesse almost gets his soul back at the end of the episode only to be interrupted by Tulip, who arrives gung-ho seemingly to the rescue, but only serves as to jeopardize his plans if not ruining them for good. He's been forced into the role as the manipulator and the schemer in the absence of his powers, and I like this new role that he's found himself in. It puts him in a tricky and position that requires a lot of underhand work, something that's rather different and an interesting role reversal from the blunt instrument that The Voice's powers gave him.
Sonsabitches
was an entertaining ride that had me hooked from start to finish, in a rather enjoyable episode that has me full of hopes that the season can keep up its promise that it has showed in these early two episodes. But
Preacher
has stuttered in the past, especially in the middle of the second season after opening full of promise, so hopefully this season won't fall victim to the same flaws and the showrunners will have hopefully learned from their mistakes.
What did you think of Sonsabitches? Let me know in the comments below and be sure to stay tuned for the next episode of the Preacher, airing tomorrow on AMC.