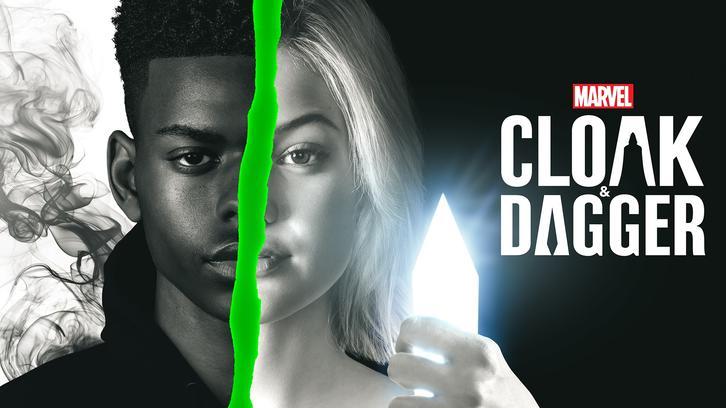 This week during the quest for answers, Cloak & Dagger decided to go onto an endless loop in other to find out more pieces of Tandy`s story. And while this episode screamed filler all over the hour it did work on the relationship between the two leads, dig deeper into their emotional damage and set up the stage for some big answers.

One thing what was really great about this episode were the fight scenes. The simply fact that Tandy and Tyrone weren`t kick a_s fighters and struggled to survive on the rig was done perfectly. Yes, they worked though it a bit too easy but this approach was very good for two struggling and uprising Heroes-to-be. It showed that they gained control over their abbilities and are on a good path.


Cloak & Dagger
twist on the what we are used to Superhero story is just what it keeps me there. All over the networks there are shows with people ready to fight the big fight, challenge the big guns and fullfil their up and coming destiny. C&D is different as it does build the characters Hero nature over their personal tragedies but is smart enough to take its sweet time to set their universe up to succeed. Tandy and Tyrone lost their father and brother respectively and just getting chipperly over it isn`t an real life option. Personally, as someone who lost a parent, I was able to resonate with Tandy and how she clutched to her fathers voice. Her life changed that day and she never recovered and most people can`t truly recover from that type of lost. Yes we live, we put up a smile, withhold the tears but we are damaged and there isn`t a cure. There are days you are stuck in that same endless loop with all the pain clogging your every breath. And the wake up call Tandy got from Tyrone felt so good. It really reflected well all the issues Tandy had and how autodestructive she is. She is broken but she doesn`t need to spill kerozin over her flaming life.
But even before this moment, the interactions between the two of them this week were simply captivating. Very engaging, very well written and unforced from the first to last second. Having such heavy topics handled with them catching 90% of the screen time has to be executed well to avoid redundant and stale moments. The episode had a very good pace and progress throughout. This type of episodes are very tricky but if done properly very good Television.
Getting into the cathatonic head of Mr. Hess was a smart move from the writers. The interaction with him and the duo were strong written with a strong performance by Tim Kang, whose clueless Mr Hess was entertaining to watch but with the right dose of dramatic and seriousness. The question is now, will his resurrection deliver some story progression or will he just be part of this filler.
Special kudos to the team who executed this episode, the explosions, CGI effects and general vibe this episode transferred on screen was intimidating adn as realistica as possible for the situation.
With only 3 episodes left the writers have a lot of work to do in covering all their open threads. What will go down between Connors and O`Reilly? And will Connors finally get face to face with Tyrone? Will Tandy clear her fathers name or will she loose herself trying? Sound of in the comment section and tell me what you thought of "Lotus Eathers" and what will go down in the remaining episodes.