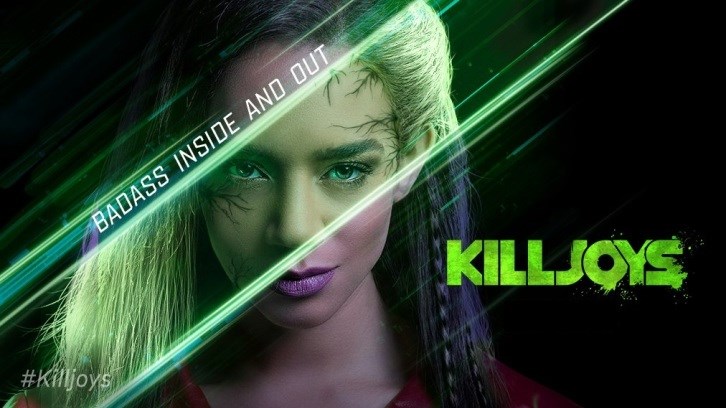 Killjoys
"The Warrior Princess Bride" is written by showrunner Michelle Lovretta and directed by Stefan Pleszczynski. The season is off and running, but we'll be starting with a blast from the past.
This episode airs on July 20 at 10/9c on Syfy
.
The episode begins and ends in the green space – which is actually pretty white. Khlyen (Rob Stewart) tells Dutch (Hannah John-Kamen) a story about a warrior and a thief.
We flashback to John (Aaron Ashmore) and Dutch seven years ago on the Laryon Docking Station, Outer J and follow them on their first run to Westerly and the Quad. We get a taste of the early days between John and Lucy (Tamsen McDonough). John is sporting a different look. We get to see some old friends. John considered a different profession in Old Town before Killjoy.
There will be fighting and dancing. Ian is wearing Larry's shirt. John gets his tech-nerd on. We visit Qresh. Dutch will get to wear an interesting outfit or two. Qresh continues to be a site of decadent pleasure for the wealthy. Dutch and John make a deal.
And that's all I'll say – except to say we don't really get answers about anyone in the present except Dutch.
And, of course, I'll let the characters say a bit more with these dialogue teases…
I got us a day job, princess.
Gods it's hard being noble.
A story can't save my life.
You are the worst wife ever.
I don't tease. I deliver.
I don't know how to be a good person.
I don't want your obedience. I want your help.
Ok. Enough. You're creeping me out.
I am a deceptively athletic individual.
Try the sexes. Avoid the pork.
If I lose my temper, you lose your balls.
You're not good at it. I'm bloody amazing.
Do not give me the "it's been fun" speech.
Every battle has a crisis that seems unwinnable.
You do realize that you have an elite assassin in town, right?