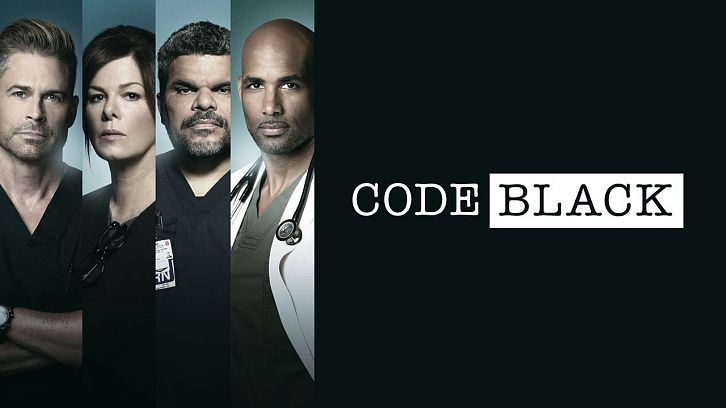 The series finale of Code Black airs Wednesday, July 18 at 10pm on CBS.

Michael Seitzman's final bow of Code Black should be 'the' blueprint for series finales; which all showrunners follow or at least strive for. It wraps up beautifully but not too tightly that there isn't room for #savecodeblack.

Mr. Seitzman's finale is basically a love letter to cast, crew and especially the fans. Unlike some recent shows that found themselves 'on the bubble' and left loyal viewers hanging off of a proverbial cliff, The Business Of Saving Lives does not disappoint.

The normally busy Angels Memorial is rocked by a plane crash and the usual crazy quickly turns to bat-shit. Will Angels still be standing at the end or will Code Black go out with a real bang? Will everyone 'survive?'

Ariel finds her way back to the ER, Leanne and their own little 'village', but will the hardline judge approve the adoption or will Leanne lose her daughter for good? And, is a hospital the 'right' place for a sixteen year old girl to be raised?

Will Ethan and Rox finally own up to their feelings for each other or just let something special slip away? And can Ethan stop being a 'hero' and ask for help and be 'saved?'

Can Angus prove himself, once and for all, to Will or will he choke under the pressure of operating amidst utter chaos?

Noa is also in for her own near-deadly situation. But, in the end, will she go to Philadelphia for a big career opportunity and if so will Mario go with her? Everyone can't have a happy ending, can they?

Will Diego ever find his true compass and do the right thing? Probably not? But as always Jesse/Mama (the incredible Luis Guzman) is the voice of reason, compassion, friendship and love.

Never to disappoint, the visuals are rich and stunning and the music, perfectly selected and fitting. The people involved with this show put a lot of love and care into it and it shows, in every tiny detail! I watched the finale three times and cried like a baby each time. Code Black will be missed.

Also, I think it should be a mandate or stipulation that any tv show which features the fabulous David Clennon can NOT be cancelled. I have been a fan of that man's since the 70's and his hilarious, brilliant turn on Barney Miller.

And considering the terrific ratings that the show has produced this final season, I don't think we've seen the last of #savecodeblack, fingers crossed!