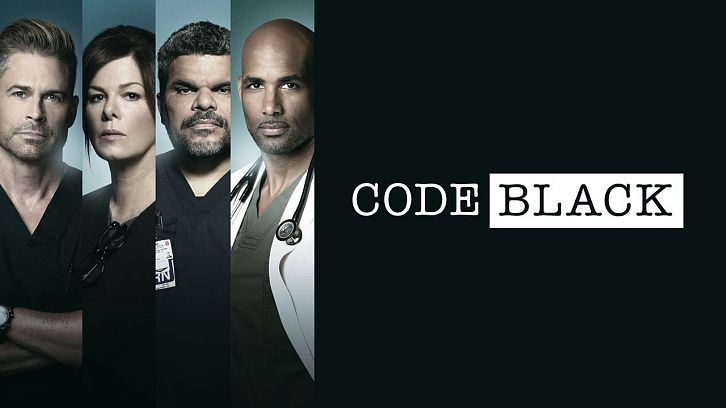 Code Black took the saying "going out with a bang" quite literally. In the last episode of the series (though my fingers are still crossed for a streaming service to pick it up for another season) a passenger plane crashes into the upper floors of Angels Memorial and engulfs the hospital in chaos.

Before the incident happened Joy, Ariel's friend, gets admitted to the ER. She huffed gas and accidently overdosed. It was Ariel who called 911 and rode along with her in the ambulance. Leanne cannot quite believe her eyes when Ariel is suddenly standing in front of her. She is so very relieved, so very happy to finally see her again but Ariel makes it clear that she is not coming back. She is here for her friend, not to return to live with Leanne. The doctor asks her to wait in the ER, so they can talk, however the police comes to arrest Ariel for home invasion robberies. Leanne eventually lets her go with them. In police custody, she is at least safe and cannot run off again.


Another patient that was brought to the hospital is Angels' very own Noa Kean. She was supposed to have dinner with Diego, his father and a recruiter from the hospital in Philadelphia she applied to work for. However, it turns out that Diego's father never had the intention of having his son and the recruiter join him and Noa. At first it seems like he "only" fooled her to be alone with her so they could have a date, which is already an incredibly awful thing to do. Very soon, though, it becomes apparent that he went way further than that. He drugged her! Once Noa starts feeling the effects of the drug, she wants to get away from him but gravity is not on her side. Avila puts his arm around her to help her walk, he tries to make it seem like she had too much to drink, like she is a damsel in distress who needs his help when actually, he is about to rape her. I was so very relieved when Noa tore herself away from this disgusting human being and ran off. She was able to fight the drugs long enough to escape. She wanted to get as far away from Avila as possible and got into her car. Due to the drugs in her system she does not make it far and crashes into a guard rail. With severe injuries, she gets submitted to Angels.

Ethan is still at the military hospital at the beginning of this episode, still experiencing hallucinations. He is rather surprised when his father comes to pick him up. Several episodes ago he had told Ethan that he has was done with him, something he admitted, he never should have said. He drives him back to Angels. Ethan wants to see Rox who has made quite an impressive recovery over the last few weeks and consequently was transferred back to Angels. Ethan literally just arrived at the hospital when the plane hits the building. He knows Rox is upstairs and he decides – once again – to run toward danger to look for her.

Campbell and Angus are mid-surgery when the plane crashes. They are currently not on best terms, Campbell is even considering firing him as a surgical residence and putting him back into the ER full time. Will goes to look for the plane and possible survivers when the ground suddenly gives in and he almost falls into what probably would have been his death. Because Angus ignored Campbell's instructions and followed him, despite having been told not to, he is able to pull him back up and thereby saves his life. Campbell admits that Angus is a very good doctor but he also makes it clear that the resident still has a lot to learn.


Campbell: "We hone our craft, we learn it until we can do it in our sleep. And then, one day, we wake up and we realize how much further we have to go… I've learned more from you than you realize."
Angus: "You have?"
Campbell: "Other than my daughter, you're the most compassionate person I know. I'm proud to call you my student… And my friend."
The two of them are not able to get back down to the ground floor due to all the smoke and the fire caused by the plane impact. They escape to the roof where they get rescued by a helicopter together with Rox and Ethan.
The episode then jumps a few weeks into the future and we find out that Noa recovered from all her injuries and now plans on pressing charges against Diego's father. She is surprised when Diego offers to accompany her to the police, he wants them to see that "the son of the accuser is on her side". With everything that happened she is not sure anymore if she really wants to go to Philly. The position she was offered seems tainted now. Mario does not want to stand in her way, he wants her to take the opportunity. He loves her and he wants her to become the greatest doctor she can be. As a result of the cancelation we will likely never find out whether Noa goes to Philly or not. However, it seems like, even if she decides to go, she might be willing to give a long-distance realtionship a chance.
Another woman who has made a full recovery is Rox. She is finally being released from the hospital and about to go to Portland to be with her family. At first it seems as if Ethan just lets her walk away but then he starts running after her and stops her car. Rox seems somewhat frustrated with him. She does not know what he wants, he keeps sending her mixed signals:
Rox: "What is it?"
Ethan: "I don't know."
Rox: "We just survived a plane crash. Isn't that enough?"
Ethan: "It's not."
Rox: "Ethan, what? What do you want from me?"
Ethan: "I want you to save me."
And that's the moment when they finally kiss and as a result Ethan's hallucinations magically disappear. Somehow, I doubt it is that simple to get rid of a psychological problem of that magnitude. The problem might be solved for a short period of time but unfortunately love does not cure everything.
The episode – the TV show – ends in the courtroom with Ariel's adoption hearing. Everyone from the hospital is there to support Leanne and Ariel. This is once again a scene that very much reminds of Rusty's adoption on Major Crimes. On Code Black, however, the judge is not convinced that Leanne is the right person to take care of Ariel. She calls the ER "the worst place for a teenager to spend time at" and accuses Leanne of having failed to provide a safe environment for Ariel. Leanne has no intention of leaving the courtroom without Ariel. She stands up and fights for the girl with a speech tearing on all our heart strings.
Leanne: "What business are you in? I'm in the business of saving lives, and shouldn't that be the business that you're in, too? Shouldn't that be the business that we're all in? We work in a hospital. Yes, we work in an emergency room. You think it's a terrible place to bring Ariel. It is a wonderful place. It is a sacred place. And this man right there, he calls it a civil cathedral, and that's exactly what it is. It's a cathedral. People come to us broken, broken in so many ways, and those people right there they summon powers beyond your imagination. They alter space and time to make sure they survive. But I've learned something that might shock you. I've learned that survival isn't the most important thing. The most important thing is having something to survive for. And isn't that what family is? That beautiful young woman right there is my family, and I am hers. And I would do anything on this earth to protect her. Your Honor, I'm in the business of saving lives. So is she."
The judge is now questioning her previous statements about Leanne's inability to take care of the girl. So, she decides to turn to Ariel and asks her what she wants.
Ariel: "I wanna be with my mom."
And that is a wrap. The (for now) finale episode of Code Black ended on a happy note, bringing most storylines to a conclusion but leaving the opportunity for a continuation.
What surprised me about this episode is the fact that we never really got to know anything about the plane crash. How many people died? Who were these people? Why did the crash even happen? The plane-incident was used to add some additional drama and to emphasize the chaotic nature of the show. However, I cannot say that I disagree with the way this storyline was handled. Going into detail about the plane crash would have meant not giving the characters the ending they deserved. This happened to so many characters on so many TV shows that I have long given up on counting. The way Code Black wrapped it up for their characters was a love letter to them and that is exactly what they deserved. I will miss the show greatly.
What did you think of the final episode? What was your favorite moment?