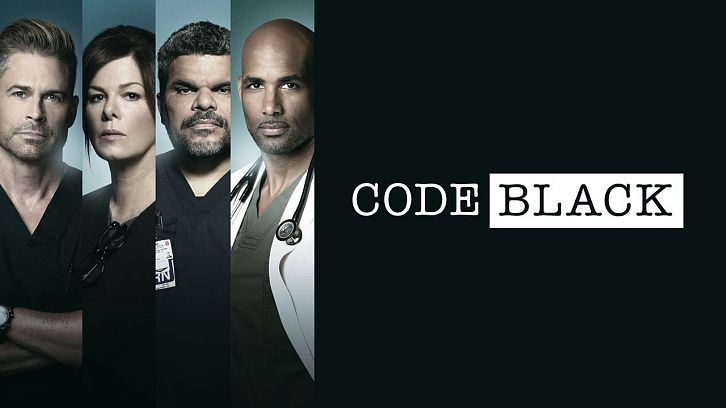 This episode was a wild ride. There were so many stories to tell that I fully expected one of the main plots would get the shorter end of the stick. However, this was not the case. Every relevant storyline received a fair amount of attention and was brought closer to be wrapped up in next week's series finale. *insert loud crying here*

Leanne is worried out of her mind about Ariel. She is desperately trying to find her and eventually turns to Owen, Max' father, for help. He himself is in rather bad shape, after all he just lost his son. The man refuses to get involved at first but in the end, does not manage to let Leanne walk away. They go through Max' phone to read his and Ariel's text exchange for some clues as to where the young girl could be hiding. It seems like Dr. Campbell's daughter Emily might know where Ariel is. The girl does not want to reveal anything at first but Leanne's heartbreaking speech makes it rather hard for Emily to keep quiet:
"I know you wanna protect Ariel, but that's my job. I'm her mother. No matter what else happens, no matter how short a time we've been in each other's lives, I'm her mother. I need her to be home with me. I need her to be safe. It's my job to help with what she's going through. It's my job to hold her and to tell her that everything's gonna be okay. And I really, really need to tell her that. And frankly, I need her to tell me that, too."
Emily tells Leanne that Ariel supposedly is with Joy, a teenager who used to be in foster care but is now living on the streets. Leanne, Owen and Jesse waste no time to go look for Ariel but she seems to have fallen off the face of earth.
What I especially adore about this storyline is how Leanne keeps making it clear that she is Ariel's mother. She does not refer to herself as her guardian nor as her foster parent. It reminds me a lot of the first three seasons of Major Crimes where Captain Sharon Raydor took in a teenage boy and immediately accepted him as her own. Both actresses,
Marcia Gay Harden
in Code Black and
Mary McDonnell
in Major Crimes did an outstanding job portraying the unconditional love mothers harbor for their children. Sharing the same genes does not matter. The legal status of the foster situation does not matter. All the trouble the kids get themselves into does not matter. None of the external circumstances influence or change the way a loving parent feels about their child. Ariel is loved and has a home with Leanne. Forever. The exact same was the case for the teenage boy on Major Crimes.
Down south in San Diego Ethan is in a disagreement with Rox' doctor. In last week's episode Ethan fought hard –and once again put his job on the line – to get Rox transferred to this particular interventional neurosurgeon at a military medical facility. All of a sudden, though, he is questioning the doctor's every move. Rox has an infection and was put in a coma until the swelling in her head goes down. However, Willis believes that it is time to wake her up and get her off the vent. With the help of a rather mysterious veteran he gets access to Rox' scans and discovers that the swelling already went down significantly. Without talking to the neurosurgeon, Willis goes ahead and wakes her up which causes her to pop a lung. Consequently, the General has him arrested. Only at the very end of the episode it turns out that Ethan is actually in psych hold. That uncanny veteran he has been interacting with all episode long is his brother and he is merely a figment of Ethan's imagination. He is hallucinating.
It was not too surprising to find out that Willis' mental health was significantly affected by all the recent happenings. It does make a lot of sense. The woman he loves was hit by a car and has severe injuries, his father broke off all contact and basically declared him dead, he found out his brother Robert made a wrong call and killed several children in the process and all the people who were serving overseas with Robert committed suicide. Additionally, Ethan probably hasn't slept in several days. This is an enormous amount of baggage he is carrying around. It was bound to impact his mental health at some point. Actually, I'm surprised he did not crack sooner. However, I am asking myself how they want to realistically resolve this issue with only one more episode to go.
Back at Angel's the residents have a rather busy time as they have to keep things going without not only one but two core doctors: Willis and Rorish. When several patients get admitted and the ER becomes a mess it is Savetti who steps up and demonstrates real leadership skills. This leads to Dr. Campbell offering him the attending position on the spot.
In the meantime, Dr. Kean is treating a pregnant woman, Keri, who was brought to the ER after a stage collapsed and crashed onto her. Noa is considering becoming an OB and specifically asked to be the woman's doctor. Baby and woman seem fine at first but then, seemingly out of the blue, Keri cannot breathe. Nothing is stuck in her throat and her lungs are clear, which really only leaves one option: acute heart failure. Noa performs a crash C-section while Savetti is trying to resuscitate the woman. The baby is premature and does not move or cry. It is an incredibly dramatic scene when Noa tries to get the baby to breath while Mario is trying to get Keri's heart to restart. The baby finally starts crying but there is nothing they can do to save the mother. Her time of death and the baby's time of birth are in the very same moment. Heartbreaking. Keri's parents are devastated and are now responsible for this tiny little creature their daughter brought into the world. They previously had not been very supportive of their daughter's choice to get pregnant through IVF to have a child by herself but Keri had told them something we all should take to heart: "
I was tired of waiting for someone else to make my best life. I can make it myself
." And that she did. It was cut short but she did it her way.
In the meantime, Angus and Elliot are treating a woman with a brain tumor. There are two options for her: chemotherapy or surgery. The second of which is much riskier but would repair her motor functions. The woman is a pianist, the music is her passion and it would destroy her if she could not play the piano anymore due to her illness. Despite her daughter's objections she goes for the surgery. It indeed does repair her motor functions but leaves her with receptive aphasia, a speech condition. The daughter is furious and blames Angus for not being transparent enough about all potential risks. However, when she sees just how happy her mother is about the fact that she is still able play the piano the woman's anger vanishes. What I liked about this particular storyline is that it had a perfectly imperfect happy ending. We do not know whether the cancer is gone or not, the woman has a speech condition that might be permanent. But all that is important in this very moment is that she lives and that she can play the piano, which for her is one and the same anyway.
In this episode, also Dr. Diego Avila has a rather hard time. His father, who is a board member of Angels, wants to shut down his documentary. He believes that his son is wasting his time and education by pursuing this film project. The viewers finally get to understand why Diego might be the way he is. His father puts him down every chance he gets (not that this excuses Diego's behavior). Dr. Guthrie realizes that as well and makes it clear that, despite what his father tells him, he is a good doctor:
"Listen to me, your problem is nobody's told you what you're good at. Well, I'm telling you now, you're good."
This episode Mario also finds out that Noa is considering leaving Angels to become an OB. A clinic in Philadelphia is offering an outstanding obstetrics and gynecology program and she is thinking about joining it. Mario does not try to stop her or to change her mind (thanks for that Code Black writers!) but he makes it clear that he is willing to attempt a long-distance relationship. Noa, however, thinks it is wiser to break it off:
Mario: "You wanna break up."
Noa: "I don't want to, Mario, but we can't hold each other back, right?"
Whether she will really leave Angels we will find out in next week's final episode. Code Black's showrunner, Michael Seitzman, has recently mentioned on his Twitter account that there is still a slim chance for the show to get picked up by another network or a streaming service. I somewhat doubt it but I am certainly crossing my fingers and hoping for the best.
What did you gals and guys think about the episode? What was your favorite moment? What's going to happen in the series finale?