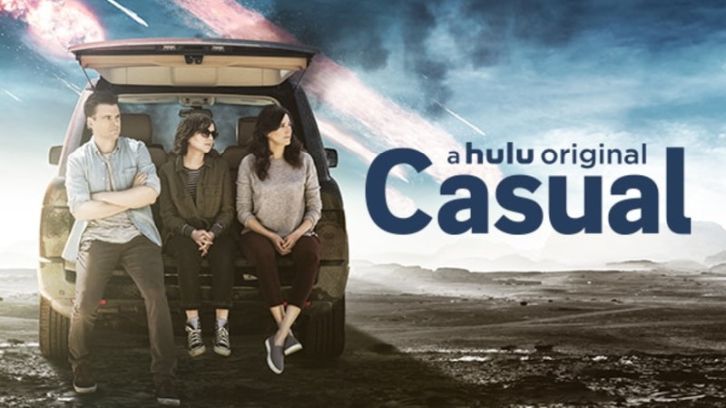 Casual Returns on HULU July 29th July 31st for the series finale!

Hulu's original shows have hardly ever gone past three seasons apart from East Los High, three seasons is the maximum if a show is lucky. The Mindy Project doesn't count because it came on with several seasons under its belt, so it was a pleasant surprise when Casual got a final season to wrap up its stories. I bet I was not the only fan that wanted to see how everything ends after that disaster of a finale in season three. Hulu decided to release all the season four episodes at the same time so here is a little bit of a preview without spoilers to tide you over until July 29th July 31st.


When we left off at the end of season three, Val was the "best" therapist who apparently needed a therapist. Laura was going through some type of crisis made worse by her mother, that forced her to move in with her grandmother Dawn. Alex got dumped by Judy and also found out that Rae, his Airbnb guest, was pregnant after they had drunk sex. Leia and Leon seemed to be in the right place in their relationship, and that was the only good thing going on in the show.
The show returns with a two-year time jump, and we meet Alex and Rae's baby, Carrie. Rae and Alex are co-parenting, in an unusual living situation. Alex still sees Annie who has managed to control the terms of their relationship to which Alex is not used to. Charles and Dawn are in some scenes, and I don't think I have seen this show focus on how much these kids thrived on the chaos the two older parents brought into their lives. We get to look at that especially with Alex who in a way confronts Charles and gets to open up about how their toxic relationship affected his life.
Val is not dealing very well with living alone and being sidelined by her own daughter. In other words, Val has no one to manipulate at the moment. Laura had been gone for two years and cut off communications with Val. She returns with a new lady Tathiana, in tow whom she met on her around the world expedition. Drew makes an appearance once again but briefly, Zark Orth looks a little different but still plays his usual role of being Val's sidekick. These two look like they might rekindle their love but who knows? Val decides to venture into new territory but continues to suffer through the dependency issues she has had throughout the series.
Leon is my favorite person in this show, and I hated how he lacked confidence and let Alex run his life. This final season there is a different dynamic in their relationship that lets us in on how Alex views Leon and how much he depends on the interactions they have every day. Leia and Leon are happily married, but the show manages to give them a more complex storyline that will make you want to cry and laugh at the same time. Leia is a therapist, and there's a new assistant in the practice who is funny, and I would have loved to see where the show took his story if they had a season five.
A reminder that this show represents privilege that not many people can identify with unless you are rich or you're a twenty-year-old child of a wealthy psychiatrist who pays for all your shenanigans. The show wraps everything up very well, and I think fans will be happy with how the characters stories are intertwined together. I didn't expect to cry, but I found myself at the end feeling sad that this obnoxious, chaotic, manipulative yet loving family will no longer be on my Hulu with new episodes.
Comment below and tell me what you hope to see as the show winds down.