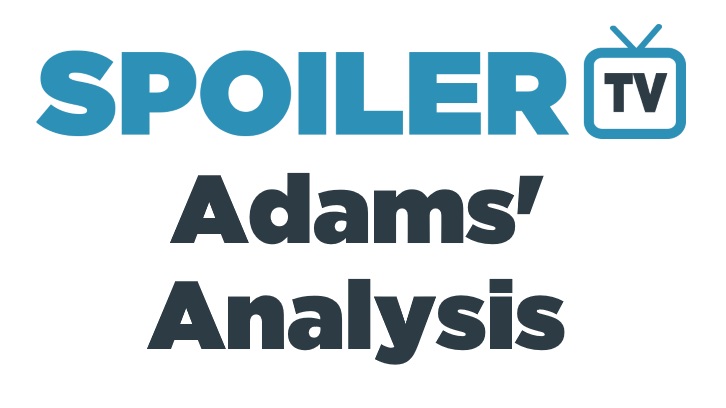 Please note that the views and opinions expressed in this article are those of the authors and do not necessarily reflect the official policy or position of SpoilerTV.

Let's make something clear at the outset. There is one person, and one person alone, at fault for James Gunn being fired from "Guardians of the Galaxy Vol. 3": James Gunn. His tweets about paedophilia are inexcusable; edgy, dark comedy can often be funny, but there's a line and he very clearly crossed it — a fact Gunn himself acknowledged in a statement on Friday.

And yet across social media there is disagreement over Disney's decision — who'd have thought people would argue on Twitter? — stemming from the importance of the tweets, the reason they resurfaced, how this bears resemblance to similar scenarios faced recently by the same company, among other things.

There was no perfect decision here. No matter what Disney did, it was going to be the recipient of mass criticism; circumstances backed it into a corner.

Suggestions that the tweets should be ignored seem, on face value, absurd. Yes, it's worth remembering that they were publicised most notably by Mike Cernovich, the right-wing conspiracy theorist who was one of the most active promoters of "Pizzagate". He is by no means a moral compass, if any single opinion he's ever tweeted is anything to go by (his suggestion that there is "date-rape does not exist" is particularly repulsive). His views are, to the rationally minded, nothing to associate with. But that doesn't mean he is without a point here, because one bad thing does not excuse another.

Gunn's tweets are fundamentally worrisome, of course, particularly given that he was in his early-40s. Those defending him by suggesting that he has "grown up" since sending those tweets are being naive; he was far too old at the time for that to be a valid claim. His comedy style may have changed and he may have improved as a person, but that doesn't make it okay. There is no reason to be making jokes in any sort of forum about an issue as serious and sensitive as paedophilia.

In 2012, before starting production on the first "Guardians", Gunn apologised for blog posts he wrote the previous year that were criticised for being sexist and homophobic. He did not apologise for the tweets, which had been posted previously to the walk-back of his blog posts, and one of the tweets that have been called attention to this week even came a month after his apology.

It was at this moment, and no later, that he should have been fired for this.

Is there a statute of limitations on tweets? Should there be? Your mileage may vary on this one; the simple answer, of course, is to have some sort of moral boundary on what is posted on social media. But we come back to this being Gunn's fault alone. If he didn't tweet those things, he would still be employed.

Disney's response to all this is curious. Make no mistake: Disney's decision is not because of the tweets, but because of a desire to salvage its image. It's the same reason people look smart for dates and when they go to work; appearance is all. With the tweets having resurfaced, how could the largest media conglomerate — with its brand targeted primarily at children and families — possibly retain this man? They simply could not.

Here's where the Roseanne Barr similarities come in. Two months ago, the star of Roseanne was fired and the show cancelled after a tweetstorm in which she likened Valerie Jarrett, Barack Obama's top advisor, to an ape. This was not a right-wing blogger drudging up old skeletons of a high-flying Hollywood elite: this was a woman who led the third-highest rated television show last season making racist claims in real time.

Gunn, at least, did not do this, although the desperate deletion of his tweets after they had been rediscovered this week did little to help him, you'd imagine. But Barr's outburst was nothing new. She also promoted "Pizzagate", believes 9/11 was an inside job, and once tweeted about an "Islamic rape pedo culture". And yet Disney-ABC made the decision last May to bring the series back for a tenth season, and to bring Barr along with it. It calls into question the background the company is running on its hires, and how much it truly cares about a high-profile employee's past controversial comments.

In 2012, when Gunn was hired, one of two things happened. Either Disney, supreme as it is, missed the tweets completely. The alternative is that it overlooked them with the promise that it was a mistake and that he wouldn't go down this road again. (Perhaps it was at this stage that he should have removed the comments, and certainly avoided making more.) Barr's re-hiring does little to decipher what the truth here is.

How is either option acceptable? The pitchforks and torches are out in force for Gunn, but Disney is by no means devoid of responsibility here. This is not some indie company searching for pennies behind the couch. It could hire virtually anyone in the business it wanted to, such is the power it holds. It made its own bed here.

The statement by Walt Disney Studios chairman Alan Horn on Friday was troubling. It read: "The offensive attitudes and statements discovered on James' Twitter feed are indefensible and inconsistent with our studio's values, and we have severed our business relationship with him."

Again: these "attitudes" are not new. They have been discoverable for years. Why were they not? Disney can freely take this stance today, but it borders the embarrassing that this issue was allowed to come so far. We aren't in some new Disney era, either. Horn was appointed chairman three months before Gunn was initially hired, and Bob Iger has been CEO of The Walt Disney Company since 2005.

Between the precedent set by the Roseanne Barr situation — and there was a precedent set there, for the better — and Disney's own prior dereliction of duty, it made the decision to jettison Gunn a difficult one.

Its options, having failed to appropriately deal with the issue six years ago, were both bad. Keeping Gunn in place would have looked appalling on a company that, since hiring him, has made a domestic gross of nearly $14 billion. Yet firing him just reminds us the insanity of the fact that we're in this situation, and that it has taken this long — and this outrage — for the company to realise how damaging Gunn's comments were, and are.

No matter what it did on Friday, Disney was going to be utterly lampooned. In the end, it came to a decision that is difficult to argue with. What is absolutely inarguable is that comments like Gunn's deserve to be renounced and rejected as strongly as possible.

And it is unthinkable that this could happen again.