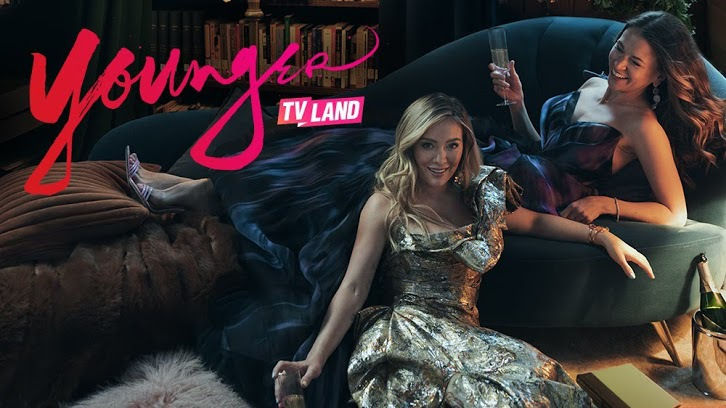 The third episode of season five may have been their best yet this season, each episode seems to top itself. There was a book tour, a professional 3 way deal, and a heartbreaking revelation for Liza.

Coming Clean

In life, keeping up a facade is always easier than looking in the mirror and realizing your truth is not what you want it to be. Pauline accepted this after trying so hard to make the ending of her book a reality. She bravely spoke her truth in front of a room of women hoping some of the fairytale would rub off on them, and I can honestly say this is the first episode I have admired and appreciated her as a woman. The episode stared with her coming to grips with the harsh reality that her marriage would never recover, but that is not the happy ending people who come to her readings want to hear. At the urging of Liza and Diana, Pauline spent most of her mini book tour letting lonely women and one intrusive radio host believe that she had salvaged her marriage and her book was more memoir than fiction, but that is just not true. In the end, Pauline found the strength to say that this was a work of fiction and that in reality, marriages don't recover from one party being physically distant and the other being emotionally distant. I also have to give the show props for finally busting the
'perfect Charles'
image I felt was holding him back as a character. Pauline made him face some ownership in the demise of their union, and that makes him have some dents in his armor which transforms him into a much more relatable character. Once Pauline removed her rose colored glasses, she was also able to catch onto something that was staring her in the face for awhile..... Liza was the woman whom Charles had formed a connection with. What she will do with this new found clarity is anyone's guess, but I could see it going in an ugly direction.
As I said last week, Charles has always been a little too perfect but season 5 is spending time fleshing out what makes him tick. In what was arguably the most intense scene between he and Liza to date, he finally let her know he knew all and it hurt him deeply. This didn't come from some long monologue with tears and biting words, it came from the unspoken look from two people who know each other well and at the same time not at all. Liza didn't try to explain, because she knew it would insult Charles' intelligence, she offered to leave, but he wouldn't let that happen. How can these two people who now know all about one another overcome this chasm between them and have an honest relationship like a lot of fans want? I am not sure, but in a lot of ways they have no more secrets and are in their most honest place, all that is standing between them is hurt and the unknown.... But that is a lot to sift through. I doubt they will stay this way, especially since Charles found out this early on in the season. Either way, this makes for a fascinating Juxtaposition for Charles and Liza moving forward.
Three's a Crowd
Now that the heavy stuff is taken care of, let's talk about the strangest three way push/pull of Kelsey and Zane's professional and personal dynamic. Introducing a third party into this game was inevitable and it comes in the form of former President Obama's fictional speech writer
Jake Devereux
, a handsome and well spoken man making the talk show rounds about his time with the prez. They go after him and like in most rom coms, end up at the same hotel and then in bed together. I personally am surprised that it took them to episode three with all the sexual tension they've been playing with. Jake also throws them both a curve and wants to work on both sides of aisle.... so let us usher in our newest triangle Zane-Kelsey-Jake, the games have begun and I am sitting anxiously ringside to see the power plays. Aside from the delicious tension, I do wish that Zane and Kelsey would maybe get drunk in a broken elevator or something and let their guards down fully to discuss exactly what it is they are to each other, because it is clear they have something worth exploring.
Three's Company
I would be remiss if I didn't mention my newest favorite living situation, Lauren, Kelsey and Josh (sorry Maggie and Liza, you've been bumped!). Between Josh sleeping with every woman he comes into contact with and Lauren meddling in Kelsey's love life, I could watch an entire episode of those three hanging in the apartment. Lauren is such a weird character to me, at times I want to push her out of a scene myself, and then there are moments like when she counseled Josh that I wish she was MY friend. I hope this living arrangement never ends, and we see them living in this dysfunction into season six.
Odds and Ends
*Josh healing his broken heart by using sex is not surprising, but with him saying to Lauren that maybe Liza was the one makes me think he is clinging to the idea of the familiar to get him through this weird time in his life. Liza is comforting, and perhaps a safety blanket in a way. Josh's best character progression is perhaps being on his own and not forcing love to come to him, like Lauren basically said.
*The lunch between Pauline, Diana and Liza was kind of amusing when the talk turned to Pauline describing her love making with Charles, something Diana and Liza have both fantasied about many times.
*In the world of Dating Apps, I think an invite only one like the one Kelsey, Zane and Jake are a part of would be an ego boost but also filled with incredibly narcissistic singles.
That is all for this week! What will be our next tense Liza/Charles exchange? And now that Charles knows, who will be our next character to find out? Place your theories in the comments!