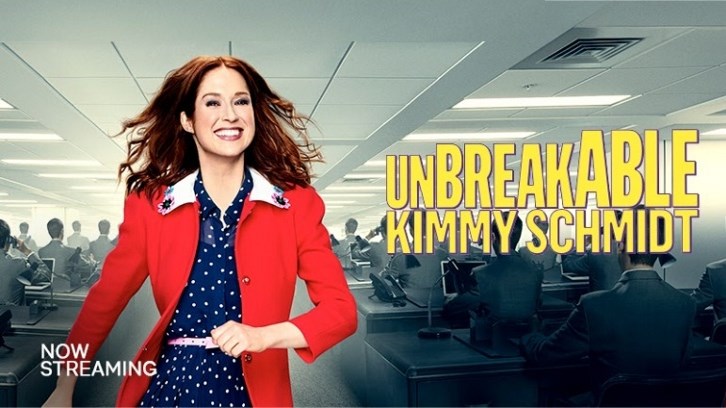 When I first heard that season 4 of Unbreakable Kimmy Schmidt was being released in two parts, I was honestly happy about it. Shows keep my attention longer when I'm getting a new batch of episodes more than once a year. But then it was announced that this is the final season, and then they announced that the final 7 episodes won't be out until 2019. If that's the case, can we just have them all now please? Season 4B is essentially just a fifth season now, and this was all done to get the show out in time for Emmy eligibility. Not the greatest way to treat the audience.

But that's not to say these 6 episodes weren't great. As much as I love this show, I'd be hard-pressed to tell anyone what happened in the third season. I remember laughing at it a lot, but the storylines themselves are a blur to my memory. Something about Titus and Mikey breaking up, a boat, Jacqueline's divorce, Kimmy going to college, and a baby named Linda. Do I need to know more? Not really. But season 4's first half had a much clearer plot to follow, and did so with a theme that resonated throughout and a theme very topical for 2018. That's right, Unbreakable Kimmy Schmidt tackles #MeToo and not just in the obvious ways of the premiere.


In looking back on the premiere and the spin that Kimmy is the one accused of sexual assault and harassment, I'm not entirely sure what the show was going for. There were laughs involved, but the show didn't really say anything or prove why it needed to tackle such a storyline. It all wraps up neatly when Kimmy learns to keep her sunny disposition distant from her coworkers, and all is forgotten and forgiven. Sure, in this case it was an accurate wrap-up to the misunderstanding but it failed to add much to the cultural conversation. I normally wouldn't say something has to have a cultural comment for a storyline, but when this is so current and topical it feels like it should.
The Capist
when Titus is given a big break by the real Greg Kinnear to pitch it to YouTube Brown. Speaking of YouTube Brown, the premiere is filled with jokes mocking the overwhelming amount of TV and platforms today, and the puns and insults land perfectly to any TV fan out there. Tituss Burgess and Jane Krakowski continue to fire on all cylinders with every line they're given, and the writers know it. Pairing them up was the best thing this show could've done.
Elsewhere, Lillian is dealing with the fallout of Artie's death last season when she spreads his ashes and eventually meets his adult children. This features a great guest spot for Busy Philipps, who gets to play his problematic daughter that only wants access to her trust fund. The season ends with Lillian in charge of her money, which I can only hope means we'll see a lot more of Busy in the final 7 episodes.
Unbreakable Kimmy Schmidt
floundered a bit last season to prove that it has much to tell, but these 6 episodes reminded me that these characters carry the show so perfectly that it doesn't matter. With slightly more focus and a change in settings and character relationships, season 4A improved on last year and made me even more sad we'll be losing it soon. I see no reason to end the show while it's so young, but at least we know they have 7 episodes to wrap it up (and possibly even a movie!) As long as Titus, Jacqueline and Lillian keep delivering painfully funny lines and Kimmy continues to grow without losing her
unbreakable
attitude, I'll watch whatever they have left.
What did you think of the season? Did you have any favorite lines? If there's a movie, do you want it to air on Netflix or in theaters? Would you want Titus to direct your school play?
That's all for now. See you in January for Season 4B, aka the final season, aka basically just a tiny season 5!