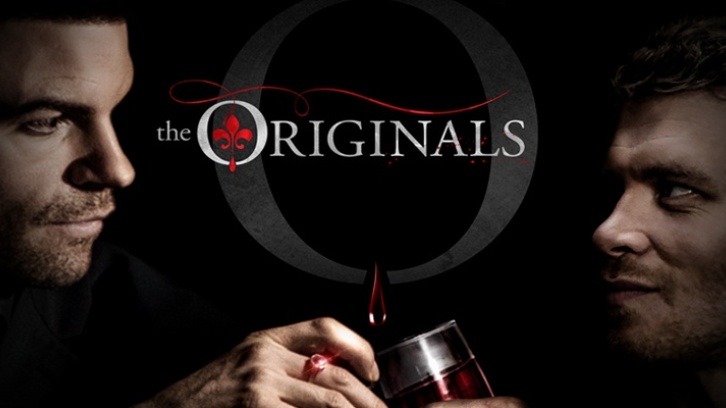 This week on The Originals, Klaus, Elijah, Rebekah, Kol, and Marcel were stuck in a magical version of the Mikaelson compound. (not using the French term because I can't spell it) Meanwhile, Freya and Hope were working together to extract the Hollow from the Original siblings and to put it back in Hope. Klaus and Elijah fought a few times. Rebekah told Marcel she's afraid to be with him because she's worried she'll ruin him. Elijah eventually got his memories back which got them out of the magical dimension, but it was not a pleasant reunion. Klaus gave him the blood to save Antoinette, which he used but he then left her.

Finally: I've probably said this a million times over the years, probably said it last week, but this show has always been at its best when it focused on family. This episode was just more proof of that. Words cannot describe how much I've missed Rebekah and Kol. I've decided I will be doing a huge review (manage your expectations, though) for the finale that will include the moments where the show dropped the ball, this will be one of them. Despite the fact that they were all trapped together, I still felt unsatisfied with the amount of family scenes that we got. There's been so much sibling drama, but half of the siblings have been missing all season. These characters have a lot of stuff to work out, and they will need the remaining episodes to do so, yet I believe Kol and Rebekah will be gone again next week.

The elephant in the room: So here's the thing. I've tried to keep my bias where ships are concerned out of my reviews (at least the one known to cause fandom wars) but it's really hard to talk objectively about a pairing you've been shipping for 6 years. So if my bias seeps through in this part, apologies, but I can't not talk about it where this episode is concerned. Despite dying 2 episodes ago, Hayley is still very present this week. I loved that Rebekah mentioned her grief, despite not being able to attend the funeral of her friend. But the relationship that took the spotlight this week was Klaus and Hayley. These 2 have always been very similar, sometimes too similar, but that also meant that they really understood each other, even in the early beginning on The Vampire Diaries. Because of Hope, their bond has been growing these past 15 years, to the point where she was one of the few people he still talked to after things went sideways with Hope. And she never gave up on him, that's what those letters symbolize. I wish their relationship had gotten the same amount of attention and screen time as the Hayley's relationships with Jackson and Elijah, because while it may not have been a romantic one (as much as I wish it was ;) ) it was a relationship that consisted of understanding, mutual respect and trust (aside from a few rocky moments). She meant a lot to Klaus, clearly, which is why he's so angry at Elijah. How dare he forget how special Hayley was. How dare he choose the lives of people he barely knows over hers.
*Deep sigh*: Total honesty here, when Elijah got his memories back and he felt all of the guilt and pain, my first reaction was "good". The writers have given us quite the character assassination this season, one I'm sure a lot of fans are not happy with (as I saw in the comment section these past weeks). Here's the thing, the amnesia excuse would've only really worked if the amnesia hadn't actually been Elijah's fault to begin with. He made the conscious decision to forget, to take the easy way out while his sibling suffered. He knew damn well that there was a possibility of running into someone he knew, loved and that he could hurt them without realizing they were an ally. The writers will need to give us a much better reason for why he erased his memories because this isn't cutting it. They were all in pain, Klaus more than anyone having to be away from his daughter, but not once did the thought of erasing everything cross his mind. The audience doesn't really get it, and I think his siblings don't either. It struck me that not one of them reached out to him while he was remembering everything, and I think it's because deep down, they kind of blame him for what happened. Sure, they love him, but they haven't fully forgiven him.
Klaus vs Freya: Speaking of siblings, Freya took quite a risk this week. I hate that we didn't get to see any of what happened in the real world while the Original siblings were out of it. We have no idea how badly Freya tried to talk Hope out of it. But there were no good options here. New Orleans was tearing itself apart. Even if they'd gotten all 4 Originals as far away from each other as possible, I think we'd reached the stage where that wasn't enough. And I'm kind of impressed with Hope for thinking of this and being willing to do it. But I guess at this point she feels like she doesn't really have that much to lose except for her family. I get that Klaus is mad, though. But I also get why Freya went behind his back, he would've never agreed to any of this. I hope those 2 make up soon. There's enough fighting already.
Now what? But this does leave Hope infected with the Hollow once again. But she's a lot stronger now, and from what I can tell from the promo, she seems to be the one in control, most of the time. But how long will that last? I fear the writers will drag this out until the end of the season, but I'm really not looking forward to that. Can't we just get rid of the Hollow and those nazi vampires and just focus on this family for the remainder of the season?
Best quotes: Rebekah: "Oh, Nik. Always so dramatic."
Klaus: "You know, when Elijah thought you were dead he said we'd lost our family's only hope." Hayley: "Hope. Hope Mikaelson." Klaus: "Hope Andrea Mikaelson." Elijah: "Have you ever considered the possibility that perhaps you don't even want me back? I mean, it seems to me that I make you all incredibly miserable."
Kol: "We all make each other miserable." Rebekah: "But through it all, we are family, and we made a vow. Always and forever."
Klaus: "But he did leave! Elijah was always there for me. Swooping in when my rage got the better of me, setting me on a path to redemption. For a thousand years, he made me need him. My brother was my greatest ally. He was the only one who could give me a chance of being worthy of Hope. And he was my best friend. You killed him. And I hate you for that."
That's it for this week. Check in again next week for an all-new review and let me know in the comments what you thought of this week's episode.
Please be respectful in the comments, any unnecessary rudeness isn't welcome.