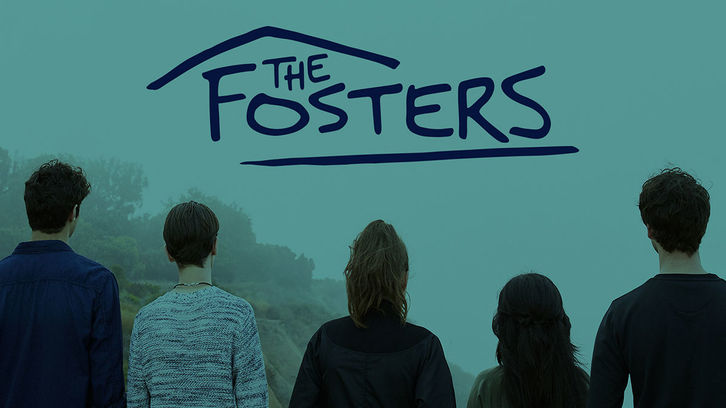 This episode on The Fosters:
The family is off to Turks & Caicos for the wedding, but we unfortunately find out that Corey can't come because his birth mum who did show up to her hearing is afraid that Stef and Lena will not take him back to the US.

Brandon is trying to figure out if he should sign the prenup that Eliza's dad gave him in the last episode, but we actually hear from Jamie who tells Callie that Brandon should not sign the prenup because he believes that it's probably not fair to Brandon. Eliza also found out in the last episode about Callie and Brandon's history so that is something that we see her deal with when she and Brandon have their separate bachelorette and bachelor party. Brandon is also having a bit of cold feet regarding if he should marry Eliza or not, which we see him talk about with Callie in a scene by the pool which was really lovely.

Jesus is still upset about his breakup with Emma so he parties in Turks & Caicos and actually ends up sleeping with one of Eliza's bridesmaids. Emma has been texting Mariana that she misses Jesus so I guess we will see what happens with them in the last episode. Mariana is actually trying to stop Jesus from getting together with the bridesmaid but they end up in a huge fight where Jesus tells Mariana to pick a job that is as far away from him as possible.

Jude is still acting kind of weird so his mums ask him if he is alright but Brandon interrupts so they do not get an answer from him. He ends up helping Carter get to bed who has gotten really drunk at the resort. Carter kisses Jude but Jude stops him, and then Carter starts crying and says he is really messed up.


Callie is having a few very nice and flirty moments with Jamie in this episode before she finds Brandon by the pool and has a heart to heart with him. We also find out that Callie has been offered one of the clerkships that she interviewed for but she's still holding out for the second one because that's the one she wants the most.
This episode ends on a cliffhanger with Callie walking towards a door and knocking on it, and Brandon opens a door when someone is knocking at it. So we are left wondering if it actually is Callie who knocks on Brandons door or if Callie is knocking on Jamies door and Eliza at Brandons. I have a feeling I know where this is going but I guess we'll see in the next episode what actually happens. Who's door do you think Callie is knocking on? Brandon's or Jamie's?
Favourite character:
I honestly don't know if I can pick just one person from this episode. I feel like a lot of the characters had some nice moments but I also feel like they had there not so great moments, so it's difficult to actually choose one favourite. It was a lot easier to choose favourite scenes from this episode so I'll go with two of those instead.
Best/Favourite scene:
I have two favourite scene from this episode, one was the scene by the pool with Callie and Brandon. I've always loved their friendship first and foremost, so I always love the more powerful scenes between these two characters. The second favourite scene of mine was actually the scene where all the kids are in the ocean or by the beach. It was just so nice to see a different scenery and I'm a big sucker for a nice scenery scene. I love the ocean more than anything so that scene where you really got to see Turks and Caicos just made me feel really happy because it looked absolutely stunning.
Best quote:
Brandon to Callie:"I think you're the person I trust most in the world"
Calle: "Ditto"
What did you think about this episode of The Fosters? Please, let me know your thoughts in the comments below.