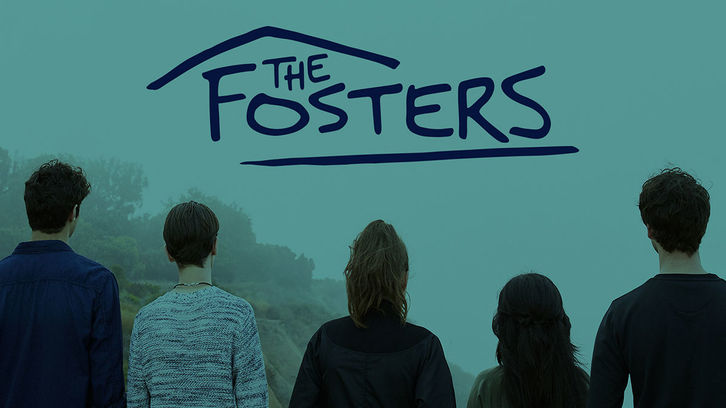 Series Finale Airs Tonight on Freeform

The Fosters promised us a good ending and to say they delivered on it would be an understatement. The writers brought it home with this final episode. Peter Paige and Bradley Bredeweg, the two lovely creators, came together for the last time to break our hearts and heal us at the same time. The title of the episode is "Where the heart is," and I know we might all have different answers on this, but for the Fosters "Family" will always be the correct answer. We get a lot of great family moments in this episode, and I won't lie, I did cry quite a bit while watching. I watched this while still in bed, and I hadn't had a good rest, so I blame all the tears on my pillow to lack of sleep and not the emotions the episode pulled out of me. On the plus side, I managed to get to work earlier than usual.


This finale is better than what I had anticipated going in. The cliffhanger at the end of
"Turks and Caicos"
left us with Callie knocking on a door and Brandon walking towards a door to open it. Whose door is Callie knocking on? Who shows up at Brandon's door? Tune in tonight to find out. Before you cry about all the spoilers I am giving you, keep reading because I was holding my breath at this point as well but prepare yourself for some laughs. The first five minutes are hilarious. We have skinny dipping in the ocean from an entirely expected couple. We have some people running around naked in towels; we have awkward guests in a couple of rooms and Jude has a hookup. Intrigued yet?
The wedding day is here, and Brandon is showing signs of stress; this is not a good sign for someone about to walk down the aisle. The good thing is, his dad Mike shows up, and Brandon opens up about the doubts he is having. I always liked the interaction Mike and Brandon had even when it was volatile; they talked, and that made a huge difference in the type of relationship the father and son had throughout the five seasons. It was also great to see Brandon lean on Mike for answers and direction, which was different from how he leaned on Stef for emotional balance. Will he take Mikes advice and follow his heart? We will find out soon.
Eliza finally confronts Brandon about his feelings for Callie, and he doesn't handle it well, and that's all I will say about that.
Let's talk about Braille….They get to have a heart to heart, and they take us on this journey up to the walk down the aisle. It is heartbreaking and sweet but worth the wait. We get flashbacks from the beginning when Callie fell in love with Brandon and their brief secret relationship. If there has been growth in a TV show, this takes the cake. I honestly loved how the writers put all this together, and my hope is the fans will be happy with it. I know I was, and I found myself thinking at the end of it "not bad guys, not bad at all."
Jude has a significant moment in this episode where he opens up about his troubles. Cue the tears as we flashback to that little boy we met five years ago who has grown so much. If I am not mistaken, we will get to see him drop by the spin-off show now and again. Don't take this to the bank it's just my personal opinion. The flashbacks are several in this episode for all the Foster kids. Some breakups and closures will break your heart. Corey gets a visit which will determine his future in the Foster household. Newcomer Dallas Young gives a fantastic performance in a scene Corey has with Lena and Stef. He has a great future as an actor. We see Jesus deal with his demons in a very raw and vulnerable way. As for Mariana, we love our messy grown woman. Since this is the end, it would be wrong not to tease about Lena and Stef. They are at the end of the day the glue that held everything together for this show. They get several sweet and fun scenes and of course a final family dinner. There is one scene in particular at the end with Callie and Jude that genuinely epitomizes what this show was all about.
There is a lot I am skipping over because SPOILERS but, bring tissues and honestly cry as much as you want, the tears will be good for your soul.
I watched this episode earlier so that I could to do a final write up as a thank you to the fans who read and commented on my previews this season. This show has been a great solace for me and writing about it was a pleasure. I have loved this family for five years, and even though I do not remember how I found myself on ABC Family, I am glad I did. This was an important show for many reasons, they dealt with numerous issues that every family deals with. The only "difference" was that it was a two-mom household, but that didn't matter to me or to any viewers, and I pray it never does. What mattered was how Stef and Lena loved each other and their children. How they provided not just materially but emotionally for their children and others that passed through their home. How they stood up for those less fortunate and showed up for the fights that mattered. It educated me in countless ways about issues that all our marginalized friends and family go through because of who they are and those they love. I am forever thankful. I can speak for myself as an LGBTQAI+ ally, I will continue to advocate for equality every day I live. I also can say this, despite any flaws this show had, it represented a small view of what our world needs to be and should be, but as allies, we all still have a lot of work to do.
I will leave you with a guessing game
1. How many of the Foster kids move to LA?
2. Who does Jude hook up with?
3. Braille or Wedding?
4. There is an unexpected, delightful kiss between two characters, can you guess?
So, let's talk things…tell me what you expect in the finale?
Don't forget to tune in on Wednesday night at 8PM/ET on Freeform to say goodbye...