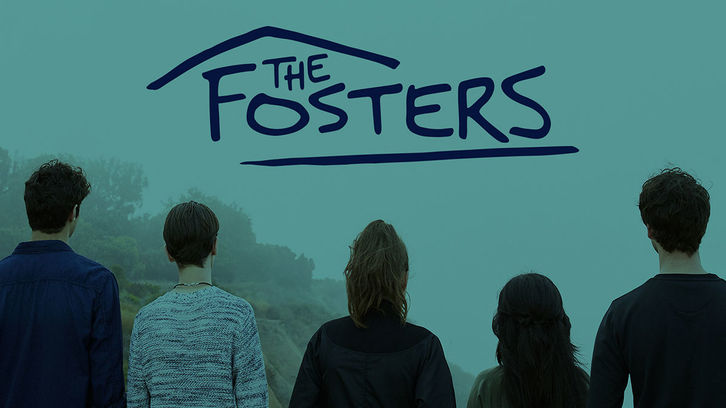 The moment is here, it's time for the three finale episodes of The Fosters. I've been dreading this for a while now, because I love the show so much but I also do feel like I'm ready for this farewell and for the spin-off featuring Marian and Callie that we now know will be called Good Trouble. But we're not there yet, so let's get into the review of this episode.


This episode on The Fosters:
The whole family is back together a year after the spring finale because Brandon and Eliza har getting married as we found out in the last episode. There is a new member to the Adams-Foster family and his name is Corey. He is a foster kid that Lena and Stef has been taking care of for the last year and that they are looking to adopt.
In this episode we also gets to meet Eliza's family which include her parents (who I honestly could not dislike anymore, even if I tried and this is just after one episode...) and her brothers Jamie and Carter. Jamie is also a lawyer so we do get some very flirty and kind of nice scenes with him and Callie in this first episode.
Let's start with Brandon who is getting married to Eliza that we met in the spring finale. We find out that Eliza and Brandon first wanted Lena and Stef to marry them, but after Eliza's parents get involved and wants them to be married by an actual minister, Brandon and Eliza have to tell Stef and Lena that there has been a change of plans and they can't marry them anymore. This is what mostly what Brandon deals with in this first episode. We also find out that Stef now has a job in social work.
Jesus is starting a customised tree house building business with Wyatt and he is moving in with Emma after having a long-distance relationship since they graduated high school. We do find out that Emma has been offered a job in India, which she didn't tell Jesus about and that causes a riff between them and they actually break up in the first episode of the three-part finale.
Jude has finished his first year of UCLA, but we find out that he got put on academic probation because he hasn't been keeping his grades up during his first year. Jude also gets really drunk on the family dinner so we definitely see that he has had a rough first year of college, but it's going to be interesting to see what happens with him in the upcoming episodes. We do get to see him have some scenes with Eliza's brother Carter which will probably become even more interesting in the last two episodes.
Mariana has graduated from MIT and is now looking to travel Europe. She and Mat broke up because he apparently gave her crabs after cheating on her while he was on tour. I honestly felt like Mariana hadn't changed a bit from the spring finale to this episode which was a bit of a disappointment. I do hope that gets better in the upcoming episodes and especially in the spin-off because I don't really like her acting like she's still sixteen even though that's not the case anymore.
Callie has finished law school and is now looking for a clerkship. She has spent basically all her time focusing on school so she hasn't had any time to date or do anything else. She strikes up a conversation with Eliza's brother Jamie who is also a lawyer and I actually really liked the dynamic between these two characters. I'm not sure if this is just because I like the guy who is playing Jamie (Beau Mirchoff who starred in the show Awkward if that rings a bell for anyone?) but I'm intrigued to see what happens next with these characters.
Favourite character:
Corey! Oh, I love this character so much already, he seems like such a sweet and amazing boy. It's too bad that we only get three episodes to actually get to know him, but I have to say that I feel like he is such a good addition to the cast and the family.
Best/Favourite scene:
The scene at the end of the episode with Lena, Stef and Corey. That scene was so sweet and so wonderful. You could really see how much Corey loves Stef and Lena, and how much they love him even though we've only gotten to experience it during this first episode. There was also some really funny moments in this episode which some quotes that made me laugh out loud a couple of times. Especially one regarding Callie and her likes on social media, and also a conversation between Stef and Lena after Brandon told them about the change of plans.
Best quote:
Corey to Lena and Stef: "I want you to be my mums"
What did you think about this episode of The Fosters? Please, let me know your thoughts in the comments below.