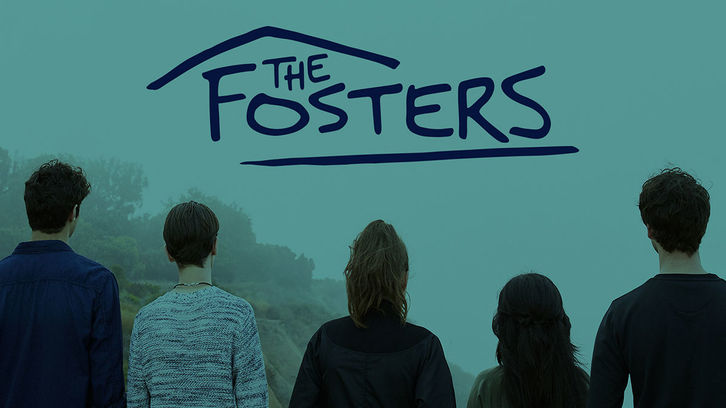 Previously on The Fosters…Well, It's been months since we talked about our beloved Foster family but here we are at the end of the road. This time it's real, and it will be a three-episode finale so buckle up because I have plenty of juicy spoilers for you. At the end of episode nineteen, we left off with scenes from graduations for all the Foster children Jude included. Brandon was going through heartbreak after his girlfriend Grace died from cancer. Callie and Aaron finally put closure on their relationship, which was a bummer because I liked them together. Mariana was still messy but ultimately decided to focus on herself and let Mat and Wyatt go. Jesus was dating Emma, who was going to college away and leaving him behind. Jude and Noah broke up and finally the moms were communicating better after Stef decided to face her demons head on and let Lena be her source of comfort. Other characters that we cared about like Ximena got some temporary relief from deportation and her sister Poppy, well, they didn't tell us much what happened to her. All I know is she didn't hook up with Jesus even though their "relationship" was baited for a while.
Okay, if you are not caught on, I suggest you head back to Freeform and all the other platforms that air the show and re-watch before the first finale episode airs. This is going to be a roller coaster of so many emotions that will leave fans confused. This preview will be for the first two episodes, and I promise you there is enough to keep you wanting more. First things first, like I had mentioned in my last preview, we meet the Foster's after five years. What does this mean for our beloved characters you might ask? There is a lot of growth from each and every one of them, but also there is still plenty of nostalgia to fill a bucket.
Almost everyone is a college graduate but, Jude who is a first-year college student and Jesus who surprisingly enough is doing other things. The family is gathered for dinner to celebrate milestones for several of the Foster children. The main reason though is Brandon's engagement to Eliza
(Abigail F. Cowen)
, who we met briefly at the end of
"Many Roads."
We learn that it's been two years since Brandon and Eliza have been dating, but this is the first time she is meeting most of the Foster family. Eliza's family is also at this dinner and to describe it as awkward would be an understatement. Let me set this up for you a little so that it's easy to understand. All the Foster children are at the table and are joined by Aaron, Mat, Wyatt, and Emma. On Eliza's side, there are her parents and two brothers as well as Stef and Lena. Now go back to the beginning of my preview where I recap what happened when we left off a few months ago; do you see why/how this is a very awkward dinner? If you don't, then I am terrible at not spoiling. I could throw in a little nugget and tell you that Corey is also at the dinner. Do you know Corey?
There is a lot of
"you need to tell"
during this dinner, and whenever these words keep getting repeated, chaos is bound to occur. Brandon and Eliza are not sharing some vital information, Emma is keeping something from Jesus and Jude has some trouble that he is holding to himself. This is the Foster family, and one can only keep secrets for too long. One thing that will surprise viewers is how much Jude has changed; after all, he is an eighteen-year-old who feels like that is a ticket to be reckless. He is very confrontational with everyone, and he seems quite insecure about Corey.
Callie has a new admirer who is quite relentless in his pursuit, but she still has feelings for someone else. This will be a source of tension between her and a different character on the show. Maia Mitchell is such a great actress, and she outshines everyone in all her scenes. This episode she's is trying to put out fires everywhere around her, and it seems like she's the only stable Foster child. She and Mariana have a sister conversation that someone else overhears, and it opens up a can of worms. Brandon has always had a good head on his shoulders, but you will see in both episodes that he has changed a lot. I think losing Grace did a number on him and Brandon has struggled to come back into his own. He makes a lot of terrible decisions that end up hurting his family. His relationship with his in-laws is also strange especially because of how involved they are in Eliza's and his life. Eliza's father gives Brandon a Prenup to sign and so much of what happens in the second episode will revolve around this particular issue.
We have reached a point where there is a wedding, or maybe there is not. I cannot discuss the second episode in depth without spoilers, but I will say this, there's a beautiful music number that Mat and Mariana sing for the couple. This could have been the wrong song choice because it's spinning everyone out of control and you do not want people thinking of old memories at weddings.
I will live you with a few quotes from the episodes.
"I am just looking out for my brother."
"You know she always gets what she wants."
"You are the person I trust most in the world."
"I am so messed up."
You will need to tune in from Monday and Tuesday to experience this finale I know I will.
Don't forget to tune in on Monday and Tuesday night 8PM/ET on Freeform...