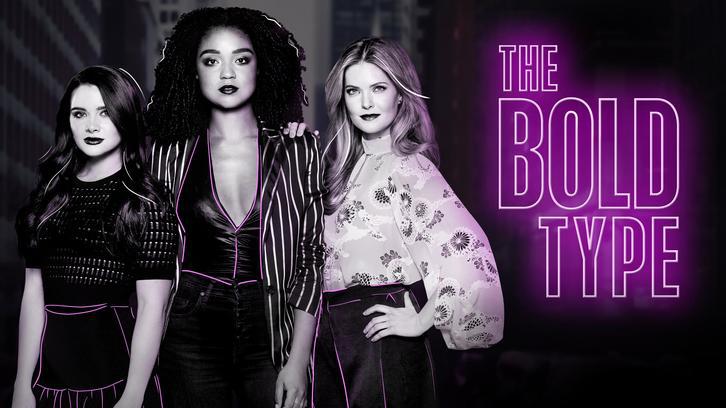 For the premiere of the second season of The Bold Type, we got a double episode. Therefore this review will be a bit different than usual. I decided to focus on our 3 main characters and their storylines (with a minor part about Jacqueline at the end because we all love her).

Episode 201: Feminist Army

On the first episode, our 3 favorite women are reunited after Kat went away with Adena. Jane now works at Insight and prepares her first major article only to have it heavily edited. Kat wants to flaunt her relationship with Adena, who is not exactly comfortable with that. They later take their relationship to the next level in the bedroom. Sutton is now allowed to be with Richard thanks to a change in policy but when she realizes the gossip could heavily impact her career, she decides to end it.

I missed this show: First things first, I've said this in practically every review I've written for this show but the bond between these women is so amazing and refreshing. Every single one of their interactions made my heart melt. From waiting for Kat at the airport to teasing Sutton during the sexual harassment seminar to pep talks and good advice in a coat closet. I could watch 10 seasons of just these 3 characters interacting going about their lives without anything exciting or dramatic happen. It would still be very entertaining.

Career or love?: Some people may not agree with Sutton's decision, but I'm very proud of her for making it. Regardless of the fact that she and Richard can now be together thanks to new company policy, it doesn't take away the fact that people talk. This is an issue that Richard will never have to face. All he'd get would be a pat on the back. And while it has a lot to do with the fact that he holds a much higher position than Sutton does, it also has to do with the fact that he's a man and that there's a huge double standard for these kinds of things. For Sutton, things would be much worse. Maybe she shouldn't care about what people say behind her back but in an industry like this, it can ruin you. She worked hard and earned every opportunity she's gotten. But all people would say is that she got those opportunities by sleeping with the right people. If she and Richard had stayed together, that would've eventually put a strain on their relationship. Unintentionally, she might even end up resenting him for it. So I definitely think she made the right decision, she put herself first.
Tiny Jane: Last season, Jane took a huge risk when she quit her job at Scarlett and went to work for Insight. And she may end up regretting it. I really loved how excited she was that she got to do articles that fit her more. But as we saw, not all ideas end up the way you'd expect them. Someone who she admired ended up disappointing her. And I think she handled it all very well, still committed to writing her article, just from a different perspective. Which is why she'll be so hurt to see what her boss did to her article. I get that bosses can edit what you write, but the fact that Jane never got to look it over again before it went online really doesn't seem fair. Especially since the article is much more negative now and she'll probably get a lot of shit for it. Jacqueline would never have done something like this, and I'm willing to bet she'll notice something isn't right when she reads it. But on top of that, this is Jane's first article at Insight. I doubt she'll write her next articles with the same excitement, probably with more fear of getting heavily edited.
It's never too late to learn new things: I am loving the happy confident Kat we saw this week. She lit up every room she entered. I feel like she and Adena are a bit on opposite sided when it comes to how public they want their relationship to be. Kat is social media director, it's her job to be out there and share things. While Adena is always the one behind the camera and in control of the situation. I they'd talked about that a bit more this week. But while Kat has been very excited about PDA, it's the intimate stuff that scares her. And why wouldn't it? She's new at this, this is her first relationship with a woman. Adena has been at least one other relationship that we know of so this definitely wasn't a first for her, meaning that Kat was probably worried she'd be terrible compared to past girlfriends. The way that scene was shot was really beautiful and intimate. You almost forgot you were watching a sex scene (at least I did, sex scenes usually make me a bit uncomfortable). It wasn't until several minutes after the episode ended that I wondered: "Wait, can they show this on Freeform?".
Best quotes: Jane: "This is really nice of us." Sutton: "I know. We're nice people."
Kat: "Are we good here?" Sutton: "It's a little weird but we're playing it cool." Kat: "Okay."
Kat: "Sorry old guys, time to let someone else speak."
Jane: "What are you so scared of?" Sutton: "That even if I become insanely successful, like the next Grace Coddington, people will say "Sutton Brady got to where she is because of who she slept with."." Jane: "And that's not something that Richard has to worry about." Sutton: "No, that double standard is like one of the classic rock hits of the patriarchy.
Episode 202: Rose Colored Glasses
In the second episode, Jane has to deal with the fallout from her first (and last) article for Insight. She does a TV interview but rather than say the scripted lines, she stays true to herself and ends up getting fired for it. Kat has to write her own bio now that she has a higher position at Scarlet but struggles with whether or not she should add that she's black. After much consideration and a few conversations with friends and family, she decides to add it. Sutton is thrown off her game as people keep gossiping about whether or not she deserves the assignment she's been given but after a conversation with Jacqueline, she decides to not let it get to her and tells Mitzi off for slut-shaming her.
First step: This show has never shied away from hot-button topics as was the case this week when Kat confronted her own identity. We've always seen Kat as super confident in everything she does, with the exception of her sexuality, where she was more insecure. I never expected that she'd be equally insecure when it came to the color of her skin. It was really nice to see her delve into this, the way she discussed it with her friends, her girlfriend, and her parents. I'm super happy no one actually tried to tell her what to do but instead just gave advice so that she could make the decision for herself (as one does in healthy relationships). The conversation with her parents was heartbreaking. I understand why they raised her like that, being a mixed-race couple. And in a perfect world that would've worked. But we don't live in a perfect world where race isn't an issue. Kat should be proud of everything she's achieved in her life. While I doubt she figured everything out in just a few days, I'm glad she took this first step.
Stop the slut-shaming: Sutton may have broken up with Richard, but that didn't stop the rumor mill. Anyone who's ever been bullied in school (or elsewhere) knows what it's like when people are constantly talking about you behind your back. For Sutton, it made her question everything she did or said, which really brought down her confidence. I'm glad she told her coworker off. Enough of the slut shaming, men do that to us enough already. Women should support each other. Sutton shouldn't change a damn thing about herself, I love seeing her in action. Her passion really shines through and I wish I had half of her social skills.
Now what?: As expected, Jane's heavily edited article had some serious consequences. I hated how her boss treated her. It was like she was trying to strip Jane of her who she was, changing her articles, her clothing, how she spoke and what she said. Maybe it's a good thing that Jane got fired, she would've never been happy there nor would she have been appreciated for the writer that she is. I really hope there's still a spot at Scarlet available, though. But if I ever had to go ask for my job back, one I just quit to go work for someone else, I would want it to be someone like Jacqueline.
Everyone's favorite boss: Jacqueline was pretty great this week, in both episodes. I especially loved her conversation with Sutton. She immediately noticed something was off, despite not having worked that much with Sutton in the past. But rather than yell at her like Olivier does, she talked it out with her and gave her advice. I love how dedicated she is to the magazine, many people would've jumped at the chance to become a board member. I just hope she won't regret it. It looks like that new board member might be trouble.
Best quotes: Sutton: "You do know this is a round-up of good guys in light of all the sexual harassment claims?" Jane: "Oh, and I'm objectifying them. I see the irony and I'm okay with it."
Sutton: "You know what, I love men and men love me. And there's nothing wrong with that!"
Sutton: "Hey Mitzi, so the slut-shaming thing you're doing, it's got to stop." Mitzi: "I wasn't." Sutton: "You were. I know it and unfortunately, a few of the assistants also know it. But we don't tear each other down, not as women, and definitely not as women of Scarlet. If you want some competition, I'm totally up for that but it has to be based on merit and talent, not petty gossip. Got it?"
That's it for this week. Check in again next week for an all-new review and let me know in the comments what you thought of this week's episode.
Please be respectful in the comments, any unnecessary rudeness isn't welcome.