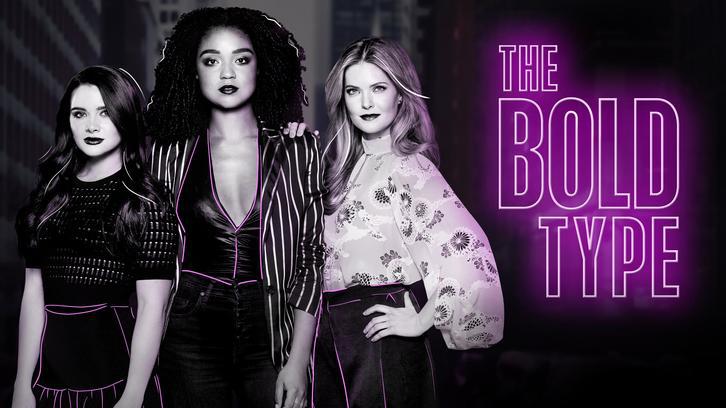 This week on The Bold Type, Jane struggles to find a new job after becoming a meme. She gets a freelancing gig which brings her closer to Ben, the doctor from Sutton's shoot. She asks Jacqueline for her job back but Jacqueline says no because that would be taking the easy way out. Meanwhile, Jacqueline is having issues with Cleo, the new board member who wants to change articles in the magazine. Kat recommends Adena as a photographer to Sutton, who's a bit reluctant to work with friends. It almost ends badly but Adena comes up with a concept that Sutton really likes which includes her, Kat and Jane showing off their bodies.

If looks could kill…: … then Cleo would be dead. Have I mentioned lately how much I adore Jacqueline? No? Well then let me say it again. I love this woman. I knew Cleo was going to be trouble. She's been a board member for a week and she's already trying to tell Jacqueline how to run her magazine. I'm not sure how she thought that conversation was going to go. Jacqueline handled it wonderfully, though. Polite to her face, while plotting how to make those board members pay for fat shaming women. I would have LOVED to read the article she wrote. I just hope it doesn't land her into more trouble.

I can relate: I don't know how this show always manages to find topics that directly relate to me, does everyone feel this way? But I totally get what Jane feels, having to go from job interview to job interview. Luckily I don't have an embarrassing online video haunting me (I've managed to hide those). I felt so bad for her, it's awful that one bad recommendation can have such a huge ripple effect. And Jane didn't even do anything wrong. I guess I can understand those employers. She doesn't have the best references either. Most of them don't view working for Scarlet as serious journalism and her only other credit ended very quickly, publicly and badly. And now even Scarlet isn't an option anymore. I can imagine that Jane feels awful about her decision to leave Scarlet, which she's now starting to miss but Jacqueline has a point. She wants to come back because it's familiar and safe. But part of being a great journalist is taking risks. I do think she'll be back at Scarlet soon but she has to grow more as a writer first.
Trainwreck, almost: We don't see conflict between the 3 main characters often but in this episode, Kat and Sutton seemed on opposite sides, a bit. It's tricky to work with friends, especially in a high-stress environment. Sutton's job is almost always on the line, and when Oliver puts his trust in her, she wants to do a good job. Adena desperately needs a job for her visa, so of course, Kat would recommend her to Sutton. There's nothing wrong with that except that it makes things incredibly awkward when Adena might not be a great fit for this particular job. Sutton didn't really feel like she could say no, without hurting Kat. The reason this whole situation didn't go horribly wrong, is because these 3 women are understanding and logical (unlike on other shows). Adena understood the situation Sutton was in and vice versa. Kat later understood how she'd made her friend feel. And luckily Adena was good at her job and came up with an even better idea for the shoot.
Great concept: I love how this show always tackles important subjects. This week was no different with the body positivity issue. And they handled it in a very subtle way. It wasn't the main focus of the episode but the message was still loud and clear. Everyone should love their own bodies and not let anyone tell them otherwise. We got to see Jacqueline standing up for women who are being fat shamed, we got to see our 3 leading ladies show off their flaws with pride and Adena strip down naked to make everyone else feel more comfortable. I can't wait to see what they tackle next.
Best quotes: Jane: "Look, it's my plan for the day." Kat: "She made a list." Sutton: "Of course, she did."
Jacqueline: "Body positivity is about self-love, self-acceptance. Which is very healthy."
Jane: "Yeah, guys. It turns out that tiny Jane is not so great at being unemployed." Kat: "It's been 1 day." Jane: "Have you met me?"
That's it for this week. Check in again next week for an all-new review and let me know in the comments what you thought of this week's episode.
Please be respectful in the comments, any unnecessary rudeness isn't welcome.