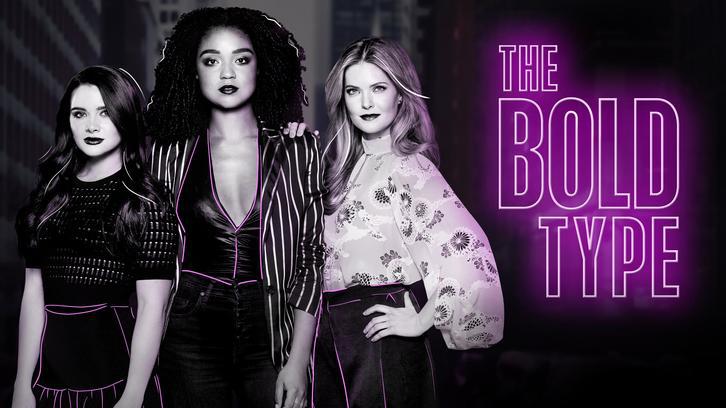 This week on The Bold Type, Jane went out again with Ben only to have issues with the fact that he's religious. She also met up with Pinstripe and collaborated with him on a gossip article, but it wasn't a good fit for Jane. Kat felt jealous when Adena met up with her exes and refused to say how many women she's slept with but they worked it out. Sutton started networking to gain connections in her field but ended up paying for cocaine with the company card.

Green-eyed monster: I feel like jealousy was the main theme this week for all three of our main characters. It was more subtle with Jane (more on that later), slightly less subtle with Sutton (also more on that later) and super obvious for Kat (which I will get to now). And I think most of her jealousy had to do with both Kat and Adena's personalities. We've always seen Kat as very open when it comes to discussing sex, never ashamed of past relationships and flings. So when Adena avoided answering the question of how many people she slept with, it almost felt like Adena was hiding something. Meanwhile, Adena is a very open and social person. She's totally the type of person that would remain friends with her exes. From her point of view, she's training to spare Kat's feelings because this is all so very new for Kat and she doesn't want to scare her off. Their main issues this week could've been solved with decent communication. Like for instance, Adena probably should've mentioned there would be exes at that party. But once they got past their communication issues, everything is okay again and we even got their first ILY's.

Challenge accepted: Now on to Jane, when I mentioned earlier that she also felt some jealousy this week, I was referring to her reuniting with Pinstripe. He seems to really have his life, or at least his career, together at a point when Jane really doesn't and that has to hurt. But I really liked their interactions this week. He was exactly what Jane needed right now, someone to challenge her, to make her want to fight. While the gossip section didn't turn out to be the right fit for Jane, it did get her out and about, reporting and seems to have renewed some of her fire. I hope we get to see more of him this season.
Controversial subject: Jane's main storyline this week, however, involved religion, something that hasn't been featured a whole lot yet on the show. Often when it comes to conflict like this, it's because 2 religions clash but in this case, it was because Jane does not believe, while Ben does. Turns out that it was because of what happened to her mother, despite praying, that Jane started to have issues with believing. As someone who isn't religious, I can understand her reluctance to date someone who is. It may not be an issue early in the relationship but could become a major issue years later into the relationship (marriage, kids, …). I believe everyone is free to believe in what they want, I totally understand that it gives some people comfort. It's when people start to push their religion onto other people (or even their kids who are not old enough to decide for themselves) that I have issues. And you know, also the whole "I respect your belief as long as your belief respects my existence thing". But that's a discussion for another day.
Hoe don't do it! OMG! Damnit, Sutton. You're supposed to be the smart one. Sutton also felt some envy this week when she was reminded of how well Kat is doing at work when she's still an assistant. I totally understand that. But it did lead to her making some stupid choices. Sutton's line of work is really tough, it's all about networking and making connections. And often the people who've already made it take advantage of those who are still climbing their way to the top. Which is how Sutton ended up paying for 500 dollars' worth of cocaine with a company card. She was so worried that if she refused her career would be over that she was too afraid to say no. But here's the thing, this is a TV show, and those things always come back to bite you.
Best quotes: Kat: "Communication is so hard." Sutton: "Welcome to being in a relationship."
Jane: "What do you have that I don't." Ryan: "I'm charming, I know how to work a room." Jane: "I'm not charming?" Ryan: "That barista doesn't think so."
Sutton: "Oh, how was baby's first lesbian bar?"
Sutton: "Your cheeks are flushed. You just had sex, didn't you?" Kat: "God, she's like a truffle pig for hook-ups. Speaking of, how many people have you guys slept with?" Jane: "4." Sutton: "28." Jane: "Makes sense." Sutton: "Yours too."
That's it for this week.
Check in again next week for an all-new review and let me know in the comments what you thought of this week's episode.
Please be respectful in the comments, any unnecessary rudeness isn't welcome.