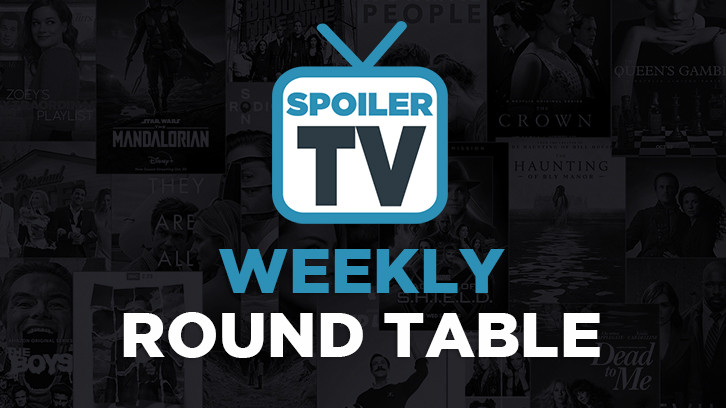 Hello guys and welcome to the 49th Edition of WRT. A usual week ended with some smasher news and we put once again our thoughts together digesting all the news. Today I`m (MK) joined by Laura B (DL), Lisa (LM), Claire (CS), Jennise (JH), Katherine (KM), Ami (AG), Jessica (JN) and Yon (SJ). Sit back and enjoy the discussion, don`t forget to join the discussion via the comment section.


1. #LuciferSaved ! Netflix picks up the Fox Cancelled drama for a 4th season. What does this mean for other fizzeled shows? And how far can Lucifer last in the world of streaming?
DL:
Well, I think it's a misstep to presume that every show is going to be saved, but between Lucifer being saved by Netflix and The Expanse saved by Amazon, it does look like fans have more power than they had before. I have mixed reservations about that, especially when it comes to a series right for creative freedom and/or when a really good show perhaps doesn't have as many fans as some of these shows have, but I think these were both victories and it's nice to know that maybe some things can be saved! As for how long will Lucifer last, I think it has a chance to go to five or six seasons like Longmire had. I don't know if the formatting and subject matter or even production value will change on the series, but surely all of that could factor in.
MK:
I`m happy for cast and crew of course, but I do not think this will be a prospering relationship. There is a reason why numbers fall and people left the show. I heard a lot on negative buzz towards the show, I hope they can rectify all that on Netflix now.
LM:
I'm thrilled for Lucifer fans! Shockingly, I don't have Netflix so I won't be able to watch more of the show, but I think that Lucifer will do very well there. I think that Netflix is the perfect venue for fan-loved shows. It's passionate subscribers that Netflix has built their model on. I think this is very hopeful for fan-supported bubble shows. I bemoan the fact that there was no Netflix to save Firefly...
JH:
Lucifer is one of my favorite shows and I'm thrilled we get to see how Chole handles her new worldview. As always, it'll depend on how good the season 4 writing is. I must confess that I'm more jazzed about The Expanse being saved.
We get so jazzed about the successful resurrection of a show that we tend to forget that it has been a very rare occurrence over the years. I think, at best, it means that fans will continue to fight for the shows they love. (And I don't see how that could be anything but a great thing.) At worst, the fans will still face seasons where we are forced to mourn the loss of shows we love. (And there have been a LOT. Sadly, I realize, there will be more.)
AG:
I was actually surprised about Lucifer's renewal, I honestly thought it would be over, they took ages for the renewal to be announced! This kind of precedent has created an interesting outlook now for all cancelled shows - anytime a show is cancelled, the little voice in the back of your mind will now say 'oh but its fine, fans will petition for it to be saved on Twitter, and it'll get renewed, don't worry!', so cancellation announcements seem less stressful. I mean, it worked with Sense8, and Brooklyn 99, and Timeless, and now Lucifer it seems. (Hopefully, that means Shadowhunters will get picked up or at least given one more season, lets hope!). I haven't watched Lucifer, but with all the hype and noise surrounding it, I think I should give it a chance!
JN:
I am over the moon that Netflix picked Lucifer up for a fourth season. I think the series will do really well there, especially internationally. There are a lot of fans abroad that wasn't reflected in FOX's ratings, so I think a streaming service is a perfect place for the series. Along with NBC rescuing "Brooklyn Nine-Nine" and Amazon saving "The Expanse," I think it's safe to presume that just because a network cancels a show doesn't mean it's truly dead. That doesn't mean that every canceled show will be revived in some form, but I do think it's a comforting thought for fans. Just because things seem futile doesn't mean fans shouldn't have hope.
Yon:
Another unpopular opinion but I don't agree at all with Lucifer being saved. Sure I'm again pleased for the crew to keep their jobs, along with some of the actors who missed out on getting work through the pilot season, but I don't at all agree with the creative decisions by the showrunner. He knew the show was on the bubble, he knew there was a chance it wouldn't come back, he still chose to end on the cliffhanger that he did, then cried about how he felt terrible for the fans and got behind the fan campaign for someone else to pick up the show. How do we know with the 4th season they won't repeat the same old mistakes? How do we know Chloe seeing Lucifer's real face will actually stick, and we're free of boring love triangles? How do we know if being off Fox and on Netflix will see the show embrace its sexuality and feature Maze & Lucifer in same-sex hook-ups instead of baiting? The simple answer is we don't. Every show in danger of getting canceled has a fan campaign behind it, which can on occasion bet quite aggressive in its nature, but there's no point in these campaigns if viewers don't actually turn up to watch and Lucifer viewers didn't. Gotham & Timeless both saw small increases in viewers whilst fan campaigns were going on. Lucifer's extra episode had around the same amount of viewers as the rest of the episodes that'd aired. Honestly this whole season has just been really messy with aggressive fan campaigns, and fans of axed shows attacking the cast + crew of so-called 'rival' shows to voice their unhappiness, believing every little fact that is spread around on the net even with no reliable source to back it up, and I'm just completely tired of it all.
2. Roseanne spin off likely to make it on air! Is it worth it ? Can a the potential spin off draw in the expected crowd without Roseanne?
DL:
Yes! I believe that this is the right way to handle this situation. I think there are surely two or three characters that could easily lead their own spin-off and you can still have new "Rosanne" types introduced as secondary or thirdary characters, should the series want to uphold and/or continue to discuss that character's viewpoints within the narrative. Personally, I probably won't be watching, unless the spin-off features Sarah Gilbert's Darline, because the shows have never been something I related to, but it's the principal of the point that the network and Barr should not punish the rest of the cast, writers, executive producers, and crew for Barr's actions.
MK:
I wish them well and they certainly got initial buzz to get in viewers. Still, my only concern is that Roseanne will viggle herself into this whole thing despite all of ABC`s precussions. I haven`t see the show pass the premiere and David episode but they have quality enough to carry it out. I think ABC launching The Rookie in the timeslot would be just as exciting.
LM:
I think the spin-off is great news! I for one didn't watch the re-boot because of Roseanne - I will DEFINITELY watch the spin-off. I love Sara Gilbert, John Goodman, and Laurie Metcalfe. Gilbert and Goodman are terrific actors and I was sad to miss them in the reboot, but I could not in good conscience support Roseanne. I enjoyed the original show until they killed Goodman, but that was a long time ago when I was far less politically aware - and before social media. Can't wait to see where the spinoff goes!
CS:
I think it's a terrific idea. Sara Gilbert was the star of the reboot as I wrote in my preview back in March. And when you have Laurie Metcalf, John Goodman, and a superb supporting cast, that's a good start. I just don't find Barr to be the most altruistic person and I'm hoping that she doesn't sink this. Been a fan of the show since 1988 but Barr and all of her 'baggage' had to go. I, unfortunately, don't see good things for her unless she gets some real help. Not sure if the show will work without Roseanne but it's definitely worth a try.
JH:
If it's being thrown together purely because people have been upset that Rosanne's firing put people out of work then I think it's a doomed idea. A half-baked project was thrown together for any reason other than there's a great story to tell invariably results in a show that will not garner the ratings to stay on the air.
But bringing 'the Rosanne show' back simply because it was a hit a long time ago wasn't a good reason to bring it back in the first place. (IMHO). They didn't have anything new to say and it just didn't work for me. This idea sounds like a spin-off of something that wasn't really working.
I would much rather see this cast and crew working on a great project that stands on its own. That's where the odds seem better that it will be a show that will not only last for several seasons but, for some, revitalize their careers.
KM:
I'm really unsure, largely because a show without Roseanne would not, in fact, be Roseanne. I've read that the show might center around Sara Gilbert's character, Darlene, and her struggles as she rebuilds her life in Lanford with her two children after losing her job in Chicago. That, right there, is a different story, and maybe it could work. I don't consider Gilbert a particularly strong actress personally, and that's what the show would need. But again, an entirely different show with the same characters, and I'm not sure that's what Roseanne viewers really want.
AG:
Maybe! As much as I loved the rebooted season of the original show, I feel iffy about supporting anything involving or associated with Roseanne herself. That being said, if they take the really good stuff from the original show and turn it into something better, something stronger and freakin' hilarious, then it could be a big hit for both old and new fans!
SJ:
Unpopular opinion probably but I was too young for the original Roseanne, did not care at all for the revival and do not care at all for a spin-off. Sure I'm glad that it'd potentially keep crew members who didn't deserve to lose their income in a job, but there's really no need for it. Even if Roseanne is paid off so they can do the spinoff without her making profit, she's still gonna hang like a dark cloud over it. Honestly, I would've preferred ABC to just cleanse itself of everything Roseanne, and give another chance to one of the pilot comedies it had in contention.
3. AT&T aquires Warner Time? What are your thoughts on the merger and what does that mean for the future of the business?
LM:
The ATT-Time Warner merger is a disaster with far-reaching consequences. It is another indicator of how far American politics has gone off the rails. There was a time, not so long ago, when these monolithic entities were dismantled. It should never have passed the antitrust test. Look for them to heavily support the repeal of net neutrality. Why wouldn't they want to throttle other streams of content and charge a premium for access? Look for you Netflix to go up in price or sloooooow down. This is going to have a domino effect across the telecommunications and entertainment industries. Far-reaching consequences....
CS:
Over a century ago (see The Sherman Antitrust Act), the government stepped in to stop these business monopolies. Why it's being allowed to happen at this point in time boggles my mind. 'Loop holes' I guess?
JH:
I don't watch the business side of the business like I used to. It doesn't seem that mega-conglomerates have been the best thing to happen to the industry. That said, I don't quite see how this merger will be, fundamentally, different from the other mergers that have happened in the last decade or so. I guess I simply don't have a clue how, if at all, this merger will affect the industry.
4. HBO and Starz are skipping SDCC. In this age of PeakTV how important is an appearance at Comic Con? Also should Shows change the way they promote themselves at Comic Con?
DL:
I think even though it might have been nice to see Outlander, Game of Thrones, or a Westworld panel, it's not a big deal that they do not attend. The bigger premium cable shows usually have a lot of other venues and panels they attend over the year and they never seem to come up short on advertising and promotional material. But I think, more importantly, it's understandable that these shows have "off-season" production schedules and it's not always feasible for them to attend SDCC. On the other hand, I do hope those premium networks do attend sometimes, especially if they have new shows to promote! That's when I think it's more important.
MK:
I really love Comic-Con, it is such an amazing event and it brings fans really close to each other. Still, these 45 minutes panel where the cast talks all around things don`t seem to work, especially considering most shows don`t have promotional material at that point. On the other hand, GOT not getting a goodbye panel is sad and should be rectified. It is a mixed bag, cause while SDCC is still a viable way to promote new and old show it feels a bit outdated.
LM:
Gotta say that I'm pretty shocked that HBO is missing SDCC. But it's increasingly expensive and SO crowded that it's ridiculously uncomfortable. They really don't need to promote the shows like Game of Thrones, Outlander, or Westworld. GoT is likely too busy filming to send anyone anyway. I think Peak TV makes an appearance at SDCC pretty important for discovery of new shows but not for established shows. Increasingly, I think that talent is more interested in meeting fans at the "smaller" cons. I think that producers increasingly see that as a way to get more bang for their buck too. There are just so many ways for studios/networks to get the word out now too - there's S/SW, the Upfronts, and New York CC is really gaining steam...
JH:
here's evidence of SDCC breaking movies, (Speed Racer comes to mind) but I haven't heard of Comic-Con really affecting the life or death of a TV show. It's great for the fans of shows with large numbers of con-visiting fans, but do HBO and Start have those types of shows right now? Do they really have a reason to go?
AM:
I think it's actually really important for shows to attend Comic Con. SDCC especially is today's no.1 advertisement event for shows, it's kind of like E3 for gamers - it's where all the hype and excitement first starts, and where fans start looking out for the next big thing, as well as creators to show off their new projects! Not appearing at major advertising conventions like E3 or SDCC kind of implies you don't have anything to show, which brings about a negative connotation to your name, and also makes your viewers lose interest and attention. I personally love SDCC - all the new info, all the sneak peaks, all the juicy future hints at new projects, it makes me super pumped for TV! If there's any recommendation that I'd make for shows who do promote themselves at SDCC, take a note from Marvel - they tend to steal the show every year with their very high-quality content (just like Playstation at E3!). On the other hand, it's a pretty big event, and a lot of news is likely to go unnoticed, so in a way, I don't blame them!
JN:
I don't think it's such a big deal for entire networks to skip Comic Con, but it does become problematic when those networks air shows like "Outlander," "American Gods," "Game of Thrones" and "Westworld." While these shows don't need the publicity per se, I think a lot of fans are going to be disappointed. From a timing perspective, I understand the decision, but as a fan, I would have loved to have seen those panels. I guess it comes down to what is feasibly possible for both the network and the series, and I'd rather have an amazing season than a subpar one because they went to Comic Con.
SJ:
Comic Con is still one of if not the biggest convention of the year, but there are now so many conventions going on yearly that going there isn't an absolute must. With the likes of Game of Thrones, Westworld, Outlander etc, they have enough hype around them that the Networks don't even need to promote them or release eps ahead of time to journo's because people are still gonna talk and the shows are still gonna have ratings going through the roof. Comic Con has become extremely polluted as its popularity has soared, with soooo many shows/movies etc going that it's hard enough for journo's covering them to keep up with all the panels let alone the fans, so I think missing one or two and spreading themselves out a bit more evenly is the right idea. The only thing anyone really needs to be wary of in this age of Peak TV is their show being forgotten altogether by the viewers.
That is a wrap guys! Ur turn now, come and join the discussion down below. Till next week. . .