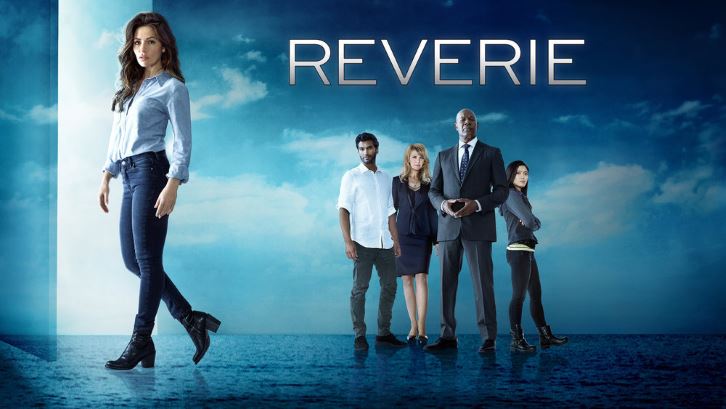 What we have seen across the first three episodes of Reverie is the program being used in three different ways. First there was creating a world where you could be with a loved one; then there was creating a world in which you can enjoy yourself more. In "No More Mr. Nice Guy", the program is used as a way to escape real life problems — in this case, fear — instead of facing them head on.

"Reverie is not an escape. It's a bridge. It can connect people. You experience it alone but it shows you you're not. If you use it right you can gain self-confidence, heal, feel better about yourself."

"Learn not to be afraid?"

"Yes. Reverie is a gift. Everyone should have it."

The conversation between Alexis and Mara, clichéd though it ends, nicely summarises everything that the show is — or should be — in its portrayal of humanity. To varying degrees, everyone is flawed, and everyone needs to find a way to overcome whatever problems they may have. Reverie offers a solution where users can control exactly what literally happens so that the effect it has is also controlled.

When it comes to Nate Hallo, his fear of death from a burglar is too much to handle in the real world, but it is his fear of not being able to protect his wife that overwhelms him. It's understandable; he wants to be in control of any situation, especially dangerous ones, but his instinct isn't strong enough.


The system is clever — perhaps too clever — and knows what the user wants even if they don't. As Paul notes when he shows Mara his old childhood house, Reverie has more control over a design than users do, even if the general set-up is something they have specified. So things such as doors with an abusive parent locked behind it or a mysterious man on a motorcycle get added in order to benefit the user, helping them overcome the problem that saw them create the scenario in the first place.

It's interesting that Reverie takes so long to do this. Either the system needs time to fully burrow into a user's psyche, or it is designed in such a way that it allows the user to try and figure things out themselves first, nudging them in the right direction after a while if they're making no progress. With Nate, the latter appears to ring true; his new life of robberies weren't doing anything to help him, even if the situation — Nate being the robber means he has the power during a break-in — does provide a temporary boost to his self-confidence.

If the system is a gift, it is also a curse, because Nate has fallen into the same trap as the last two participants we've seen. He became too engrossed in the virtual world and lost sight of how much he's needed in the real one. Of the three users we've seen so far, his absence is the least consequential — not to say, of course, that losing his job and potentially his house with his wife pregnant is inconsequential — but staying inside was hurting his family.

This, presumably, is what Alexis means by using it right. So far, no one has. What's concerning is how easy it is to misuse Reverie, and how massive an effect that can have on a person. There's logic to her suggestion that everyone should have it, but the entire show is built upon the concept of people getting stuck in the program and needing to be extracted before it's too late to save them in real life. Before Alexis goes flaunting the project to investors, this feels like a fatal flaw that needs fixing — because Mara can't help everyone at once.

Even more concerning? Mara doesn't seem able to help herself.


Charlie was right in his assessment that she wouldn't listen to advice that will help her. His discovery of her photos was inevitable, as was his suggestion that she might not be a good fit for the program. The same question mark hangs over Mara as it does the users: does the good outweigh the bad? Her bad, of course, is derealisation which is causing her to see not only her niece but now, having confronted her fear of the house where she lost everything, what appears to be the world falling apart around her. It's unlikely that it has.

So while she may be doing good things and she may finally feel good about herself again, that isn't to say her involvement in the program is helping her. Sooner or later, she is going to end up in just as dire a situation as those people she helped — but, in the real world, will there be anyone who can help her?

Reverie is still finding its feet, and while it's far from perfect based on these first three episodes, it has been an enjoyable watch. That said, this will be my last weekly review of the show — I will instead look to write a piece accompanying the season (possibly series by then) finale to discuss all that has happened.

What did everyone think of "No More Mr. Nice Guy"? Leave your thoughts in the comments and be sure to vote in our poll below!