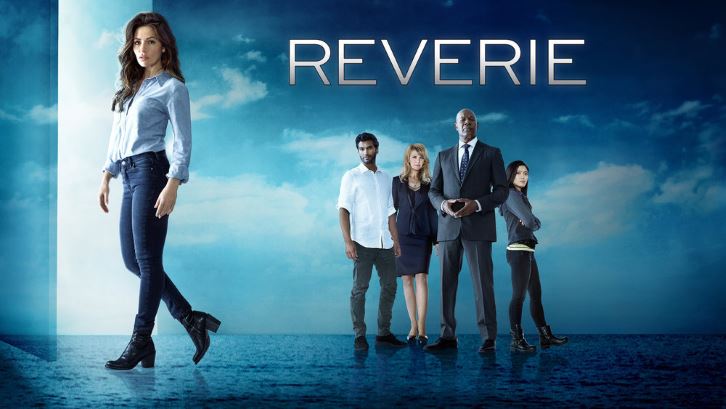 "Bond. Jane Bond." explores an idea that Reverie's pilot loosely introduces but doesn't focus on — the fact that people can make their reveries whatever they want. The series opener prioritises the suggestion that users sign up to see loved ones again, but they are free to transport themselves to any scenario they desire.

So, as we see here, if someone simply wants more excitement in their life, they can become FBI agents and pretend to be spies. It's the sort of thing the inner child in all of us would likely dream of; why wouldn't you want to be Bond, Bourne, or Nikita?

Of course, Rachel Kauffman found deeper meaning in her quest to get away from the real world and its liars — "People have lied to me so many times in so many different and creative ways, I've stopped wondering why they do it. What's the point? It's what they do," she tells Mara — and that's the genius of Reverie as a program. The human mind is complex and often muddled; this program takes your information, delves into your psyche, and pinpoints exactly what you want, even if you aren't aware you want it.


But there's a lot of danger in a system like that. What Rachel wanted was to find her father, and Reverie allowed her to do that, but what if it was something more sinister? If, deep down, she wanted something much darker — say, repressed rage that made her want to kill a certain person, for example — what then? The system would guide her towards that and while what happens in the dream isn't real, it would surely be a chilling insight into her mind. How do you overcome that feeling when you return to the real world?

And, as Person of Interest showed, there is risk in allowing an artificial intelligence full control over information. In the case of Reverie, the program lets the user control the world they enter. Are there safeguards to prevent it deciding, on a whim, to take that control away? If there aren't, then at any moment the user could be plunged into a scenario they don't want, and even Mara's intervention might not be enough to help them.

What we see from "Bond. Jane Bond." is that a structure may well be falling into place. Here, Mara goes into Rachel's reverie to work out what's happening, and then has to leave. She works out some of her life, goes back in and is again kicked out, before finally understanding the full story and successfully helping Rachel. While the pilot's first reverie was allowing Mara to get used to the system, it followed the same structure, with Tony kicking her out once before returning to pull him out. It's true that second episodes tend to rehash a lot of the ideas shown in the pilot, but this is a pattern worth avoiding.

Interestingly, the episode inadvertently shows how Reverie can avoid that repetition. The users, quite understandably, don't want Mara in their fantasy but if she is able to remain in the reverie and figure things out as she experiences these situations, it could be more entertaining. With it clear now that people can choose to enter a true narrative — like this spy story — as opposed to revisiting a moment from their past, it is far easier for Mara to be a part of that world without it feeling like she's intruding on someone's happiness.

But the show's cast balance is the biggest obstacle to this so far. It's telling that of the real world scenes, only one of those doesn't feature either Mara or Rachel — and it's a brief scene in which Charlie establishes he doesn't want Dylan to have access to his office. We're still early in this show's life and the peripheral characters will develop, but it does feel a little top-heavy.


Still, there are some interesting things happening. Mara learning who Dylan is based on will help her understanding of why this thing exists in the first place, while Charlie's privacy issues would seem to go against the very concept of Reverie. Don't expect him to get in the chair anytime soon. Mara's decision in the final scene to embrace her visions of her niece will probably have lasting side effects — Charlie calls the side effects "Temporary if you follow instructions, which in my experience is not something you do" — and it will be interesting to see how they affect her. She's already seen Brynn in someone else's reverie and now three times in real life; will the line between imagination and reality begin to blur?

This is a solid follow-up to a solid pilot, and Reverie needs to continue exploring its strongest aspects to remain worth watching.

What did everyone think of "Bond. Jane Bond."? Leave your thoughts in the comments and vote in the poll below!