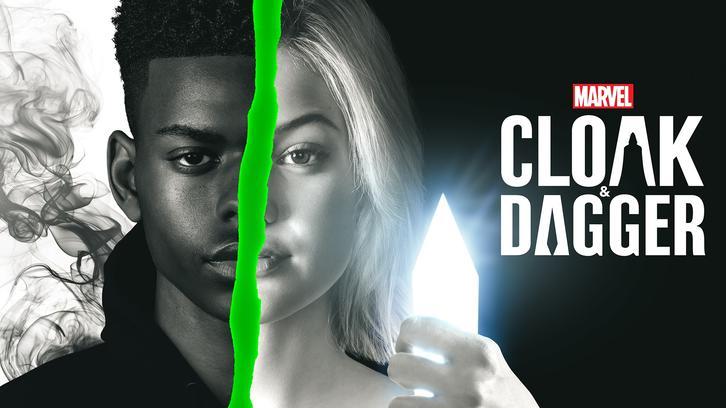 At this time in my TV watching career I reached the point where my mind is oversaturated with Superhero shows based on either Marvel or DC comics. Yet the initial promo for Cloak and Dagger got me. I found sparkles of chemistry tickled my attention and made me intrigued about Marvel`s Cloak & Dagger. And luckily the show didn`t disappoint. The show run by Joe Pokaski based on the Marvel comic character of the same name delivered a strong two-hour premiere with intriguing characters, a compelling story and a surreal story we mostly witnessed on Netflix shows.

Cloak & Dagger is a different superhero show and that is what drove me to it. The ground overall feeling balanced with the authentic characters and relatable stories are making this show different and enjoyable. C&D just stands out, especially compared to other shows from the genre even from the Netflix-Marvel ones. The show really did a great way in letting us into their world and witness how it is build from scratch. In comparison to Runaways who tried to do the same Cloak and Dagger sets itself apart with more nuanced acting and unforced writing.

The two-hour premiere of Cloak & Dagger starts with the worst night of Tandy`s and Tyrone`s lives. The night that took their innocence and stole the most important parts of their lives. I enjoyed every tidbit of that opening montage, it right away created relatable damaged characters that you can cheer for and crafted a story that will continuously be present for the first season at least. The kid actors portraying Tandy and Tyrone were radiating and witnessing that moment when everything changed was magnificent, truly beautifully shot and most importantly heartbreaking.


Encountering the two of them back in the present timeline just grabbed me even more. The change between young and present Tandy completely moved me. Olivia Holt is obviously exceptionally talented, she really gave a lot of herself to this character and you can feel it in her portrayal. The loss of her father wasn`t just an emotional burden for her, it also completely changed the trajectory of her life. She and her mother were poor all of a sudden and instead of accelerating through life she deteriorated and it was sad. Seeing the hostility between her and her mother combined with the sarcasm in Tandy's behavior and tone just reflected well all her pain and disappointment. Tandy isn`t happy that she is a thief and that she has to survive the way she does but she has to. Her mother lacks the strength and she learned to do it her way.
And while Tandy shields herself by playing it tough, Tyrone has wrapped his pain in and it comes out in furious anger manifestations. Tyrone`s burden is probably even heavier than Tandy`s as he was directly involved in his brother`s death. Young Tyrone stealing so his older brother wouldn`t look like a coward was truly heartwarming. Seeing his brother getting accidentally shot and it all being covered up must be terrifying. Aubrey Joseph really showed a great range of emotions during the first hour. Him expressing his feelings during the altercation with his mothers was simply captivating. He put the right amount of pain and anger into that scene, so it didn`t seem overplayed but authentic instead.
The present time meeting between Tandy and Tyrone was just sprinkling all over the screen. Olivia and Aubrey were perfectly cast, the scene in the woods once again felt really authentic and not forced as writing on some Superhero shows in general is. The biggest strength of the series premiere was certainly the directing and use of music. It complimented the story so well and while the span of developments wasn`t that big it introduced the characters well and as already said made their pain relatable.
Tandy facing the consequences of her latest thievery by almost getting rapped wasn`t my favorite part of the episode but it was a plot point that most likely drives Tandy`s story for the first couple of episodes. Meanwhile, Tyrone facing his brother's murder so unexpectedly felt really thrilling while the astral projection to the moments after his brother was shot is going to be the plot to thrive Tyrone`s story. The final montage of Tandy and Tyrone looking at the hoody and dance shoe was spot on.
Luckily hour two, Suicide Sprints,
accelerated the story a bit and started to exploit more of the story behind our protagonists and how their whole world once again started changing after they`ve met once again. Sadly mostly throughout this hour Tandy and Tyrone were still separated and reunited at the end of the hour with a shocking crash.
Tandy`s attempt to leave the city with another con, after she realized her mother stole her money, wasn`t the most thrilling thing to watch. Yes, the hubby material boyfriend Liam (Carl Lundstedt) is nice to look at still it was a bit lacking especially compared to Tyrone`s story and experience. But this story wasn`t that bad either it created space for Tandy to open up. That whole bathroom scene did feel random but showed how deep the scars on Tandy`s mind and soul are. She knows her life is toxic and feels like she can`t give Liam anything and that was heartbreaking. Seeing that such a young girl doesn`t see a way out, a light at the end of the tunnel is crushing. Pushing Liam away was another heartbreaker moment. The writers crafted a powerful scene and once again the authenticity elevated the scene to another level. Liam getting arrested by that way too beautiful cop, Brigid O'Reilly's ( played by Emma Lahana) I wasn't expecting at all. If you aren't familiar with who Brigid is in the Marvelcomicverse I would google her. Won't spoil anyone with her character. But there is more than meets the eye at the moment.
And while Tandy was running away from potential happiness, Tyrone was running towards his anger. His mind and powers playing with him didn't make this any easier and everything that happened yo him in the previous couple of days was just the final drop. Aubrey was really good again this week, how he handled the stress, the beating/bullying and this situation with his mother, I simply loved his all around performance. Also the way his story progressed and how he had to face Connors again and again kept me invested in the show and I look forward to see how this will unfold further.
I really hope the show will finally push Tandy and Tyrone more together after the car crash, cause all deserve that.
That`s a wrap guys! Your turn now! Vote in the Poll below and share your thoughts on the two-hour series premiere of Marvel`s Cloak and Dagger? Will you return next week? Or leave it for a summer binge?