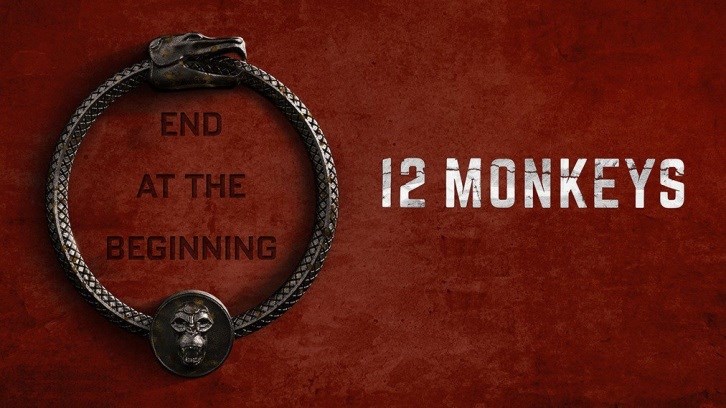 Once again, I'm tasked with teasing three episodes in one preview – so here we go!
12 Monkeys
"Legacy" was written by Christpher Monfette and was directed by Joe Menendez.
We get a glimpse of a young Jones (Barbara Sukowa) with Elliot (Peter Outerbridge) and perhaps the beginning of the red forest.
The team has to follow the lead to Blackleaf, Wisconsin. 1852. Hannah (Brooke Williams) understands the story – and who the serpent is. Jones appoints Jennifer (Emily Hampshire) their guide. Cole (Aaron Stanford) confides in Cassie (Amanda Schull) where he heard the story about the serpent and the demon.
The little ladies are pretty badass in the badlands. Jennifer sticks out. Jennifer also notices a bunch of other things that stick out. Hannah recognizes someone. Cole, Cassie, and Jennifer recognize someone else from their past. The music in this episode is hysterical.
Jones revisits some old wounds. Jennifer makes a mistake. Two major secrets are revealed. We meet Olivia's (Alisen Down) child.
A few dialogue teases from the episode:
Nothing is nothing in all this.
Loops, cycles – we're stuck in them.
Even I can see that.
Dynamite, man.
You're really good at that.
Climb the steps. Ring the bell.
I wanted to be great at something I was good at.
Whoa. Bro. She just really saved your ass.
You guys do your team Splinter thing.
Now that I face the end, the clearer I see the beginning.
This is nothing if not for you.
Mothers before their children.
Wiser it the word I hope you are looking for.
Some things you just want to hold onto. Even if it's just an image in your head of someone you never knew.
Calamity Jane and Mad Max senior took all the good wardrobe.
He's playing "The Munsters!"
"After" was written by Oliver Grigsby and was directed by Sheree Folkson, whose other credits include
The Tick
,
Dr Who
, and
Ugly Betty
.
Olivia sets someone we've seen before the task of finding the weapon the Splinter team are looking for. Cole is troubled about his role. Jennifer finds a match.
Cassie and Cole head to 1966. Cassie looks hot in those 60s fashions! And of course, we get some great music. The Emerson is hopping and there's a really nice contrast to how it looks in 1966 and how it looks in 2043.
Cole pulls a sting that Cassie is reluctant about. Look for some time-play and pay attention to what's happening in the background. Because, let's face it, that's one of the most fun things about watching this show, right?
Jones and Jennifer work together. Cole doesn't hesitate to make a choice. Jennifer runs into an old friend of the team. Somebody winks at Jennifer and it makes her very happy. Cassie says yes to something – and you'll be screaming at her to say no…
And some dialogue teases from this episode:
Forever after is rarely happy.
Butt stuff only!
His Bible is botanical.
We keep moving forward until the end.
Fate, my ass!
Hey Glum and Glummer, cheer up!
Fine! Worst spy ever!
Couldn't help but notice the dead guys…
Bullshit.
Nice wheels. Think it's our Russian spies.
If we're lucky. And history has proven that we're not.
Listen, present-day asshole, we're doing this together.
Don't do this to me.
We can save the world, or we can save each other.
How are you still alive?
There's no tomorrow like yesterday.
"Die Glocke" was written by the team of Sarah C Mueller, Terry Matalas, and Sean Tretta and was directed by David Grossman. "The bell" actually existed – though it probably didn't look the way it looks in the episode. The term 'die glocke' is supposed to refer to a secret, scientific device created by the Nazis that might have occult properties or be a weapon. One theory suggested that the device allowed you to see images of the past. Five of the seven scientists working on the project supposedly died while working on it.
The team travels to Nazi-controlled France in 1940. Jones thinks this is their most dangerous mission ever. Jennifer and Cassie do some great distraction moves.
Jones is in exceptionally fine, ballsy form! Look for her to take charge as only Jones can do! There's also a ball, so everyone is in finery. Jones speaks German. Jennifer speaks French. Cole learns something that made me very happy. There are some really great cuts between scenes. Jennifer comes to Jones' rescue. There's a great performance of Pink's "I'm Not Here For Your Entertainment."
Jones makes a toast – and reads a passage. She hatches a surprising plan with a surprising partner.
And finally, some of the great dialogue from this episode:
Hope is the folly of conquered people.
Let's boogie.
No man is an island…
Mission comes first. Each other last.
I'm just bad.
Nazi-phobia!
A talentless whore dead twenty years!
Surprise! I invited myself to the party.
We've got a way bigger problem.
To cut off the head of the snake.
I know a way out. It's like a Nintendo cheat.
Ask not for whom the bell tolls. It tolls for thee.
To underestimate this evil is what allowed it to take root in the first place.
Don't forget to tune in to
Syfy for all three episodes starting at 8/7c on June 22
!