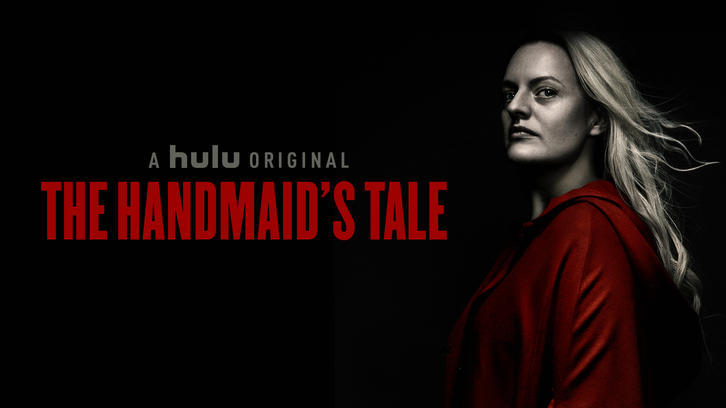 The Handmaid's Tale
"Seeds" was directed by Mike Barker and with the teleplay by Kira Snyder. The episode splits its time between the colonies and Gilead, drawing parallels between life and death, hope and resignation. It makes much of the red and white color scheme and features yet another brilliant performance from Elisabeth Moss (June/Offred) and also one from Alexis Bledel (Emily). Madeline Brewer manages to imbue Janine with an other-worldly wisdom in the midst of her madness.
The episode begins with June waking up and going to the bathroom to get a drink. This is beautifully shot as we don't see her face. The first thing we notice is that the mirror is also gone from the bathroom – they've taken away June's ability to see herself and this is the perfect metaphor for the fact that Aunt Lydia (Ann Dowd) has managed to strip June of her identity – or at least beaten it down within her.
As she drinks, we get just a fraction of June's face. She remembers the letters hidden behind the tub. Again, this fractured, partial view of her face is a wonderful metaphor for the part of June that is Offred. It's Offred who takes the letters downstairs and burns them. The first real view we get of Offred's face is it lit up by fire. This wonderfully parallels the last look of Offred's partial face bathed in rain near the end of the episode.
Nick (Max Minghella) finds Offred burning the letters and again tries to talk to her. But it's Offred who answers, suddenly realizing that she's not supposed to be out of her room at night. She leaves Nick to run the water and douse the flames – and hide the evidence. Again, it's a nice parallel to Nick finding her at the end of the episode. I'm worried about those letters though… where did he hide them? Should we be worried about Eden (Sydney Sweeney) finding them?
The next morning, Offred is subjected to a thorough and deeming examination from Aunt Lydia. Serena (Yvonne Strahovski) answers most of the questions – they've taken away June's voice too. Again, in this scene we mostly see Offred's back. There is a really interesting dynamic of Serena, clearly covetously, watching Aunt Lydia write in her book. Aunt Lydia tells her that it's a special dispensation for Aunts – and clearly, Serena would have known this. Aunt Lydia assures her that it's more of a burden than a reward. I doubt that Serena would agree.
Serena grudgingly invites Aunt Lydia to tea. Aunt Lydia first commiserates that quitting smoking is hard – she smoked once herself! Is she trying to find some excuse for Serena's irritability? Sorry, Aunt Lydia, quitting didn't make her a bitch… Aunt Lydia tells her that the baby is doing well, but she's clearly noticed that all is not well with Offred and cautions Serena that the mood in the household is also important to the baby's health. It's clear that Aunt Lydia isn't siding with either Serena or Offred – she's only concerned about the baby, and she's happy to make Serena toe the line too. I loved how pissed off Serena was when Aunt Lydia doesn't take the tea after all!
Fred (Joseph Fiennes) stops Aunt Lydia on her way out. Aunt Lydia tells him the baby is well, but he also wants to know that June is ok too. She tells him that all is well and that she suspects the baby will be a boy – which I'm betting she tells all of them. I do wonder if secretly even she realizes that Gilead is a horrible place for women. Fred is really exposing himself by asking after the Handmaid, however. Nick overhears the entire conversation, which helps to set his mind at rest somewhat. Fred is bemused by Aunt Lydia telling him the baby is the size of a papaya. He doesn't seem to have quite the same obsession as Serena. Who really is anything but serene or joyous… oh the irony… This episode had me thinking quite a lot about the names.
Offred is on the toilet when she discovers blood on her panties. Rita (Amanda Brugel) comes to the door, and stops just short of going in, so she doesn't see anything – and Offred doesn't say anything.
Serena takes Offred for a walk in the park and makes small talk. Not surprisingly, her small talk sounds like the mean girls at a high school – criticizing the nose of one of the Handmaids. The come upon Naomi (Ever Carradine) with her baby Angela and accompanied by another wife, Grace (Paula Boudreau). The baby is teething, and Naomi is complaining. Serena's not wrong when she says that she never misses a chance to complain about the baby. However, it's becoming increasingly clear that none of these wives should ever be parents.
As they leave, Serena rounds on Offred. After all, she never fails to criticize and complain about Offred! She tells her that the walks are for her too, and she'd appreciate not having to make all the small talk. She demands to know what's wrong with Offred, completely missing the point. She wanted a submissive Handmaid, and now she has one.
When they return and Nick again fails to get a reaction from Offred, he puts himself in danger by telling Serena that he's worried about the Handmaid. Serena insists that the Doctor says she's in perfect health, but Nick insists that he's concerned about her mental health – maybe she needs a different kind of Doctor. It's hard to believe that Gilead would tolerate the weakness of needing a therapist. Nick insists that June has no one to look out for her. Serena points out the obvious – clearly June does – both Nick and Fred. Serena insists that the Handmaid isn't his concern.
She immediately sets to work to cut June off. She joins Fred in the dining room where he's working on his computer. He doesn't appear to be paying any attention. Serena prattles on about her walk, and then tells him that Nick was waiting for them to make sure they got back ok. She goes on to comment on how sweet his concern for the Handmaid is. She knows how to make him jealous – and Fred has to know that Nick is a likely – and really the only – candidate for the baby's father.
Fred immediately goes to Pryce (Robert Curtis Brown) in an attempt to have Nick transferred. Pryce, of course, is having none of it. There's no way that he's losing his spy in the Waterford household!
We get another beautifully shot – and incredibly disturbing scene with Offred lying in the blood-filled bathtub, with just her face above the water. Her face is mirrored in the water - red/white. It's another wonderful metaphor for June almost being drowned out by Offred. The episode is full of white and red images. It's a metaphor for the blood, the essence, of June draining out of Offred. She shows absolutely no emotion even as she gets redressed and make a make-shift pad for herself out of toilet paper.
Offred is meekly drinking one of the disgusting smoothies as Serena bustles about getting ready for the Priviganza. It's a pretty hilarious dig at Margaret Atwood when Serena scoffs that the name was not the Commander's best effort as Atwood was soundly criticized for some of the names in the book. As Offred stands to leave, she sways, and Rita notices. Rita gently reaches out to just touch Offred with her fingers – a nice shout out to June slipping away again – and asks if she's alright. Here is someone else watching out for June. Offred, however, politely and reservedly says she's fine, thank you.
The Priviganza turns out to be a ceremony lead by Pryce to reward their "most valiant guardians," including Nick. It doesn't get him out of the house, but it does provide a way to separate him from June. In her typical, petty fashion, Serena turns to Offred and says how handsome Nick is – any chance to turn the knife. The brides file in and stand before their new husbands. I thought the super-creepy, heavy white veils were effective – and again, a contrast to the red of the Handmaids. Nick looks to Offred, and June's eyes fill with tears as she looks away. As the happy couples parade out of the hall, Offred begins clapping and the scene goes silent. I love the use of music and silence in this show!
That evening, Nick says the prayer in the sitting room while June, Rita, Fred, Serena and new child bride Eden listen. Serena takes yet another opportunity to stick the knife in Offred by sending her away because the evening is just for husbands and wives. Rita tries to talk to Offred in the hall, but she just keeps walking. She's clearly not feeling well. When she takes her dress off, her panties are soaked in blood, and she takes two steps down the hall before then backing up and retreating to her room. It's clear that she is attempting to leave by the only other means available to her.
Meanwhile, Serena tucks Eden into her new accommodations. And of course, the name Eden resonates with a new beginning, temptation, and a fall from grace. It turns out that she is 15 and from a small town. Serena asks if her mother told her what to expect. It's really interesting that Serena tells her that "it" can feel wonderful for the woman too. Eden's immediate reaction is that lust is a sin, but Serena tells her not between husband and wife. Between a husband and wife, it can make you closer. And it's clear that the loss of this intimacy is one of the things that has driven Fred and Serena apart.
Fred meanwhile shares a few moments with Nick. He impresses on Nick that he pulled the strings for this to happen, and that family is important to Gilead. Nick tells him that by the grace of God, he'll have his own family one day. Fred's intent is clear – he's warning Nick off of Offred.
Once again, as Nick stalls by smoking on his way back to his apartment, the sound fades out and the music comes up. This is really the first time that I thought the show didn't handle the unfolding of the action well. It's really not at all clear how June ended up in the garden or why Nick thought to look through that tiny window – as good as the shot was. However, he does find Offred in the fetal position, soaking wet. It's like a re-birth of sorts for June.
Meanwhile, in the colony, Emily is showing Janine the ropes. Everything there is grey and sepia toned. The women are forced to kneel and sing in the morning before they can gather their dead. Volunteering to bury the dead earns you an egg at breakfast. Janine continues her optimistic outlook that God holds her in his hands. Emily wryly asks why He couldn't hold Janine somewhere else – like Bora Bora. Janine tries to tell her that God has her too, quoting Aunt Lydia, and Emily cuts her off, giving her a dose of reality: We come here. We work. We die. Emily offers Kit (Novie Edwards) something for her pain, but she knows she's dying and refuses it.
Later, Janine and Emily sneak an illicit break while the guards aren't watching. Janine blows on a dandelion and makes a wish; child-like, she tells Emily she can't tell her what she wished for. Emily wants to know why Janine thinks that God is looking out for her. All Emily sees is the horror that Janine has been put through. Janine tells her that God has saved her life twice now, and there has to be a reason for it. Is the reason to give Emily hope? It's not just that Janine is completely divorced from reality. When Kit collapses, Janine angrily wants to change her wish.
There's a beautiful segue from Offred sitting on her window sill, slowly bleeding to a tap dripping at the colony. Emily is washing and loses a tooth. Both Emily and Offred are potentially dying. Emily is horrified and worried. She might have known the reality of her situation, but who doesn't hope that they will be the one to be spared?
Emily wanders into the main room and discovers that Sally (Deb Filler) is marrying Kit and Fiona (Soo Garay). We discover that they have been together 11 months. Janine proudly tells Emily the wedding was her idea. Sally told her that God wouldn't care if they weren't Jewish. It's a brilliant contrast to Nick and Eden's wedding.
Emily drags Janine away, furious because if the Aunts see they'll all be punished. Emily tells her that she's trying to keep her alive – but one has to wonder why bother. However, Janine tells Emily that that's not her job. Janine echoes Emily's words at her: We come here, work and die. But then she adds – at least Kit will die happy. Janine isn't immune to the horror around her. Emily rails that Gilead took her clit and Janine's eye! Now they are no better than cattle! But Janine points out that cows can't get married. The one thing that Gilead can't take from them is their ability to love.
In the final scene, Kit is dead the next morning. Emily places the flowers directly on Kit's chest and says that "It was a beautiful wedding." Janine has managed to give Emily some peace. Janine has also joined the burial detail, and as Sally says a few words over Kit's body, the camera pulls back and we see that Emily was telling the truth – the field is full of graves.
June's brush with death and oblivion, however, doesn't end up with a death. We see her in the hospital with Serena in a chair asleep beside her, the overwhelming sound is of the baby's heartbeat. When June wakes, she thanks God and runs for the doctor.
Left alone, June pushes the covers down and sees the baby monitor strapped to her. In wonder, she places her hand on her belly. She says to the baby, "You're tough, aren't you?" And it's clear that June is back and has drawn her own strength from the baby. There's a soldier watching her through a two way mirror – which June is very aware of. She retreats under the blanket to make the baby a promise: "Hey. Listen to me? K? I will not let you grow up in this place. I won't do it. Do you hear me? They…they do not own you. And they do not own what you will become. Do you hear me? I'm going to get you out of here. I promise you. I promise I'm going to get us out of here." June is back and has recovered her resolve to resist.
This was another terrific episode. I loved the two parallel weddings. Moss delivers a powerful performance as June finally triumphs over Offred. I liked that even in the face of pretty much certain death, Emily has also re-pledged herself to the living. What did you think of the episode? Let me know your thoughts in the comments below!