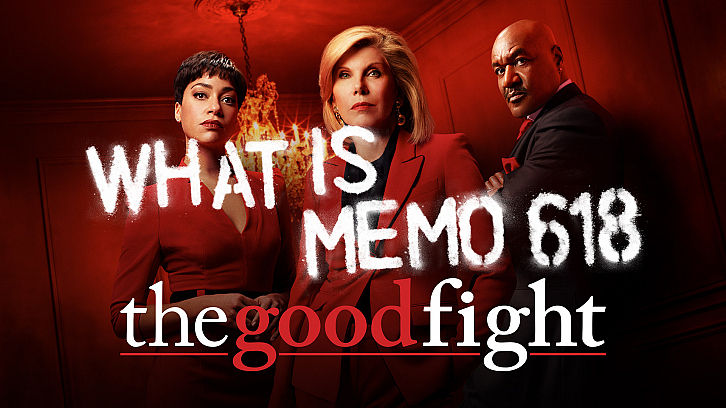 I can hardly believe that we are already at the penultimate episode of the season. While I am ecstatic to get three more episodes this season than we got last season, I can always use more Good Fight in my life. Even though it has had its ups and downs, The Good Fight is a continuously strong performer and I've enjoyed the show. And I really enjoyed the one we got this week, which was a Jay-centered bottle episode. We got to learn more of his backstory while again tying in major political and societal issues happening in our world right now. Let's get to it.

Diane and Liz rush to court to help bail out Jay, but Liz smells something fishy when she sees immigration agents at the courthouse for Jay. None of them, including Jay, know why. As far as Jay knows, he is an American citizen. Diane informs the judge (Jane Alexander, reprising her role from The Good Wife) of this, and she calls out the agents on whatever their plan is. They have a notice to detain Jay, so Liz and Diane fight for Jay to stay in jail so the immigration agents (one of which is Papa Mars AKA Enrico Colantoni) can't take him. Now, they and Marissa have to get his birth certificate while now defending him in immigration court.
In immigration court, Patrick arrives to explain the case to the judge. They have a notice to send Jay back to Nigeria, his supposed country of origin. Somehow, they have his birth certificate, which says he was born in Nigeria. But, Liz and Diane argue that is the wrong person. They have one hour to find the real birth certificate.
Maia contacts Jay's sisters who have documents that prove they were all born in the United States. But, when Marissa looks closely at Jay's birth certificate, she thinks it is a fake. It looks like a copy of his twin sister's, but with the mark next to Female whited out and a mark put on Male instead. That and both birth certificates having the exact same tear on the bottom of the page heavily suggests it is fake.
They tell Jay, who looks like he's been punched in the gut. It looks like he was born in Nigeria a year before his sister was born and then brought to the United States. When she was born, they used her certificate to fake a certificate for him so he would be seen as a citizen of the United States. The immigration agents have every legal right to deport Jay, and now he has to face actually being kicked out of the country. It's a nightmare and I feel so sorry for Jay, and that's clearly the point of the episode.
When the immigration agents take Jay's case to the federal level to bypass the state's holding of Jay, Diane and Liz are forced to fight them in federal and state court. Liz takes state, Diane takes federal. Liz wins her case, but Diane loses hers. This leads to a showdown between state police and federal agents. But, they discover there's no one there to fight over. Jay has just been taken to court to be the witness in Maia's case.
After discovering this, Liz asks Julius to keep Jay on the stand until they can get him the art grant he needs to stay in the country. Julius and Adrian fight for as long as they can, but eventually the jig is up and Jay is sent into federal custody.
Liz and Diane go back to immigration court to apply for a visa for Jay. They use some fake news trickery and get the comic book store owner (Devin Ratray, AKA Buzz from the Home Alone series!) who bought Jay's artwork to act as a haughty art critic and act like Jay's the next Picasso and deserving of this grant. These ploys surprisingly work and Jay gets his grant and visa. Jay is released and happily leaves the building while whistling The Good Fight theme song. I love this meta moment because it's signifying that they fought the good fight and won.
Although I was glad to learn more about Jay this episode, I have no idea what this is going to lead up to for next week's season finale. I feel like most of the season-long storylines have been resolved. Diane is back on track, there haven't been anymore attempts on the lives of lawyers in the name of the Kill All Lawyers movement, Liz has settled in nicely to the firm, Maia hasn't had any more family issues. The only plots I can think of that still need resolving are whether or not Lucca is going to move and if Maia being caught on camera cheating on Amy a few weeks back is going to rear its ugly head, and now I guess why Jay was being targeted and what's going to happen to the firm after that threat.
The Good Discussion:
For once, Julius actually sided with his firm over his Republican friends. It was a nice change of pace since he's usually oppositional when it comes to political skirmeshes.
That brief interlude that gave Liz and Diane a chance to talk about how they are dealing with this crazy world right now was a nice insight into how Diane has finally figured out how to handle her life, her tiny world. I just hope it really sticks this time.