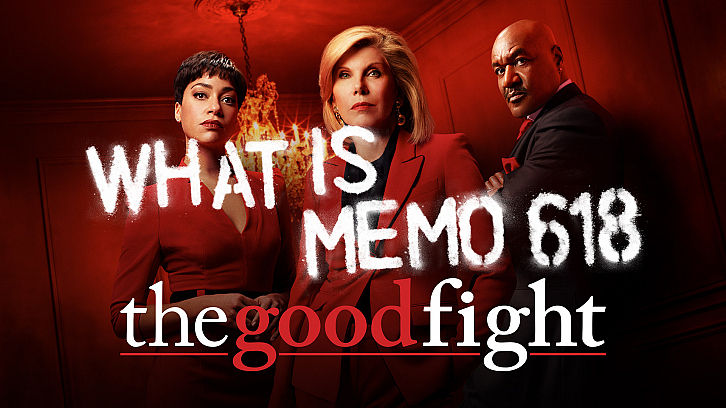 The hunt for Adrian's attacker continues this week, as does Diane's quite literal fight to take back her life, thank goodness.


Diane's life is really coming back together now. Not only is she getting Kurt back, but she's getting her money, too! Glenn, Diane's accountant, gives her the good news. She's made back all the money she lost to Henry Rindell's Ponzi scheme thanks to some better-made investments and Trump's tax cuts for the rich. Go figure. She's good to retire again. She's ecstatic about that, but not so much about what he says next. Kurt's accountant says that they should divorce sooner rather than later to benefit from this year's tax cuts. Diane is saddened that Kurt wants to divorce right now because she isn't sure she wants to.

Earlier in the episode, Diane stumbled upon a martial arts class. She decides to join up. After, she meets up with Kurt. She confronts him about his accountant wanting them to get a divorce now. Kurt asks her what she wants, and she asks him what he wants. She says he never really talks about what he truly wants, which is true. So, he says he'll call her tomorrow with his answer. Instead, he shows up in her office and they have a conversation that makes me and Diane incredibly happy. He tells her what he wants is to be married-married. Before they weren't, he says. They were only married part-time, balancing work and marriage. So he's gotten an FBI job in Chicago so he doesn't need to travel anymore and he wants to move in with Diane and live together full-time. She only has one hesitation, and that's if he voted for Trump. He didn't. Yay. Now stay together without the drama this time, please.


Elsewhere in the episode, Marissa and Jay have narrowed down their suspects to Felix Staples and Dennis Honeycutt, the neo-Nazi whose house was burnt down. When they bring this to Adrian, he thinks it was Dennis. Marissa and Jay bring this to the police, who ignore it because for some reason he is certain the suspect is actually African-American, not white like Adrian believes.

Marissa talks to Dennis, who is a barista. He pours creamer into her cup in the shape of a swastika. Nice. Still a neo-Nazi, but not (as far as we know) an attempted murderer, as Marissa finds out. They have to go back to the police to find out what they know.

Liz does this for them. She talks to her husband who says he has two witnesses who saw an African-American male running from the building five minutes after the shooting and drop a gun into a dumpster. Bringing this back to Adrian, he admits he may be misremembering, so it's back to the drawing board for Jay. Now he has to look at African American suspects.


Jay has come up with another suspect, Paul Johnson, the kid the firm helped Pastor Jeremiah kick out of his mission home back in season one. He takes this to the cops, but when he finds out they haven't actually talked to the witnesses and don't know for themselves what they saw, he's infuriated. Furthermore, he finds out the detective who told them about these so-called witnesses was Detective Whitehead AKA Detective Gun Dropper. Jay realizes it was Whitehead who shot Adrian and then planted the gun in the dumpster. Whitehead's arrested. I have to admit, I didn't see this one coming. I didn't think Whitehead would have it in him to go into a firm and shoot someone.

For the case of the week, a photographer (Ron) is suing an associate producer (Emily) for badmouthing him on a Rate Your Professor-type website that lets women discuss sexual assault experiences and the men they had them with, leading to his getting fired. They get really into the nitty-gritty details of their sexual encounter. It seems like a case of misreading each other and him coercing her and her not wanting to but not being firm enough to stop it. Maia and Liz are representing the guy, but it doesn't look like they'll win, so they want to drop the case. They take this to Adrian, but Adrian, feeling left out, lets financers for the firm Tom and Jerry (hee) back the case with a ton of money. They are determined to keep this case going because there's going to be a class action lawsuit against the website soon. Also, one of them may or may not have been put on the website himself if they didn't get the website taken down.

Pursuing the case and therefore having to discredit Emily, Marissa discovers Emily has a history of so-called leading on men without, shall I say, following through, and then blasting those men for practically no reason. Doesn't have any bearing on her experience with Ron, but it's a tiny nugget they can hold on to. They also depose the website owner. She goes on a tirade about the older females in the firm (Liz and Diane) being second wave feminists and how now it's time to let this generation of woman take charge of the movement. Girl, no.

Next, they depose Ron's ex-girlfriend. She shrugs him off as a guy who is just inexperienced with women and doesn't know how he should behave. But he was still pushy with her like he was with Emily and that doesn't help their case. Then, they depose Emily. They discuss with her her pattern of overreacting in her relationships with men, making her look bad.
Marissa's mad that Maia twisted what she found out to make Emily look like the bad guy. I want to be on Marissa's side on this, but I can't. I can't put the fault entirely on Ron, but I can't put it all on Emily, either. It's a very gray area but people (especially in this law firm) have strong opinions on either side, as they show throughout the episode.
Despite making her client look bad, Emily's lawyer wants to go to trial. But Diane warns her about the upcoming class action lawsuit, so she drops that idea. Now, the owner is going to shut down the website to avoid a class action lawsuit. The disrespectful owner blames Diane for this and calls her a traitor, but Diane shuts her down in a great speech about how not all women are the same, they aren't always blameless victims, and that she can't decide how women should be.
In Lucca's storyline this episode, she and Colin do cutesy couple things like plea bargaining on a double homicide case. However, it gets less cutesy as they discuss how having this baby is going to actually work. He's going to D.C. in a year and wants Lucca to come with him. She doesn't want to, so Colin's mother gets someone, a headhunter, to convince Lucca to get another (in his words, better) job in Washington. But she stands firm until Rod Habercore, the guy from the season premiere who works with Barack and Michelle Obama, shows up to give her a job. It's much more enticing for her and it looks like she's going to consider it.
Overall, an interesting episode. It's yet another in the list of sexual assault-related cases this season, which I'm glad for because we get to see them from all different angles. Also, Diane's back on track, Jay is back working for the firm, and Adrian returns to work, so I'm a happy camper with The Good Fight world right now.
The Good Discussion:
How are you all feeling about the Detective Whitehead reveal? Does it hold up?
I hope Lucca doesn't take the offer and leave the firm if that means Cush Jumbo leaving the show. Lucca hasn't had too much to do this season, but Jumbo has such great screen presence and I love the Lucca character.
Kurt and Diane back together, yay or nay? I vote yay as long as Kurt doesn't screw up this time.
Finally, how awesome was watching Diane practicing martial arts in a dress in her office? Seriously, just look at this photo if you need a reminder: