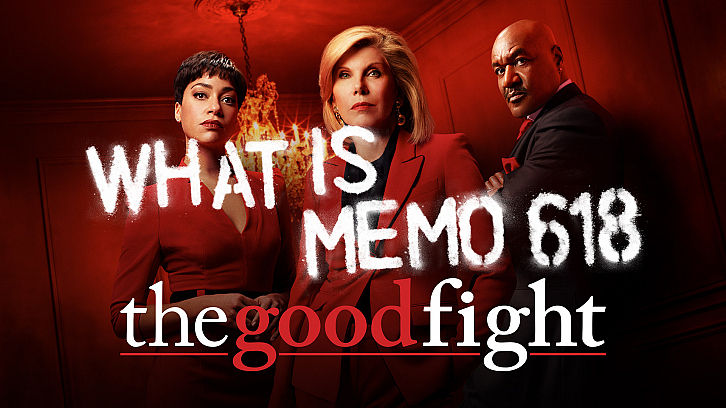 This week's recap is going to be double the fun this week with a combined recap/review for Day 457 and Day 464. Day 457 was very lowkey after the previous episodes' jampacked story, while 464 picked the action right back up. Let's start with Day 457.

Day 457

This entire episode was almost entirely taken up by the case of the week, leaving only subplots for Diane and Jay. Diane's was pretty much same old same old, while we got some nice development for Jay; a character I really enjoy and don't know enough about.


An undercover cop, Rashid Clarkson, was shot by a fellow police officer, Detective Whitehead, in the midst of stopping an illegal arms trade. The injury has left him wheelchair-bound. Rashid says Detective Whitehead knew he was an undercover cop, having told him during the chase of a suspect, but Whitehead shot him anyway because, as Rashid believes, he's African American and the detective has a reputation of being racist. It is also rumored that he plants guns on unarmed African American suspects to frame them, something Jay picks up on, which sends him on his episode's journey.


See, Jay has a friend in prison, courtesy of one Detective Whitehead, who planted a gun on this guy when he was arrested for drug dealing. The firm is going to pursue the dropped guns rumor to help in their case against Whitehead, which is good news for Jay and his friend because it means getting justice. He brings in Maia and Lucca to help with this case. They do, with the help of Kurt, who discovers the gun dropped on this guy was taken from evidence on a previous case Rashid Clarkson was on. Somehow this gun went from Rashid to Whitehead. Hmm. Turns out, Rashid and some other officers gave guns to other officers to plant on suspects. Whitehead was one of them. Rashid now says Whitehead shot him because he thought Rashid would turn on him.

As you can see, not a lot happened in this episode outside of this case and the Diane and Jay stuff, so let's move on to Day 464.
Day 464.
Diane is tasked with helping a Russian student here on a student visa that's been arrested and is being deported for soliciting. Except it's not soliciting, she claims, it's because she's one of the women who was involved in the infamous golden shower scandal with Donald Trump. She's worried if she goes back she'll be killed by Putin. Diane, by the way, does not seem to have found solid ground. The only thing that's changed is before she was like, "I don't care about anything anymore" in a funny way, but now she's back to "I don't care about anything anymore" in a depressed way. Meh.
Diane and the other partners take a meeting with her. Her responses lead Diane to believe they are being set up. The woman claims she was told to speak to Diane because she gave a lecture at her school about immigration, but Diane never ended up giving that lecture, or so Diane thinks. But who's setting them up? Project Veritas. As in the organization James O'Keefe started. She thinks they knew the Democratic Committee came to them for impeachment help, and they want a video to show African American lawyers jumping at a chance to impeach trump, making them look like fools.
They bring Dominika back to question her. They catch her on her not possibly being at that hotel in Moscow at the same time she was working 1,700 miles away. She is incensed by what they're implying and leaves. Marissa follows her to a rundown apartment building where she is living with her roommate, Miss Haiti, the Miss Universe contestant who introduced Dominika to Trump. She shows Marissa her purse. There's no camera.
Marissa reports her findings. That, with Diane suddenly remembering she did speak at that school and the others discovering Dominika had that weekend off from her job and could have been at the hotel suggests to them that she may be telling the truth. They bring this to Ruth Eastman, but she tells them not to do anything. It would be embarrassing for the Democratic party to look like they're grasping at straws. Diane's not satisfied with that because she wants to help Dominika. But she can't help her alone. Enter Jane Lynch again as the FBI agent Madeline. Yay, Jane Lynch. Not a fan of Madeline but I like Jane Lynch.
Julius talks to a Republican friend of his with a contact in the FBI who knows they have the tape and wants them to ignore it. That's how they know there's something to it. But Ruth says they have evidence the video is fake and tells them to drop it again. But something about this "evidence" smells fishy to Marissa so she investigates it. She finds evidence that is contrary to Ruth's. She thinks the tape is real and Diane should do something about it.
She does. She gets Julius to tells his friend, who tells Madeline, that Dominika is going public about the tape and is releasing a statement that night. In exchange for Dominika not getting deported, she has to pretend the tape isn't real and is just a porno she made with actors. She does and hands over the USB stick with the tape on it. They say there aren't any copies, but we know that's a lie because in the very last scene we see that Ruth has one too, ready to be used for the 2020 election.
Lucca has come up with an idea that solves both Craig's and Colin's problems. Gabriel and Craig go to court for his appeal. Colin steps in for the prosecution. He tells the judge the Department of Justice is looking into Whitehead's cases and requests the release of Craig. The request is granted. Craig gets his freedom and Colin looks good for freeing him and 30 plus other African American inmates.
Day 457 was clearly a filler episode, but Day 464 made up for it I think. I do think all of these Trump storylines are overshadowing the show a bit, but they are well put together and I enjoy watching the characters work within these confines. How did you folks enjoy these episodes?