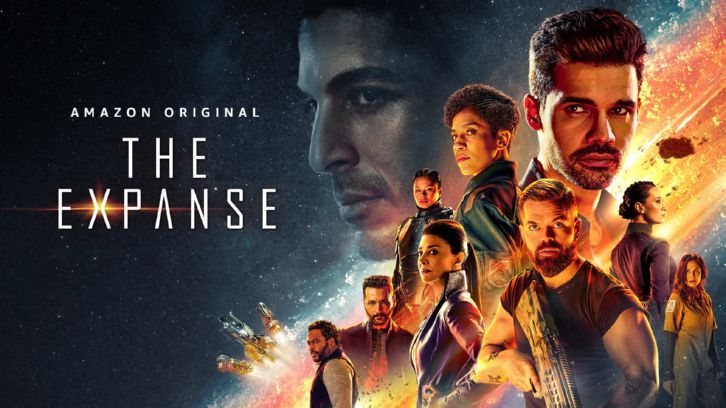 And so it finally happened. The reluctant hero, James Holden, finally accepted his role as a saviour in 'Reload.'

This fourth episode of season three was an episode that did not necessarily need to happen. I mean, really, an episode revolving around a pit stop to refuel? Let's get to Io already! But as the events unfolded, 'Reload' became an important instalment, in large part due to the emotional journeys these characters went on.

Let's start with Holden who, in last week's 'Assured Destruction,' would not help Avasarala under any circumstance in delivering the message that revealed Erringright as a traitor to Admiral Souther.

However, as chance may have it, the Rocinante crew stumble upon a few MMC soldiers barely surviving in a broken ship amidst the ravages of war. It was great to see both Kelly McCormack and Atticus Mitchell from Killjoys in this episode.

The two actors played Martian ensigns who, uneasy being on a Martian ship turned vessel for James Holden, quickly take over the ship. In an interesting turn of events, Bobbie, not long after she said to Avasarala she is not good with words, becomes the voice of reason. Her reassurance that "the hardest part of this game is figuring out who the enemy really is, and these guys aren't it" was what made the Martians stand down. Though it was probably her intimidating presence and unassuming, yet commandeering, "what's all the ruckus?!" that really did it.

And to cap off this scene in a hilarious turn of events, Amos arrives, dumps to the ground the unconscious body of the third martian, and remarks on his lateness in vintage Amos style.

The Martians taking over the ship was most likely the catalyst for Holden's change of heart too. These scared Martians made him realize the sheer disparity that this war has created. That, coupled with the trustworthiness of Avarasala, had Holden embrace his role as a hero by helping send out the message.

Naomi thanking him was a touching scene, one that all but confirms this crew is not going to break at the seams any time soon, and at the right moment as they head towards Io for a potentially dangerous mission.


Elsewhere, Pastor Anna continued to be overstepped by the devious Erringwright. It was heartbreaking to see her take so much pride in the speech she had written for the SG, only for it to take a sharp turn and go off script. The Secretary Generals speech would instead promote violence and retaliation against Mars, presumably rewritten by Erringwright.
Anna's storyline has been the most unpredictable for book fans, as it has deviated from the source material right from the beginning. Nevertheless, the show has done a solid job in introducing and developing Anna as a strong-headed woman driven by high morals, but powerless to the politics.
It seems though this new character would finally get her one-uppance now that Avasarala has sent her the evidence of Erringwright's traitorous ways.
It sure looks like the corrupt Earther will soon meet his downfall, this coming at a time where his superior Mao has come to the shocking revelation that these protomolecule trials must continue.
Mao's scene to close off 'Reload' was a disturbing one, showing Katoa rearranging the innards of a scientist he just ripped to shreds, his mind completely overtaken by the protomolecule. Mao, who we saw humanized a bit last week, did not even flinch an eye at the sight, reaffirming to us just how twisted the man is.
These scenes on Io makes us anticipate the Rocinante's arrival that much more, as it gives urgency to their mission. Episodes like 'Reload' do feel like a bit of a stall, but only on 'The Expanse' can a filler episode be so gosh darn engrossing.
8/10