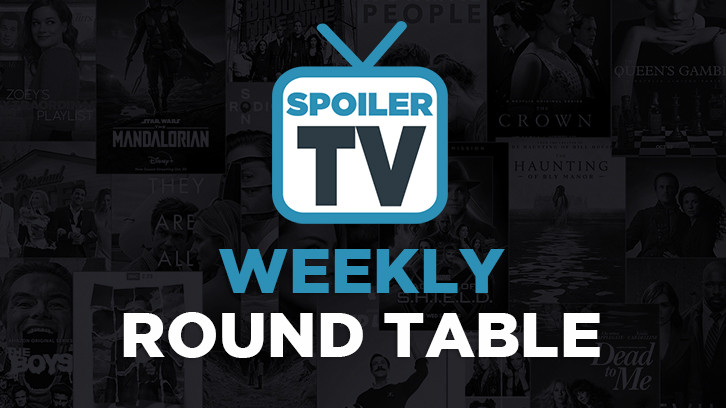 Welcome to another weekly round table. This week it's a post mortem on fall TV and I'm (Yon) joined by SpoilerTV writers: Milo (MJ), Marko Pekic (MK), Andrea, Donna Cromeans (DR), Claire (CS), Jennise Hall (JH), Laura Markus (LS), Zandarl (DC), Beth (BW), AD (AO), Bex (BX), Jamie (JC), Lisa Macklem (LM) and Angela Niles (AN). Sit back enjoy the read and feel free to share your thoughts in the comment section below.


1. Which Broadcast season finale was the best in your opinion?
MK:
Arrow
had an exceptional finale, the season was average at best but the finale brought all the feels. Also
Killing Eve
killed it, what a jaw dropping finale. Perfect way to end a phenomenal season.
MJ:
Legends of Tomorrow's
finale was fantastic, reveling in its insanity, and the best of what I saw here, although most of what I watched was strong.
The Blacklist
delivered a game-changer that should really shake up the dynamic in Season 6, and
Gotham
set the stage for its season finale in style, even though the finale wasn't perfect, I did love the way the show set itself up for its final season - fully setting the stage for the true potential of the No Man's Land arc and giving us our best look at the future Bat signal yet. I loved the ending.
Andrea: Maybe because I've watched it last night, but
Blindspot
had a strong finale, i like the possible storyline they can do next season, if they do it right! Still mad for that death, Luke you deserve a show that don't kill you after one season! But for the story it was needed, sadly!
DR: Several finale's that I have seen standout to me. First not only the season but the series finale of
Once Upon a Time
was very well done. I could totally buy their solution of bringing all the realms together and would have been interesting seeing them interact had there been another season. Making Regina the Good Queen, was a highlight to one of their most interesting story arcs, that of Regina's redemption. For sheer wow factor, the
Agents of S.H.I.E.L.D
season finale was outstanding. The exciting action sequences were balanced nicely with the utter heartbreak of other moments. Had ABC not come through with renewing the show I would have been satisfied with this as a series finale as well. As such, they've set the stage for some interesting storylines next season.
Timeless
also had a great season capped by a very strong, what I sincerely hope is a season finale and a great cliffhanger. As it will not have aired when this article is published, I will also say I am looking forward to the
Supergirl
season finale, based on what I've seen from the show leading up to their finale (which will not air until June due to the lengthy hiatus earlier in the year), theirs will be the strongest finale in the DC universe.
CS: I totally enjoyed
American Housewife's
season 2 finale! I think it was the best episode of the season. It pulled together all of the best aspects of the show with Katie and family and friends working together towards a seemingly out of reach goal. Nathan Fillion on a camel was fun too! And the aesthetics of the show with the Indian themed Spring Gala; the music, the dancing, the costumes and decor was simply beautiful. I've really warmed to this show. Also loved
The Goldberg's
finale, especially Barry and Lainiey getting engaged! So much craziness to look forward to for Fall 2018!
JH: Um,
Lucifer
and
Lethal Weapon, Black Lightning,
and
Big Bang Theory
.
LM: EASILY
Brooklyn Nine-Nine
's "Jake and Amy"! The most satisfying finale we could've gotten, though if it were to be the series finale I might've ripped every last hair out of my head. The wedding shenanigans were beautiful, Gina Rodriguez was stunning as was her chemistry with Rosa, and everything Holt had to say brought me to tears. Surprised? You shouldn't be.
DC:
Supergirl
still to air the strongest of the CW Shows so is
Black Lightning
, though it had a great start it had a few shaky points that need ironing out next season but a strong finish.
Once Upon A time
having the stories come full circle was also a fitting end to the whole show. The One that had the best cliff-hanger and can't wait for its return was new Show
Station 19
, it had everything you would expect from a Shonda Land Finale, who will live and who will die and action in abundance. I am pleased this show will return next year.
BW: The best finale for me was
Gotham
, it was action packed as per usual but also set up an amazing final act.
B99
was also everything!
AD: This is a hard question since I watched so many shows, but my choice would be
The Good Doctors
, finale episode "More." The storyline for this episode hit close to home. I could be biased but, the performance from all the cast members was outstanding. I am not a fan of cliffhangers but the episode closed out in a way that I would have been satisfied if there was no second season. Freddie Highmore is well known for his excellent work in almost everything he books, but The good doctor gives us a vulnerable, smart, complicated and kind character that personally I was rooting for every week. Richard Schiff as Dr. Glassman balanced out the pair with a brilliant portrayal of the overbearing "father," mentor and friend.
BX:
Timeless.
It was shocking and heartbreaking, there were endings but also hints of new beginnings, and that final scene was the best kind of cliffhanger - one full of hope, and with so much potential for season three. Cliffhangers typically leave me frustrated, but this one had me utterly gleeful with the possibilities. Any season finale that makes me feel all that, that makes my heart hurt one minute, and then fills it so completely with joy the next, has to be the best in my opinion.
JC: I have to be honest, there was no season finale that really wowed me. I was impressed with both
Lucifer
and
Agents of SHIELD's
finales. And the cliffhangers of
Timeless
and
The Blacklist
had me wanting more. But other than that, most finales were average.
Modern Family's
finale was actually disappointing, didn't feel like a finale at all.
LM: Two favorite finales:
Agents of S.H.I.E.L.D.
and
Timeless
.
Jane the Virgin
gets best jawdrop moment though!
AN: I loved the season finale for
"The Good Doctor"
. It was heartfelt, emotional, and did a lovely job of showing how far all the characters had come throughout the show's first season, both individually and as a team. And it left open some intriguing possible storytelling avenues for the show for next season that I'm looking forward to seeing play out.
Yon: I'm massively behind on every show I watch, but so far Legends of Tomorrow was certainly the most action packed and funniest. I absolutely loved the battle between Beebo & Mallus (how could you not?!). Whilst the episode was obviously focused on the final battle as that is what the season had been building to, it still had some great character moments and return of fan favorites, and the finale certainly made up for what was in places a lackluster season. Killing Eve was an absolute jaw dropper. I'm still in awe at what exactly we watched unfold and cannot believe they actually did THAT.
The Goldbergs
finale was quite enjoyable, even if I'm not a massive fan of Barry/Lainey and the
Speechless
finale was quite interesting and I can't wait to see where the show goes in the 3rd season. I'm not
Arrow's
biggest fan at all these days, but the scene in the finale between Sara and Black Siren brought a tear to my eye and I was extremely sad to see the show lose let another Lance.
2. Which storylines did you enjoy the most this season and which were the most disappointing?
MK: Miranda Bailey had an interesting arc this season but Meredith
Grey's
journey takes it home this season for me. She did so much, faced so many obstacles and risen to new grounds personally and professionally. Very proud of her journey this year.
MJ: I really enjoyed
Gotham
this season as it paved way for No Man's Land, it saved its best for its fourth season. Like
SHIELD
, both shows have really impressed and have turned from one of the worst comic book shows on TV into the best.
Andrea:
Arrow
was really painful to watch, didn't like the storyline this season! Normally with DC TV I watch it live but with
Arrow
I could go for few weeks without watching it and i didn't miss it! For the one i enjoy the most, well
Shadowhunters
obviously! Except that big twist of a cliffhanger! That change a lot! As for Fall to Spring shows,
Supernatural
, it had it's down but when it was in it's ups it was really good!
DR: The Good: I have really liked the Worldkillers/Reign storyline on
Supergirl
. They've laid out the story well and Odette Annable was an inspired addition to the cast as Sam/Reign. She is a primary reason the storyline has worked so well with making Sam a likeable and believable character, while also giving us the darker side with Reign. I will be sorry to see her go, if that is indeed how the story will end in the finale, I truly wish there were some way to keep her on the series. That being said I have been disappointed in some of the aspects of the Legion of Superheroes story. The return of
Timeless
and the addition of Annie Wersching as Emma gave the show a big boost for me. And I love having Goran Visnjic's Flynn join the team in the bunker! I've not hidden my love for
Killing Eve
in my reviews. It was one of the first shows I signed up to review over a year ago when I joined SpoilerTV. It was announced shortly after I joined the staff and I grabbed it then, something just told me it was going to be good. But, what has aired has far exceeded expectations. This is a smart, incredibly well-written and acted show. Sandra Oh and especially Jodie Comer, have been phenomenal, who knew we would all come to love an assassin as much as viewers love Villanelle!
The Bad:
Legends of Tomorrow
had been having a very good season in my opinion until their season finale with what I consider a ridiculous stunt. All season long they'd been fighting a terrifying and powerful demon and they defeat him by joining forces in a Ghostbusters like ending and becoming a 30-foot giant blue stuffed animal? After it aired I got into a lot of discussions with people telling me it was fun, that LoT do fun and sarcasm well, but in my opinion, this went way beyond that, that stunt didn't just jump the shark, it took a flying leap over it. As a viewer and a fan of the show it jerked me right out of it and I was sorely disappointed in it.
CS: Good: I loved the way season 2 of
Timeless
played out, throwing Flynn into a new light and giving the team a redefined mission. Out of the season 1 finale explosion arose a completely new and even more compelling narrative. A great show became even greater!
The bad:
The Middle's
complete and total failure on the Sue/Sean story arc was probably the most devastatingly disappointing story arc for me on television since Ross and Rachel. There is just SO much more they could have done with it. They actually kept them apart until the final minutes of the series finale! How can producers be so tone deaf to their fan base? I didn't want it to be the Sue/Sean show but it was just such a waste of a terrific story and instead they threw silly, overplayed tropes at us. All shows do peter out after a few seasons but
The Middle
was still great going into season 9 and after a couple of episodes completely nosedived.
JH: Most disappointing is easy.
Arrow
. One of the shows I had to watch when I got home from work the night it aired, had slipped to stacking up on my DVR. The season's arc story was so disjointed and the character work so disappointing that the show began to lose me as a fan. The writing in Irreconcilable Differences was so bad that stopped watching the show all together. Hopefully, new showrunners can reinvigorate the show but if they think stunt casting is all they need to do then that's a done deal.
One of the storylines I enjoyed the most was Charlotte's story on
Lucifer
. I didn't think they'd find a way to keep that character on the show and make her story interesting. They did and I was invested. I wanted to know if she was going to succeed in avoiding a return to hell. The way that story ended one of my favs.
LS: I'm just gonna say all of
B99
was the best and move onto the dumpster fire that was
Suits
this season. I reviewed "Donna" on my blog and, even having not seen the subsequent episodes, I already know what an absolute disaster this season was. My god, talk about a complete and utter waste of potential. This show could've been everything. It could've been a respectfully subversive, phenomenal piece of media. Instead it's everything but. An unhealthy pile of filth that boasts toxicity in lieu of character development. Kind of like a giant metaphor for D*rvey!
DC: The arrival of Reign and the worldkiller's on
Supergirl
giving us one of the best villains to date. In
Once Upon a Time
the reboot, sadly it did not work for the show and ultimately lead to is demise.
BW: My favorite storyline this year was Fitz from
AOS
coming to save the team and his marriage to Simmons. It was just everything I had always wanted for him and them as characters. I mean the finale broke my heart but the journey this season made me a happy fan. One of the storylines I hated the most was Mon El's on
Supergirl
. I like the guy, but him coming back and constantly apologizing to Kara was incredibly annoying to me. Was he perfect last season? Of course not, but this was over the top in how much they made him grovel. It led me to no longer watch the show. Finally
Superstore
with the Amy and Jonah stuff. They wrote America's pregnancy in at such an odd time and then proceeded to have them hook up, I don't see the logic here.
AD: The Good:
This Is Us
gave the viewers answers they had been waiting for in regards to Jacks (Milo Ventimiglia) death and pushed forward with all the Pearsons children stories. I also loved the focus on mental health throughout the season.
The Bad:
The Flash
was really disappointing this season for me. The show ended season three on a cliffhanger but came back with a very mediocre Thinker storyline that didn't feel well put together. The performance by Neil Sandilands (Devoe) and Kim Engelbrecht (Marlize) was amazing, but the other guest characters were not able to match up. I like that Iris was the leader but also feel that the show completely neglected Barry's and her relationship especially after what happened at the end of season three. The double wedding with the
Arrow
couple also annoyed me. It was weak writing even though I understand not wanting to waste time and money on two weddings, Iris and Barry deserved better.
BX: I enjoyed Mandy's expanded role while on deployment on
SEAL Team
the most, as it allowed that character to be better utilized.
Most disappointing was the Lucifer/Chloe/Pierce love triangle on
Lucifer
. It was unnecessary and a massive disservice Chloe's character.
JC: Again, most were average. I did the storylines on
This Is Us, Timeless and Legends of Tomorrow
. But most storylines really bothered me this year. I'm not a fan of long arcs and that seemed to be the theme. The storylines on CW's DC shows lasted way too long. I was not happy with Lucifer this season, especially since I know they can do so much better.
Once Upon A Time's
storyline reboot fell flat for me and even one of my favorite shows, Agents of SHIELD, while it had some great moments this season, was missing something.
LM: Most disappointing storyline?
Arrow
. Hands down. If it weren't changing showrunners, I'd be done with the show.
AN: I loved Claire taking on the creepy doctor on
"The Good Doctor"
this season, it was a timely storyline and it really added to her character. She may be normally gentle and friendly, but she also doesn't take people's crap lying down. And I liked the Barnes arc on
"Criminal Minds"
- it was brief, yes, and I feel there was so much more they could've done with it beyond what we saw on the show, but it did allow for a few interesting side stories with the team and let us see what their lives outside the team would be like. So that was fun.
On the flip side, however, I do wish
"Criminal Minds"
had done more to explore the aftermath of Reid's time in prison from season twelve, along with exploring the fallout of losing a team member in the line of duty this season, and Emily being held captive by Mr. Scratch, to name but a few things. There were occasional passing mentions and references here and there, but it still fell a little too short for me.
Yon: It's not one set story, but I have been pleasantly surprised by how great
Siren
has turned out to be. Every episode has been better than the last and it's a show that has very much benefited from the short episode count, with the only real disappointment coming in the finale which didn't really feel like a finale. Killing Eve has been an absolute revelation since it started. Like with Siren, every episode has been better than the last and previewing the show has been an absolute pleasure. I got back into Legends of Tomorrow this season which I'm absolutely grateful for, because it is hands down the best DC show that The CW has to offer. Sure it isn't 100% perfect (what show is) but unlike other DC shows on The CW, I can at least say that I still enjoy in some way the more slower episodes. They pulled off a masterstroke casting Jes Macallan as Ava Sharpe. 'I, Ava' was probably one of the best episodes that Legends produced in season 3 and Jes and Sara have such a great dynamic as actors which really shines through with their characters. I've also been highly enjoying
iZombie
this season. The show very much lost its way in season 3, and has massively recovered this season. Rose McIver continues to be the best actress The CW has. What she does with Liv Moore every week is nothing short of extraordinary. Getting rid of the stupid Peyton/Blaine/Ravi triangle has been a blessing for all characters involved. Granted Peyton still hasn't unfortunately had that much of an increase in screen time, but getting rid of that triangle has at least allowed her screen time to be focussed on other matters. Rahul Kohli has probably produced some of his best work this year as he's been allowed to really sink his teeth into some juicy storylines, and Blaine Debeers continues to be the smooth bad guy we all love to hate. Where
Shield
is concerned, I got back into the show this year and 'The Devil Complex' remains one of the best episodes the 2017/2018 season has produced.
On the disappointment front, I really don't agree with
Lucifer
or
Timeless
ending on cliffhangers. The
Lucifer
one felt particularly manipulative, given that finale is what people have wanted for so long and if it doesn't get picked up by someone else then fans are entitled to feel short changed.
Timeless
has been on the bubble all year and got a last minute reprieve last year, and yet they still ended up on a cliffhanger. And again no story in particular but S
upergirl
began to lose its way last season, and that's something this season has only repeated. I really wanted to care about the Reign storyline as I've liked Odette Annable since
Banshee
but it does nothing for me at all. Mon-El isn't as intolerable as last season but that's really not saying much and I think it would be best for Chris Wood if he does book another gig that doesn't waste his talents so considerably. Supergirl have also been massively guilty of wasting some of the recurring actors they've had, such as Jesse Rath and Amy Jackson. Since Maggie left earlier in the season, Alex has been reduced to the babysitter role in caring for Ruby when she's so much more than that, the show doesn't really know what to do with James Olsen and the arc Lena is currently on feels extremely rushed. I know that the show had a break in production with AK leaving, and there has been something of a tonal shift since the show returned from hiatus but I don't think there's any way to undo the damage that has been done.
3. Which show did the best job in showing more diversity this season? And which shows tried but failed miserably?
MK:
Black Lightning
did a great job telling important stories both race and sexuality related.
Speechless
was amazing with the incorporation of more disabled actors and characters, which is a rarity on TV shows. Major kudos to them. Truly disappointing was
Supergirl
. They've killed their racial diverse Worldkillers way too fast and the league members barely got any screen time.
MJ:
Star Trek: Discovery
was one of the big talking points here. It had a POC female lead and a incredibly diverse cast, but it didn't stop it from killing off its fair share of POC characters, including
Battlestar Galactica's
Rekha Sharma rather unceremoniously. Apart from that, which was one of the show's weakest links, one of the (many) highlights of the show was the ultimately doomed relationship between Stamets and Hugh Culber, a
Star Trek
first - which has the potential to end up on either side of the scale as we're led to believe that this isn't the end of their story yet and we'll see it continue somehow in the second season, as Star Trek can bring characters back from the dead so I wouldn't be surprised to see it continue like this. It helps that it has been given a seal of approval by
GLAAD
, who were consulted prior to its airing. And Actor Wilson Cruz claims that "This is not a bury your gays, kill your gays trope storyline". If it all leads to nowhere it'll be a disappointment, but I remain cautiously optimistic.
Andrea: On the shows that I watch there is little to none diversity and if they try to include something "diverse" ti get killed after few episodes or it didn't work and they don't go there anymore! The only show that I watch that it's doing an excellent job with diversity is
Shadowhunters!
DR: I'd say
Legends of Tomorrow
did a good job by finally addressing Sara's sexuality and bringing in Jes Macallan as Ava, her love interest has been great, and by showing Zari openly professing and practicing her Muslim faith.
While I may be in the minority, I think
Supergirl
did a good job of the Alex/Maggie break-up given the circumstances (that Floriana Lima had chosen to leave the show). At one time I wrote that theirs was the healthiest relationship on television and truly meant and believed it. There was so much potential for the relationship, and while I believe that Maggie was good for Alex, I was sadly coming to think the relationship wasn't as healthy as I first believed. The issue of whether or not to have children is an honest and reasonable issue that affects many couples, gay or straight and I think the show handled that aspect of it properly, though it would have been interesting to see Maggie and Alex discuss the issue more on screen, however one does have to remember the show is called
Supergirl
and its understandable why some of those scenes may have been cut. Having Alex come to the realization that she wanted to be a Mom, and ending things when Maggie firmly stood pat in her desire not to have children was the first time in a long time I felt that Alex was standing up for herself in the relationship and was doing what was best for herself, putting herself first for a change. As heartbreaking as it was, it was the right decision.
JH:
SEAL Team
gets a mention because of their portrayal of females in the military.
Lost in Space
had a diverse cast. But they stuck out because, to my mind the fact that Penny's race wasn't a story point implied that the actress was hired because she was the best actress auditioned. We need more casting like that.
Interesting is CBS' reaction to the accusations in the wake of the exits of Grace Park and Daniel Dae Kim. Several of the ethnic actors with minor parts found their way into the opening credits though their presence in the episodes didn't increase substantially.
LS:
B99.
Done. Goodbye.
DC:
Star Trek Discovery
jumped straight into my head as I read this question but it stumbled a little with the kill the gay's trope. All the CW shows are multi-diverse as even Cat Grant stated in Season 1
Supergirl
. However, it needs improvement with its dealing of certain groups.
BW:
Brooklyn 99
of course! Rosa's storyline this season with coming out to her parents was so well done and her 99 family having her back was perfect. It is why this show is so important.
Riverdale
failed miserably in my opinion. They made Kevin a regular and only used him to meet boys in the woods or show Veronica and Toni how to break out Cheryl using the tunnel he knew about to meet boys. Not cool in my opinion. Kevin could be a wonderful character and they waste that potential. Also, they constantly push Josie to the back and that also annoys me. She got one episode to somewhat shine and that is not enough, not by a long shot.
AD:
How to Get Away with Murder
wins for diversity for me this past season. The show added several diverse guest characters and maintained balance with all their storylines.
Hawaii Five-0
gets the bummer of the season for how they handled their minority characters departure. The situation opened them up to public criticism and not in a good way at all.
BX:
Timeless
focused on women and poc more this season and did the best job in showing more diversity. This is a show that is already beautifully diverse, but I believe the focus of the people the Time Team met this season is a big part of what made season two so strong.
JC:
Brooklyn Nine Nine
has always been great with diversity and Rosa's storyline this season was proof of that. Really glad we finally got a show like
Black Lighting
with a black lesbian superhero who is bulletproof. As for the ones that failed. Most shows pay attention to having people of color on their show but it's usually how those characters are treated that is the main problem. And the same goes for diversity sexuality wise. The shows that failed here are too many to name.
AN: Among the shows I watched,
"The Mayor"
and
"S.W.A.T."
had black leads, and
"S.W.A.T."
featured an interracial relationship, and shows like
"The Good Doctor"
and
"Criminal Minds"
did well at bringing in a bit more Asian representation, and have generally diverse casts as a whole ("Criminal Minds" is probably one of few diverse shows on CBS, really). And "The Good Doctor" also gave us a positive portrayal of an autistic character in Shaun Murphy.
"How to Get Away with Murder"
also continues to be very diverse in the types of characters it has, both within its main cast and in the types of guest stars who show up.
Yon: I don't think any one show has done the best job with diversity, but
Legends of Tomorrow
did a great job in bringing Jes Macallan on board as Ava and giving us a great, well rounded relationship between her and Sara. On the contrary to that
Supergirl's
handling of Alex & Maggie's break-up was beyond pitiful. The reason for their break-up as the rest of the season has shown was nonsensical. The crossover hookup between Alex & Sara was nothing more than a disgusting wet dream, much like Sara and Constantine hooking up, because apparently there's a rule that states two bisexual characters on a show have to hook up! Given how great an actress Chyler Leigh is, Alex Danvers deserves far more screen time than she's been served this year and far more interesting storylines. Strangely considering Alex & Kara's sisterly relationship was once the forefront of the show, it seems as though with Maggie leaving earlier in the season, the writers have no idea what to do with Alex anymore. As I've said she now seems to be stuck in the permanent role of the babysitter, with the likes of Mon-El instead joining Kara out in the field. There's no point in proclaiming yourself to be a diverse show or diverse Network, if you're simply having diverse characters around for the sake of ticking boxes, and unfortunately The CW is doing that a lot with Riverdale a prime example of this. There's no point in hiring actresses of colour such as Ashleigh Murray to be a regular if you're only going to use her for 20 seconds every 5 episodes. Kevin is basically the token gay character. They decided to make Cheryl/Toni a thing which is good in theory, but they've continually cut their scenes and whilst TPTB might like to proclaim big things are coming in s3, they said the exact same thing about s2, and it honestly feels as though once they realize something is growing in popularity, they'll have it out front and centre in the promotional run-up to get people talking but not actually deliver the goods.
4. What show are you most eager to return?
MK: As always that is
Greys
. The saving grace of Peak TV. Excited to see my shows
Will & Grace
and
Speechless
to return. Also it has been 84 years since
Murder
ended.
MJ: I haven't even finished it yet and I want more
Gotham,
it's fully embraced its tone and feel now and is the show it should have been from the start. I recently binged on the first two seasons of
Santa Clarita Diet
so I'm naturally, on edge waiting for the third season - and
Mr. Robot
Season 4 can't come quickly enough too after that phenomenal third season which was one of the greatest TV seasons ever. Which begs the question - how do they top that? It'll be interesting to see whether or not
Brooklyn Nine-Nine
is any different now that it'll be on NBC next season - and of course, there's always
Peaky Blinders
which doesn't air until next year to look forward to.
Andrea: Almost the entire line up of the CW except the Friday shows!
Criminal Minds, The Good Place, Will and Grace, Midnight Texas!
DR: Next year?
Supergirl, Agents of S.H.I.E.L.D., Timeless
CS:
Timeless
MUST return and sooner than March and with more than ten episodes. Also, looking forward to
Channel Zero
(looks especially terrifying),
Young Sheldon, Santa Clarita Diet, The Goldbergs, Speechless, American Horror Story
and a lot of the new shows look very promising; especially
The Kids Are Alright and Manifest.
JH: Well,
Lucifer
was cancelled.
Lethal Weapon
will have to pass a test when it returns. But I'm looking forward to the return of B
lack Lightning, and Midnight, Texas
. Can't think of anything else.
DC:
Midnight Texas, Supergirl, Black Lightning
will certainly keep me busy next fall.
BW: Most of the shows I want to return are midseason like
Gotham and B99
. In the fall I guess the one I am most eager to return is,
9-1-1
, it is the show that really surprised me and I miss Buck a lot! Also my Friday night comfort show of
H50
, I love having that to look forward to.
AD:
The Good Doctor
and
Agents of Shield
BX:
SWAT, SEAL Team, Star Trek Discovery, The Orville
, and hopefully
Timeless
.
LM: Show I'm most eager to return?
GAME OF THRONES!!!
If you mean fall return, has to be
The Walking Dead
.
AN: All my current shows, honestly. I look forward to seeing what new shows like
"S.W.A.T."
and
"The Good Doctor"
have planned for their second seasons, and how they'll continue to build on and develop the characters and their storylines. And with older shows like
HTGAWM
and
"Criminal Minds"
, I'm just happy to still have them around to watch each week.
Yon: I need Killing Eve season 2 immediately! It almost feels rude to have ended the season the way that they did. I'm also extremely intrigued to see just what exactly
Agents of SHIELD
does with itself next year, considering the note the season was left on, and cannot wait for Legends of Tomorrow with Matt Ryan and Jess Macallan on board now as series regulars. With AJ Michalka on board Schooled, it'll be interesting to see just what exactly The Goldbergs do with her engagement to Barry; will they actually go through with it or will the eventually break-up? Maya DiMeo is my second favourite TV mother after Beverly Goldberg, and with ABC giving Speechless a 3rd season, I can't wait to see what the clan get up to! I'm also wondering just what exactly the Siren writers are going to do with the 2nd season and whether the increased episode order is beneficiary to the show or not. Runaways 1st season was a bit of a mixed bag but the finale left it in great steed and I hope that the 2nd season kicks on from there. Where new shows are concerned, I'm cautiously excited for Charmed. I was a bit of a fan of the original and whilst the casting and trailer didn't exactly blow me away, I have hope in The CW. The reboot seems to have been something of passion project for the Network, with it first in contention last season before the retooled show got picked up this year and I really hope it does well. I'm also of course counting down the days until Grand Hotel comes to our screens. Many Countries have remade the show and never quite been able to capture the magic of the original, because no cast is ever going to be as good as Yon, Amaia, Luz & Adriana, but from the casting choices that have been made and the trailer? I'm confident it will at least get 10% of that magic down, and that's all I can ask.
5. What summer shows do you look forward too?
MK:
Cloak and Dagger
definitely. I saw the two hour premiere and it certainly puts a twist on all the Superhero shows so far. It is
Runaways
but with good actors, intriguing plot and great chemistry. Also can't wait to see
Younger
and
The Sinner
this summer. Through standouts this summer.
MJ: I'm looking forward to
Succession
(I did initially have this as a show that I was down to review but had to cut due to time, but I'll try to sample at least anything that airs on HBO),
Cloak and Dagger, Preacher
Season 3 (hopefully they double down on the insane second season),
Luke Cage
Season 2 (despite the mixed quality of Season 1),
Yellowstone
(Kevin Costner on TV! Taylor Sheridan is also a fantastic writer - check out
Hell or High Water
,
Wind River
(which he also directed) and
Sicario
if you haven't already), so I remain full of confidence for this project. And in August, Amazon's
Jack Ryan
looks like it could be good as well given the talent and actors involved. So I'm down for that too.
Andrea: I think this is the first year i don't have a summer show, or at this moment i don't remember anything that i want to watch this summer, the only one is
Shadowhunters
but it seems that it will start August 14th so it's almost a Fall show!
DR: I personally can't wait for the return of
Salvation!
It's been nearly a year and that asteroid hasn't hit Earth yet! Can't wait to see what happens to Grace, Darius, Harris and the others!
CS: Can't wait for the Duplass brothers and HBO's
Room 104
in its sophomore season. I love anthology shows and can't wait to review it for SpoilerTV. Also,
Teachers
on TVLand,
American Woman
with Alicia Silverstone on Paramount and
Take Two
with Eddie Cibrian looks promising.
JH:
Cloak and Dagger
LS: Well I started watching
The Bold Type
so if I can finish on time I will be looking forward to watching it. Other than that, I am woefully behind on everything else. Yell at me for recommendations, please!
DC:
Wynonna Earp
and
Chesapeake Shores
as it is my feel-good show and new show
American Women
which is set to arrive next month look promising.
BW: I am looking forward to see how
The Originals
will end and of course seeing how the spectacular season of The 100 is going to go. I can't wait to see Sense 8's final chapter. Also
Chesapeake Shores
is the ultimate comfort watch so that will be awesome. I caught up on
Younger
and
The Bold Type
so I have those to watch as well. I was hoping that Amazon would have mercy on me and release
High Castle
, but that is a rant for another day!
AD:
American Gods
is one of the shows that I am eager to watch. I want to see what the new showrunners will do with the story moving forward.
BX:
Younger.
JC: The show I'm most excited for this summer is
The Bold Type.
LM: Summer show I am absolutely dying for is
12 Monkeys!
So sad this is the last season!
AN:
"Trial & Error"
. The first season was wonderfully entertaining, and I'm looking very forward to seeing how they'll take on a whole new case this season. And it'll be fun to see the team and their murder board again, too.
Yon: Considering the massive backlog on my watch list, it's less looking forward to summer shows and more using summer to get through my fall shows. But because I don't love myself, I will probably be tuning into season 3 of
Wynonna Earp
.
Cloak and Dagger
also seems quite interesting, I'll at least be sampling The Sinner to see if the show can really work without Jessica Biel at the forefront.
The Bold Type
is a show that does somewhat interest me so I'll probably try to finish season 1 so I can watch season 2.