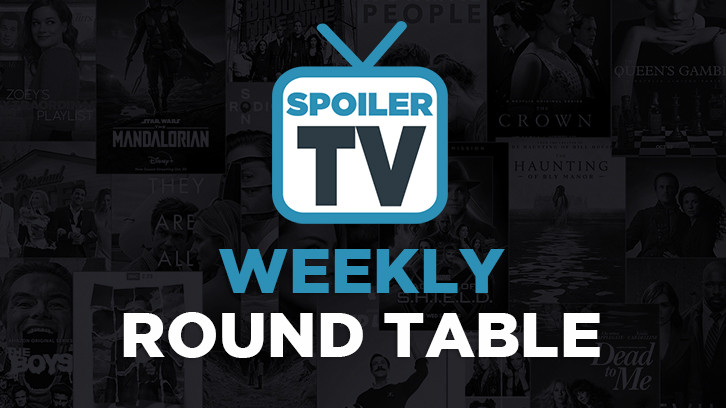 Hello everyone and welcome to another WRT! Another week behind us and a really heated week ahead of us. This week I`m (MK) joined by SpoilerTV writers: Laura (LS), Gina (GK), Yon (SJ), Abi (AB), Rachel (RW), Joey (JH), Jamie (JC), Milo (MI) & Jessica (JN). As always feel free to join the discussion in the comment section down below


1. There is still a Man standing, at least in Fox`s house. The ABC comedy starring Tim Allen is in the process of getting uncancelled. Thoughts on Fox decision? Does LMS fit the Fox Line up?
MK:
I personally think this is completely off brand for Fox and doesn`t fit their schedule. Fox is a younger-skewing network and doesn`t seem a show like LMS will draw in the crowd for them. But we shall see, let them prove me wrong but only if the whole cast comes back.
GK:
I'm just glad Last Man Standing is coming back. Don't care if it was Fox, Netflix, or CMT. The show was really good.
SJ:
Fox potentially picking up the Last Man Standing surprises and doesn't surprise me. For Fox the Network it is completely on brand, and hey, it might end up being more successful for them than it was on ABC. But I really need Networks picking up reboots etc and uncancelling shows to stop. Sure these reboots + revivals may make them a ton of money brand wise but giving how congested TV already is? Creativity, as we've seen with streaming/cable shows, is what brings people in. Not the tried and tested. It's extremely boring, and whilst I'm not gonna condemn fans for being happy that their show is potentially being brought back, I think it just speaks for the state of Fox on a whole that they're even considering this. I will forever be bitter with CBS for canceling 2 Broke Girls. It might've been problematic in places, but it never failed to make me laugh and gave us one of television's finest comedic duos in Beth Behrs and Kat Dennings (and I really need them to reunite at some point in the future). From what I remember last year the show was canceled because it was too expensive for CBS to consider renewing with how the ratings slid. That only happened because they kept putting the show on soooooo many breaks & changing the timeslots/day and this is the same Network that actually thought 9JKL and Living Biblically were funny.
AB:
I think Last Man Standing might fit Fox's programming a little better than Two Broke Girls but I don't think reviving LMS is going to bring them the numbers that they need. Fox has a lot of low-rated shows (as in live viewers) and I just don't think this will pull the numbers that TPTB are thinking they might. I could be wrong, but I'm surprised at how keen they seem to be about it.
JH:
I've never watched a full episode of Last Man Standing and based on the trailers and bits I've seen, I'm not really sure it's for me, so I don't personally feel anything about this. However, if I recall, the numbers for this show weren't terrible and certainly not low enough to warrant a cancellation, so I'm happy for the fans and the cast that they're getting the second chance they really shouldn't have had to have.
2. 1 week into May Sweeps and things just started to get good. What season/series finale you anticipating the most? And who do you believe will deliver the best shocker/surprise/cliffhanger?
MK:
I am really excited and sad to see how Arizona and April will leave the GA-verse, meanwhile Flash and Arrow have the potential for exceptional finales so that should be interesting. Otherwise I expect a coupld of good twist from OUAT as they have only two more eps to show.
SJ:
I'm really interested to see how exactly Agents of SHIELD & iZombie wrap proceedings. SHIELD we've already been told was written as a series finale, but I'm interested to see whether they have completely given the show closure or dangled any crumbs. iZombie, well this season has been far better than the dud that was s3 with many twists + turns and interesting storylines, and with the ratings the way they are, I'm hoping they were smart enough to tie up storylines. I expect Arrow to give Paul Blackthorne a fitting send-off, Supergirl to attempt to end things on a high The 100 to probably end in a bloodbath & I'm intrigued to see where exactly Siren take their first season (and still waiting on that renewal Freeform!)
AB:
Loved Superstore's finale! Looking forward to seeing how SVU could knock it out of the park after some stellar episodes lately and how Lucifer will up their game and possibly wrap things up. It'll be interesting to see as well how Grey's tackle their season finale. Also, I know it's cable but I'm fully expecting a great twist in the Shadowhunters mid-season finale.
RW:
With Jessica Capshaw and Sarah Drew's upcoming departure, I'm interested in seeing how the Grey's season finale is going to play out. I know Ellen Pompeo said in a recent interview that both characters were going to get a good send off, but I mean... C'mon, it's Shondaland. One thing's for sure though: tissues will definitely be needed.
JH:
Definitely looking forward to SHIELD finale, mainly to see if there are any repercussions from the recent Avengers that tie into it. As for the most shocking? After the Jane the Virgin finale, I don't think there's anything else this season that will shock/surprise/cliffhang me as much. They've ruined May Sweeps for me, in the best possible way!
JC:
I'm really looking forward to the SHIELD finale, but it better not be the series finale because we all know it'll have a cliffhanger. Aside from that, I'm curious to see how OUAT wraps things up, how Arizona and April's exits play out on Grey's Anatomy and hope that Chloe will finally find out the truth on Lucifer.
MI:
I'm behind on The Americans but I'm really excited and nervous to see how that wraps up. It's been a phenomenal season and I'm not ready to see it go considering that it's one of my favorite shows of the decade. Keri Russell has been quietly putting in the best performance of any actress on television since Carrie Coon in The Leftovers, so I really hope both her and Matthew Rhys are in Emmys consideration once again.
JN:
With Jessica Capshaw and Sarah Drew departing
Grey's Anatomy
, I'm really looking forward (and extremely worried) about how the season is going to end. Viewers got an idea of how Arizona will leave town in last week's episode, but the promo for the penultimate episode really has me worried about April's future. It's extremely hard for characters to survive and leave the show, but it's almost unheard of them riding off into the sunset. So I really hope these two characters get a strong send-off.
3. Times up! The final cancellation and renewal decision will be made. Which fans will throw a surprise feast and which will drown in cancellation tears?
MK:
I`m mostly worried about my Fox shows, B99 & Gotham. Also Speechless and FotB could go either way. I do hope all 4 can score a renewal. I Think a surprising cancellation could be Lucifer and Lethal Weapon, while Rise may score a renewal. Just a hunch.
LS:
I really only care about learning B99's fate. That being said, I am very interested to see which shows bite the bullet this year.
GK:
I'm hoping against hope the following shows are renewed: Agents of Shield, The Brave, and Blindspot.
SJ:
This is always a hard question for me because I really don't like celebrating any show being canceled because of the impact on the people behind the scenes, but I'll be extremely shocked if Timeless is given another season. The ratings just haven't been there, surprising slightly since fan power is what persuaded NBC to uncancel it. I can, unfortunately, see SHIELD & iZombie both being in massive danger. SHIELD might be saved by Marvel's intervention like it reportedly was last year, and maybe Mark will give iZombie a pity renewal but I, unfortunately, don't see that happening. Rise I don't think has made quite the impact that NBC was expecting, and the same goes for Station 19 and For The People on ABC, but out of the two For The People will probably get the chop. I would love if ABC does renew Speechless because it's such a unique, heartwarming comedy, I'm of course also routing for Siren to be renewed by Freeform, but I'm honestly more interested in the show's potentially being picked up.
AB:
It might be controversial, but I really don't see how Lucifer will be able to pull off a renewal, same for Timeless and Agents Of Shield as well. I think Brooklyn Nine-Nine will get the same treatment as Bones and New Girl in their last seasons with a shortened send-off. I can also see How To Get Away With Murder returning for a final season but on the surprises side it could be possible that Criminal Minds is canceled if they can't get deals in place (it was a close call last year) and a possible cancellation of one of the ABC comedies.
JH:
I'm devastated to say I don't think we'll be getting another season of For the People. A shame people haven't found it. I'm also prepared to say goodbye to Lucifer and a few others. It's gonna be a sad end of season for me. I'm pretty sure How to Get Away with Murder will be renewed, but I'm nervous they won't let them plan it as the final season, because there's no way the ratings will hold next season to earn another and I really would like a proper ending for it. I'll certainly keep my fingers crossed for the next few weeks though!
JC:
There's only really a few shows that I'm attached enough to hope for a renewal. The rest could go either way and I'd be fine with it. Some of the former include Agents of SHIELD, Timeless (which I've gotten attached to this season), Lucifer.
MI:
I'm hoping for Agents of SHIELD, The 100, Gotham, The Expanse, Elementary, Legion and Brooklyn Nine-Nine renewals if possible. I think The 100 fans might be lucky because The CW is super generous with renewals and with Jane the Virgin and The Originals ending plus the move to Sunday nights will give them a bit more room to work with, but I'm less sure on SHIELD. Hopefully, it gets another season because of corporate synergy, but given that IIRC they've written this season to be their last if it gets a good ending, I'm more than happy to let it go out on a high. The Expanse has simply been among the best genre programming in a while and I like to think that the only reason why it hasn't been renewed yet is because we're in the middle of a season. Legion on the other hand - despite it being one of the most unique shows and the best comic book show on television at the moment, looks like it's a goner - but FX might keep it around for one more season to keep gifted showrunner Noah Hawley happy so there's reason to be optimistic there. Even if the extended episode count may mean it's getting ready for the end.
JN:
Given
Timeless
's continued declining ratings, I can't really see NBC saving the show for the second time, so I'm pretty sure fans aren't going to be too happy with the show's impending cancellation. Another show on the bubble that may be cut is
Lucifer
. Despite FOX renewing
The Gifted
, which had lower ratings, I'm not sure if this supernatural procedural will get a fourth season. While it wouldn't be the craziest thing the network has done – FOX did renew
Scream Queens
for a second season after all – I think it really depends on how strong the pilots are.
4. Jefferey Tambor is sneaking his way into Arrested Development Season 5 after getting booted out of Transparent. Thoughts? Is it too early for him to return? And what does this say about "all the changes" happening?
LS:
It would be pretty difficult to have a season of AD without the patriarch. That being said, it's going to be rather difficult for me to enjoy the season. He was probably already filming it before the news came to light, so I don't know about it being too soon. Hopefully, his role got reduced. That's about all I can say. Though I am still intrigued about where this 5th season will go.
SJ:
Granted I haven't watched past maybe the first 2 episodes of Arrested Development since as much as I tried it just didn't wow me, but considering it took one of their Executives being caught on camera making comments about Danny Masterson's rape allegations for Netflix to actually fire him? Keeping Jeffrey Tambor on Arrested Development doesn't surprise me in the slightest. I don't think it's the right message to be sending at all, and somewhat flies in the face of the good work the Me Too movement has been trying to achieve.
AB:
I don't condone what Jeffrey Tambor has done in the slightest, but I think filming for Arrested Development had either finished or was close to finishing when the allegations surfaced and at that point, especially with the cast's schedules, I think Netflix wouldn't have wanted to throw away a whole season's worth of filming and then have the writers rewrite the entire season around him. Netflix hasn't exactly had the best track record with these things (looking at you Danny Masterson) so I'm really not surprised that Jeffrey Tambor will be there. Whilst I really don't agree with him being in the season, and I think it's showcasing someone who doesn't deserve it, I thought everyone knew he would be in it because of BTS photos of filming season 5. I'm not surprised but that doesn't make it okay just because I suspected it was going to happen.
JH:
'm pretty positive that filming wrapped on the show when the allegations started, so I'm not surprised by this, nor am I upset about it. He's undoubtedly a large part of the show so simply cutting his parts would not be an option, and cancelling the entire season because of one man's new reputation would be unfair to everyone else who worked so hard to make the season come together. If they do end up making the sixth season, I would expect him not to be there, or only in the first episode or so for them to kill off the character. We'll see what the future may hold!
MI:
To be honest, this has kind of killed my anticipation a lot for Season 5. I will check it out because of the rest of the cast and the show itself, but seeing Tambor in this again sucks and I'm no longer as keen for a revival as I was before.
Hope you've enjoyed this edition and join the discussion in the comment section. Till next week. . .