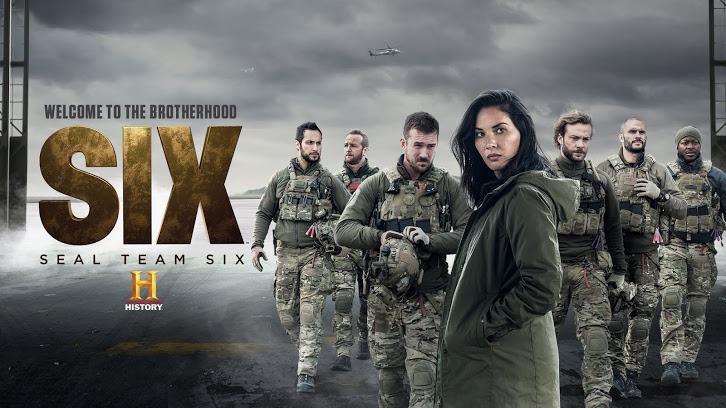 Before I start my preview, if you are here out of curiosity about what this show is, this section is for you. Last year saw many shows focusing on special ops teams of the military come and go. Six flew under the radar on History and it shouldn't have because it is the best of the bunch. The show focuses not only on the elite team of SEAL TEAM SIX, but also on the toll it takes on their lives as they navigate the fine line between what it means to serve your country, and what it means to serve the family you leave behind. So if you felt some of the network shows focusing on the military fell short, please give SIX a go and I promise you will not leave disappointed, in fact, it may change your view on the genre. The first season can be found on HULU and is eight episodes.

Now for the fans like me that were shook after that finale, here is what I can tease:


Rip's fate was very much in question when we last left him. He had been saved along with the girls he formed an important connection with by his team and returned home in a very introspective place. The team is rightly devastated and on edge by what happened to him, so they circle the wagons as most families would when one of their own is put in jeopardy. We pick up pretty much where we left off, and also get a few very important flashbacks that fill in some blanks of what Rip means to them and how he shapes the men that they are in the team.
Bear continues to be in a very unstable place in his marriage and what happens to Rip in the finale last year does not help. Not much moves forward on this front as his focus remains on keeping her and his team safe, but this story seems far from done.
As we saw in the closing seconds of last season, Marissa, the American girl Michael had recruited was the person on the end of that gun that shot Rip. She is back and is quite frankly scary, because she is the last person the authorities suspect.
The team is in the crosshairs of the group that had Rip shot and it expands beyond Micheal. Ricky's wife goes to extreme measures to protect their family.
One of the most interesting characters for me last year was Micheal. As an antagonist, he made you feel for why he had this vendetta against Rip and to me, that is the mark of a good character on the opposite side of our heroes. He is back and looks like he will play an important role again this season.
The premiere also ushers in the new in the form of two new characters. First there is a very complex CIA agent named Gina (Olivia Munn) who is on a collision course with the team as the hour progresses. I like her and her no nonsense style, and her brief interaction with the team and specifically Bear sets up what I hope are great dynamics moving forward.
Next there is the new team member who must take the place of Buck who tragically died last season, Trevor. He has quite an entrance that makes me think he and Alex will be fast friends. I can't really deduce much more about him because while his introduction was interesting, we didn't delve too much in to what he will be to the team.
So that is all I have for now! Be sure to tune in to the season premiere this coming Monday on History.