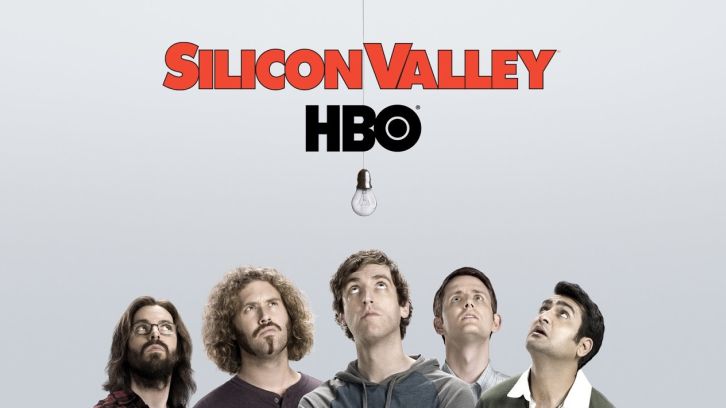 Silicon Valley 5.06 "Artificial Emotional Intelligence" - Review:
Directed by Matt Ross & Written by Anthony King

It seems that HBO's cross-corporate promotion that started with the introduction of the AI Fiona to Silicon Valley on the same airdate of HBO's Westworld isn't going away anytime soon, as Fiona is staying around in an episode that split its attention between Jian Yang, Gavin and Pied Piper, showing us that we were not quite done with Jian Yang yet as we got caught up to what he'd been up to during his time in China, as promised, finding a way to come up with a New New Internet that would be a great Pied Piper workaround.

Jian Yang's website promising the launch of the New New Internet is enough to worry Richard, who needs Laurie's approval for more financing. But of course, Laurie has issues to deal with on her own in the form of becoming the current interim CEO of Eklow following Ariel's arrest. This leads to one of the most unexpected moments of bonding between both Laurie and Richard, prompted by Laurie throwing up on him. Richard then makes the mistake of being too nice and decides to give Laurie some credits for PiperNet - something that she doesn't take long to sell.

Richard and Laurie was not the only unexpected emotional bonding that we had on Artificial Emotional Intelligence, as Jared and Fiona shared some time together despite Jared's best warnings to Richard about him doing so. Oh, and we're back at the original home of Pied Piper - Erlich's house - which was previously owned by Jian Yang. It's kind of disappointing to see the gang back here again, as it's something that has come to represent a return to square one in the show for the characters, but so far, change is something that doesn't seem to be going away anytime soon, which is at the very least refreshing. During this episode, Jared also has to train a new replacement for himself now that he's moved to the position of COO, where he thinks that he should be as impartial as possible in order to appear more professional, and that won't do. The new Jared is Holden, a 30 year old lawyer.

But the loss hurts of his old job Jared, who is then hurt once again by the fact that in order to get the financing for Series B and launch PiperNet ahead of schedule, they have to turn over Fiona (who managed to actually succeed in getting an Uber to Pied Piper HQ - a feat that should have been impossible for a robot) to Eklow, and to Laurie. Laurie in a cold-hearted move that reminds everyone just how much more like a robot than actual robots she can be at times, and it was a nice touch to have her clothes be the same size as Fiona's when she needed replacements after throwing up at work, unprepared for her new duties as CEO, which is a definite upgrade from a role as a VC. Selling the parts may get Richard the money that he needs, but it comes at a cost.

Dinesh and Gilfoyle have had some of the most memorable side plots of the season so far and I enjoyed seeing them compete over whose upgrade had fewer bugs, even if Dinesh was a bit too annoying at times. Dinesh typically wanted a public revealing of the results so that Dinesh could have a maximum audience possible to witness his success. Thanks to one of the coders, Danny - Dinesh learns that his code was better than Gilfoyle's in advance, which he uses to promptly disobey Danny's warning about not telling people in the office and let everyone know.

It turns out that Gilfoyle had an ulterior motive after all - no surprise there - and that he had a bet Dinesh would have 200 insults - each one less funnier than the last - to throw his way in 24 hours. But at the same time Danny had in turn a bet with the other coders in the office that Gilfoyle would respond to Dinesh with a retort that is both racist and sexually demeaning. And after all this hassle, we never actually find out who won the competition at all, something that isn't exactly uncommon in shows or movies of course - for example, we never find out what was in the box in Quentin Tarantino's Pulp Fiction.

It was so inevitable that during his time in China, Gavin would run into Jian Yang's New Pied Piper that I wasn't surprised in the slightest when Gavin's driver almost hit a cyclist in a green Pied Piper T-Shirt. Jian Yang lies to Gavin's face about knowing who he is, and he's able to offer Gavin what he knows. I'll admit that at the beginning of this season I wouldn't have expected Jian Yang and Gavin to cross paths, but the show handles their arc very well. Jian Yang is living a good life in China, because whilst he can't get approval from the Chinese Government, he has found a way to get around the patent Gavin gave to Richard.

Gavin might just have found out how to finally take Richard off the table for good, with only Jian Yang standing in his way. Jian Yang is smart enough to know that the code must be worth something, but rather than sell the code to Gavin, he sells it to Yao, the factory manager of the company who Gavin is in China to see - who is no longer agreeing to manufacture Hooli's boxes. After all, why should he, when he has the means to make his own, that would not only take Pied Piper out of the game, but Hooli as well? This storyline couldn't help but feel a little repetitive, as it's the sort of tried and true method that Silicon Valley has used in the past, exploiting Gavin's own arrogance against them to give the code to someone who is actually competent and knows what they're doing.

After what seemed like a promising new development for Gavin, it's quickly undercut by more pressing matters at hand as he finds himself in a very difficult position. Yes, it may have been a bit too convenient for Silicon Valley to have Gavin link up with Jian Yang while in China, but the results that followed really gave the rest of this season some added agency, introducing Yao to the game in a fantastic way.

Interestingly, this episode was directed by Gavin himself - Matt Ross - who has directed before in the form of 2016's indie drama Captain Fantastic, so it was refreshing to see him take up camera duties this time around. Hopefully this isn't the last time we get to see him behind the camera of this show, as Artificial Emotional Intelligence - whilst in places repetitive, still managed to be really solid to watch.

What did you think ofSilicon Valley's latest episode, Artificial Emotional Intelligence? Let me know in the comments below and catch the next episode this Sunday on HBO.