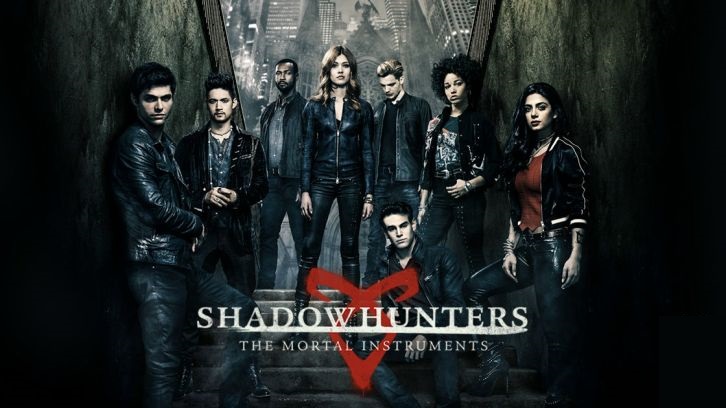 This week on Shadowhunters, Clary has to testify in Idris while holding the Soul Sword and tells Jia Penhallow everything. She is sentenced to death. Alec and Izzy go into Jace's head to break him free from the possession and eventually succeed, but Lilith manages to kidnap him again. Lilith has an interesting conversation with the Seelie Queen. Simon, Maia, and Jordan investigate where Lilith had been hiding out.

Favorite relationship: I mean, could I go with anything but the relationship between the Lightwood siblings? First, both Izzy and Alec took a huge risk to save their brother, possibly opening themselves up to possession. But neither even thought about it for longer than a second. Magnus could have approached them with literally anything and they would've done it for Jace. And then the flashbacks. The show has always chosen to focus more on the relationship between Alec and Jace, since their parabatai but I'm glad Jace's bond with both Izzy and Alec was shown equally here. Izzy got to appeal to a younger Jace, who Lilith has been tormenting by making him lose the people he loves. Fitting considering what happened last week. Meanwhile, Alec was faced with present-day Jace, who Lilith has been tormenting by making him kill Clary over and over again. My heart broke for Jace in this episode. This is a guy who loves his family, his worst fear is that he would hurt them. But while Lilith has control over him, his loved ones aren't safe. He'd rather die than go back to her. And while Izzy and Alec promised they wouldn't let that happen, Lilith managed to get him anyway.

Awkward: Don't you hate it when your new bodyguard is also your girlfriend's ex who left her in the woods after nearly killing her. Things definitely got intense between Simon, Maia, and Jordan this week. There's a lot of feelings there. Simon's not quite over the lies Jordan told, he wants to hate him for what he did to Maia but they had been on their way to becoming friends. He also wants to be respectful of Maia, who has a lot of feelings directed at Jordan, bad and good. She really loved him which is why what he did to her hurts so much. Meanwhile, Jordan is feeling guilty, he's clearly still in love with Maia but he is trying to keep his distance as much as he can since he's living with her boyfriend. Yeah, there will definitely be more confrontations.
Oh ow: Well, Clary has sure gotten herself into a big mess. I doubt even she expected things to turn out that badly. I don't think I've ever admired her more than in this episode, though. While having to hold her hands on the Mortal Sword, she was forced to tell the truth. But even then, she managed to take most of the blame. Never a word about how it was Jace that wanted to keep things quiet. Or that Alec and Izzy were involved. I'm sure they'll found some way to get her out of this. I'm guessing this will get pretty crazy once Lilith finalizes her big plan.
How rude: So I've said before that it's been a while since I read the original series, but I do not remember Jia Penhallow to be that … rude, for lack of a better word. I remember her as being much more understanding than that. The punishment that Clary received, while that probably wasn't only decided by her, was way too harsh. It's not like Clary killed someone, except for a psychopath. And you know this isn't about what happened to Jace, but about that damn wish. Jia claimed that she wouldn't have done the same if it was Aline? Well, I'd like to see her swear that with her hands on that sword.
What's next: So, since the midseason finale is next week. I'd like to make some predictions. As I said, I believe Clary will be out in no time. I wouldn't be surprised if Brother Zachariah helped with the jailbreak. Especially once he hears Jace is in danger (lord knows he'd do anything for a Herondale). Lilith seems to have everything ready to resurrect Jonathan so that'll probably happen in the midseason finale as well. I'm hoping Ollie will make it through alive since she's made it this long. Jace will probably be able to break free of Lilith at last, but who knows what she'll have made him do by then.
Best quotes: Alec: "If I don't get Jace back, I… Without him I'm nothing."
Izzy: "Three go in, three come out."
That's it for this week. Check in again next week for an all-new review and let me know in the comments what you thought of this week's episode.
Please be respectful in the comments, any unnecessary rudeness isn't welcome.