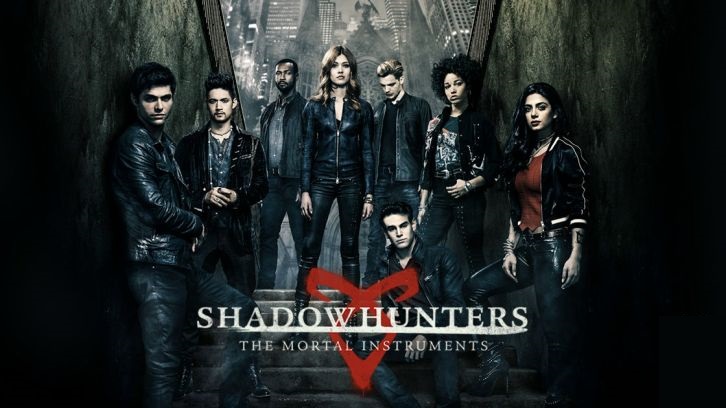 Previously on Shadowhunters, a trip inside Jace's mind ended unfavourably, as a persistent Lilith got the upper hand against Magnus and took Jace back. Elsewhere Simon, Maia and Jordan explored Lilith's base of operation looking for clues and instead found a mysterious marked chamber, and after being arrested in Alicante, Clary was sentenced to death.


FAMILIA ANTE OMNIA
In the first episode of the two part-finale, Clary finds that her death sentence may be upon her quicker than she anticipated, and whilst being on Alicante's Death Row (yep, that's a real thing), she may find herself encountering and reaching out to old frenemies. An even slice of blackmail may make her think she's somewhat leveled the playing field, but this sets off a catalyst of events that she may have not anticipated or be able to stop. As Clary uncovers more details about Lilith and her motivations, Lilith tries to complete her plan as Jace's fate is revealed.
"No woman should ever kneel to a man."
With Jace having once again been taken by Lilith, Magnus and Alec presume that he is back under her control and try to devise a plan to both figure out how she is controlling Jace and to end the power she has over him. This means a visit to the current High Warlock Of Brooklyn, Lorenzo Rey is necessary, and as Alec plays diplomatic politics with him, Magnus calls upon his fellow warlock allies in the fight against the greater demon. Magnus' loyalty however is called into question, and the warlocks may not be as willing to help as Magnus and Alec hoped. Running out of options, only drastic measures and sacrifices may be left for the pair.
Elsewhere, with Clary in Alicante, Luke is desperate to break her free, but multiple parties provide obstacles to just that. Also, in the most heartbreaking plot of the episode, a returning threat causes chaos in Simon's personal life, as he is manipulated and forced into endangering those closest to him.
"The only thing superior about you is your ego."
As always this close to the (mid)season ender, this episode ends on a cliffhanger that raises the stakes for multiple characters and will make you wonder whether love can conquer all, and who is actually stronger: Magnus or Lilith?

ERCHOMAI
Following on from the cliffhanger at the end of
'Familia Ante Omnia'
, the finale is set up for multiple showdowns as the Shadowhunters hope the fight against Lilith comes to an end. We'll get to see new team ups as a cause of it, and some new skills to boot.
As previously teased, Magnus comes face to face with someone from his past in the efforts to put a stop to the threats surrounding the Shadow World, but the reunion which has been a long time coming won't go as well as either of the parties were hoping. Elsewhere, Luke may be in trouble professionally, whilst Simon may be in trouble personally. With Lilith getting closer to her endgame, it's all hands on deck in order to stop her and the resurrection of Jonathan.
"What aren't you telling me?"
Be prepared for the finale to end on multiple cliffhangers as 3A comes to it's epic conclusion. There are twists and turns at every corner, especially in the last quarter of the episode, and no matter who you like or what you ship, there is something for everyone in the finale, and something to make you feel emotional. Remember to tune in tonight at 8.00 on Freeform.
And with that I'm going to leave you with a few teasers to tide you over until tonight:
- 3x10 in particular is somewhat special effects heavy, with new spells, new runes and new locations to be seen over the two episodes.
- There will be a flashback.
- The events that take place will most likely surprise you.
Thank you so much for reading my previews over 3A (and 2B if you've been here that long) and I hope to see you back here for 3B later this year.